By: Tim Gilliam
What Is Garage door wood Restoration?
Garage door wood restoration is a process that can restore an older, weathered garage door to its original state using sanding and staining. With time, sun exposure, and rain, a garage door can lose its original luster and start to deteriorate. When this occurs, it is necessary to call in Teak Master professionals who are experienced in garage door restoration.
The Process Of Garage door wood Restoration
Garage door restoration is a multi-step process that involves sanding a garage door with a variety of sanding tools and replacing any wood that is damaged. First, a belt sander is used to remove the majority of old finish on the door. Liquid strippers may also be employed to help remove any residues from paneling and make it easier for a stain to be applied. After the initial sanding, garage door refinishing requires that you get into every nook using hand sanders and palm sanders. The last step in the sanding process requires that you use a fine electric sander to get into corners and in between panels. Once the garage door has been sanded thoroughly, the restorers will wipe off any dust and get ready for the application of stains. The door can be stained to the color of your choice or the color that best suits your home. After the stain has set and has dried for at least 24 hours, the garage door will be protected using an all-weather sealant that will ensure that the sun and rain will have minimal effects on the restoration. The sealant is the last step in finishing this project. When this is done, you will be allowed to open your garage door and continue using it.
The Benefits Of Professional Garage door wood Restoration
There are multiple benefits to restoring your wood garage door. One of the benefits is appeal and the finished look of a restored garage door. If you are planning on selling your home or you just want to improve its look, garage door refinishing may be well-suited for you. In addition, having the door restored will prevent it from decaying due to the outside elements. Protecting your investment by having the door refinished will ensure that you will have your wood garage door for years to come.
How Much Does wood garage restoration Cost?
The cost of a wood garage restoration can vary on the amount of damage and is done on site.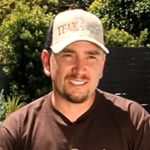 Tim Gilliam
I am as passionate about the services our company provides as the day I started as Teak Masters' only employee in 1997. For 2 decades I have been obsessed with continuing to developing state of the art refinishing techniques and application of the finest cutting edge wood coatings modern science can create. I have training certifications and have been hired as a consultant for esteemed companies such as Benjamin Moore, Arborcoat, Messmers, Dewalt, Porter Cable, TWP, Sikkens, Tropitone, and Brown Jordan.