Deck Restoration
What is it?
Nature's elements can be extremely harmful to wood decks. Horizontal surfaces will be damaged by the unrelenting effects of moisture, ultraviolet rays, and mold if it is not protected properly from the beginning. Professionally performing restoration takes years of knowledge understanding distinctive weathering characteristics of horizontal wood surfaces and what products are best to protect them from nature's contaminants. Our restoration techniques involve reversing the harsh effects of weathering and removing inferior protective wood coatings to transform your valuable wood deck back to new condition.
What is our Process?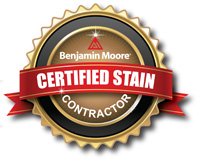 Our restoration process begins with an onsite evaluation of your wood deck. The only way to properly diagnose what needs to be done to restore a wood deck is to see it in person. We custom formulate a plan to restore your wood deck based on wood type, severity of weathering, and if a previous coating needs to be removed. The two most common reasons why a wood deck may need refinishing are weathering and deteriorating coatings.
We begin our process by cleaning to remove surface dirt, previous coatings, and mold from the wood's surface. If your deck has varnish, polyurethane, or a film forming coating that needs to be removed, sanding or stripping may be employed to get rid of it. If your wood has oxidized and weathered gray or black in color, it will be sanded to expose fresh new wood. Sanding is extremely important because it opens the grain of the wood to allow the new protective coating to adhere to the wood correctly. Sanding is the step many so called "professionals" skip because it is the most difficult but is absolutely necessary with refinishing and restoration. After the wood has been thoroughly sanded it will be cleaned to remove dust embedded in the grain and brightened to promote color and prevent and eliminate mold. The final step is application of the protective coating. A protective coating will be recommended according to the wood type and your desired aesthetic.
Before & After Images
What is our process Protecting New Wood Decks?
Protecting your wood from nature's elements is imperative in keeping your investment looking its best and allowing it to be easily maintainable. New wood decks are usually high in natural oil content and tannins. It may be a good idea to allow the sun and weather to acclimate the wood for a period of two to three weeks to deplete some of the oils and tannins. It is not a good idea to allow your new wood deck to be unprotected for a period longer than three weeks because the effects of weathering and foot traffic will begin to damage or discolor the wood.
Our process for protecting your new wood deck begins with a mild surface clean to remove tannins, mill glaze, and dirt or mold that may have embedded itself in the grain of the wood. It is best to have the wood is clean as possible and free from contaminants to avoid problems in the future. A protective coating will be recommended to protect and maintain your new wood deck according to its wood type and aesthetic you desire. Extremely dense hardwoods such as Ipe, Mangaris, Cumaru, Tigerwood, and Teak require specific oil based protective coating to keep them in their natural state and protected. Softer hardwoods such as Redwood and Cedar can accept a wider range of protective coating in oil and water based forms depending on your desired appearance. Various colors and opacities are available for Redwood and Cedar according to your visual preference.
Wood Deck Repair
Wood decks can last many years if they are properly maintained. Even with proper maintenance, wood decks need occasional repair. Over time wood boards may need to be replaced because of damage due to rot, termites, or warping and splitting. Wood decks may have not been efficiently built and may need the occasional support or fastening system adjusted. We are experts in addressing these types of repairs. Our trained repair experts will address your wood decks needs with an onsite evaluation to let you know what needs to be done to get it back in shape.
Maintenance Program
The best way to keep your investment protected is with our planned maintenance program. The protective coatings we apply are geared towards simple maintenance. Overtime deck sealers and stains will gradually lighten in color and appearance. Once your deck has been restored and properly coated, all that is needed is periodic care to keep it looking its best. We will formulate a custom tailored maintenance program with you according to your wood type, climate in your area, and finished used. These factors will determine how often your wood deck needs service. Our maintenance process consists of light cleaning to remove surface dirt and debris. Spot sanding may be needed to remove stubborn stains or bird droppings. After the wood has been cleaned and prepped, the same protective coating that was applied initially will be reapplied. Most maintenance can be done in one day or in just a few hours.
What Areas Do You Service?
We are able to quickly and efficiently perform restoration projects throughout all of Southern California. Our experienced and large crew of expert craftsmen is able to address your restoration and repair needs usually within 24 hours. It is our goal to transform your wood deck back to new condition and maintain it for life. Don't trust your restoration project to just anyone. Our restoration services have been sought after from San Francisco to San Diego for over 13 years.
How Much Does it Cost?
Restoration is a cost effective way to add value to your outdoor living space and home. During our onsite evaluation of your deck we will meet with you to let you know exactly what needs to be done to transform your deck back to new condition and keep it looking its best for years to come. Factors such as severity of weathering, wood type, repairs, and previous coatings will determine a cost for restoration. If your wood deck is structurally sound but has been neglected or not properly coated, it can be brought back to new relatively easily. Restoring your wood deck is more cost effective than building new or installing a plastic deck.
Decking Woods We Service