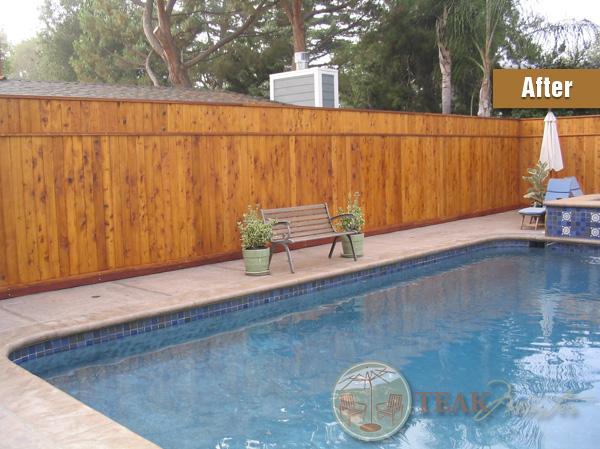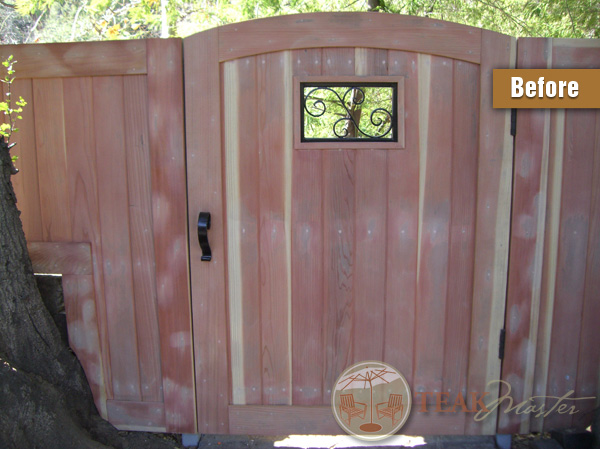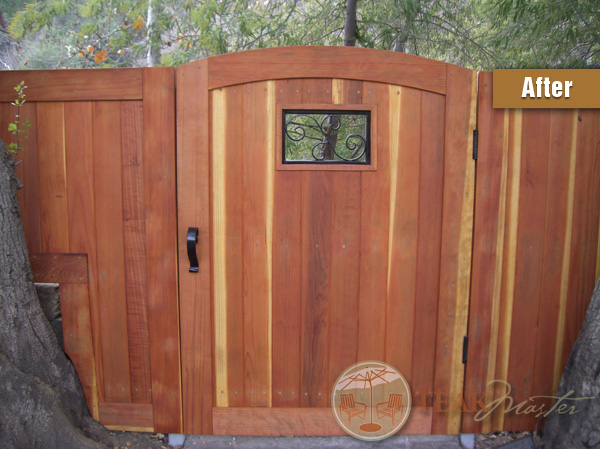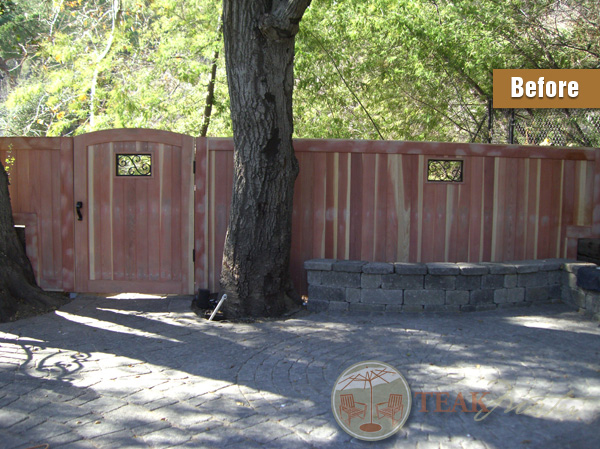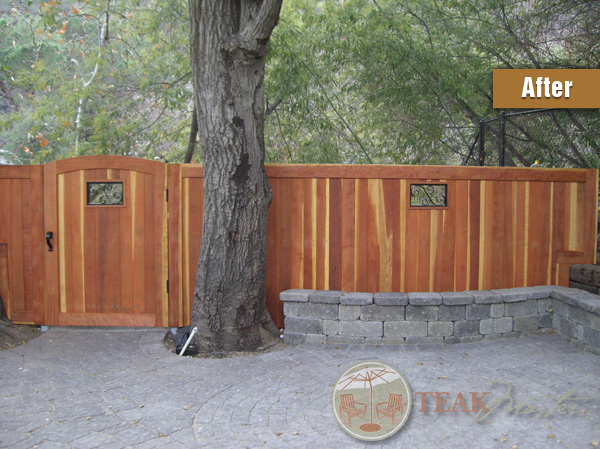 Homeowners see the value and visual appeal of building wood decks, patio fencing, and gazebos for fashionable outdoor living. Over the years, the appearance of outdoor wood furniture can begin to show the effects of weathering. Having your outdoor wood surfaces refinished allows you to keep them looking new and protect them for years to come. Don't forget about your fence either! Wood fence restoration is an essential service that homeowners often overlook. 
If you have a wood fence around your property, you know how challenging it is to keep its brand-new appearance. Over time, rain, snow, sun, ice, and other environmental factors can affect the finish and cause warping. Here at Teak Master, we want to help you protect the investments you have made in your property. One of the best ways to do this is through wood fence restoration. Below, we will break down the wood fence restoration process and answer some common questions to help you determine whether wood fence restoration is best for you.
What Is Wood Fence Restoration?
Wood fence restoration is the process of making old fences look new again. At Teak Master, we use a variety of surface treatments to restore the appearance of wood fences and can also replace broken or rotten sections. If your fencing is missing sections, losing its color, or warping or rotting, it might be time for restoration. The process can preserve your home's good looks and increase the value of your property. It can also protect your initial investment and is significantly less expensive than replacing fences outright.
What Is Our Restoration and Refinishing Process? 
When you make a restoration appointment with Teak Master, you can rest assured that we will make the process as convenient as possible. We will travel to your location and complete the treatment process onsite to avoid the hassle. The restoration process begins with a power wash that removes dirt, mold, algae, and other debris from the wooden surface. That part of the process will improve the final look of your fence after our team applies the treatment.
After washing the fence, our technicians will remove whatever remains of the old finish. That gives them access to the actual surface of the wood for proper treatment. Next, we'll apply a conditioning treatment to the bare wood. The conditioning treatment has some benefits, including removing stains and nail bleeds and restoring your fence's original color.
After conditioning, you may prefer to leave your fence in its original condition or give it a brand-new look. If you want to change your fence's appearance, our technicians can apply a variety of stains or paints to modify the color. Finally, if your wood fences have suffered structural damage, we can address that too. That process includes patching holes, removing rough spots and scratches, and adding new posts.
What Are the Benefits of Wood Fence Maintenance and Restoration?
Restoring your wooden fences can have many benefits for you and your home. For example, regular wooden surface restoration can prevent your wooden fence from deteriorating and save you money you would spend on fence replacement or serious repairs. Restoration is also a great way to protect your investments and add to the value of your home. Increasing your home's value can be especially important if you plan to resell your home soon.
How Does Wood Cleaning Compare to Wood Restoration?
Some customers ask us about the differences between wood cleaning and restoration, and there are a few key distinctions between the two processes. Wood cleaning is a simple procedure for removing dirt, mold, and other growths and debris from your wooden surfaces. Wood cleaning is a relatively simple process, and it only requires a power washer or a hose to complete. While you can hire professionals to clean your fences, it's also possible to do it yourself.
Wood fence restoration is a more involved process that requires the above steps. The wood restoration process aims to restore the original appearance of the fence. And that may include cleaning, staining, sealing, and repair. Unlike cleaning, hiring professional technicians to complete your restoration jobs is best.
Is Wood Fence Restoration Affordable?
Prices for wood fence restoration can vary widely based on the project. For starters, the size of the fence will affect the cost. Also, you may incur additional charges if your wood fence requires staining, extensive repair, painting, or replacement parts. It can be hard to estimate a project's final cost, and your best bet is to call Teak Master and schedule a consultation with one of our professionals. We're sure that we can help you find a restoration plan within your price range.
Why Choose Teak Master for Your Wood Fence Refinishing?
As mentioned above, wood fence restoration is a complex process that requires specialized skills. If you're planning to restore your fences, it's best to get help from experienced professionals. Our professionals will know how to properly use the various chemical agents needed and prevent further damage and injury. Also, our team will help you avoid the hassle of working on the weekends.
If you live in southern California and feel that restoration is the best option for your wood fence, look no further than Teak Master. Our team of experienced technicians is standing by to help you get great results. Our company has more than two decades of experience working with clients in the Los Angeles area. And that has allowed us to perfect our processes and gain a better understanding of California's microclimates. We can help you find a solution tailored to the unique weather in your area and ensure that your wooden structures are durable enough to last for years.
Working with Teak Master will allow you to enhance the value and appearance of your home, making restoration a long-term investment. Rest assured that our team cares about environmental protection if you're worried about impacting the environment. We recycle and strive to use biodegradable products whenever possible. Finally, we are a local business with ties to the Southern California community and a passion for fantastic service.
That's a quick rundown of what you can expect from wood fence restoration. If you're ready to give your fences a facelift, call us at 888-204-8136 or contact us online. We'd be happy to provide a quote and set up an appointment. Our specialists can also answer your questions about the wood restoration process. We can't wait to hear from you soon.