By: Tim Gilliam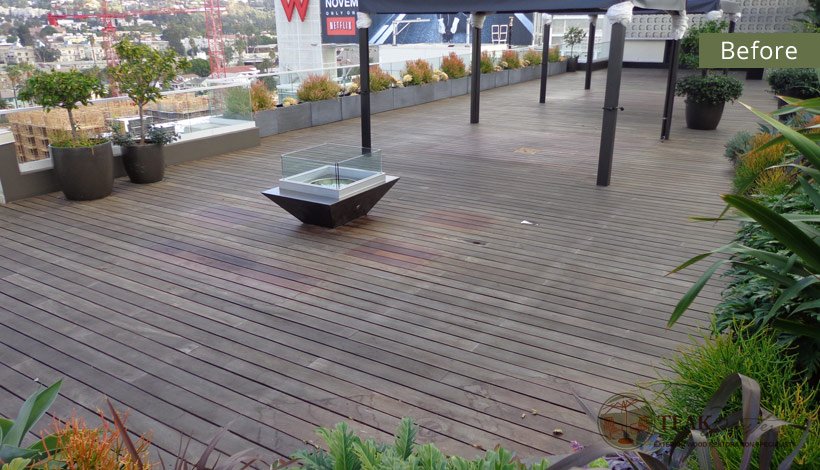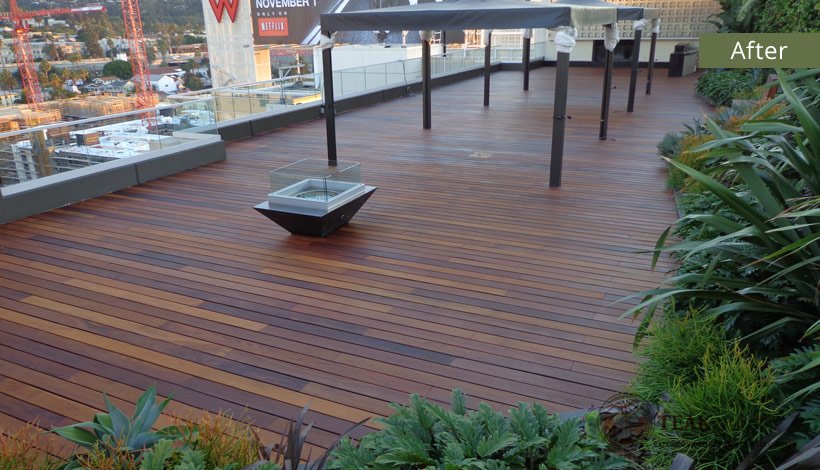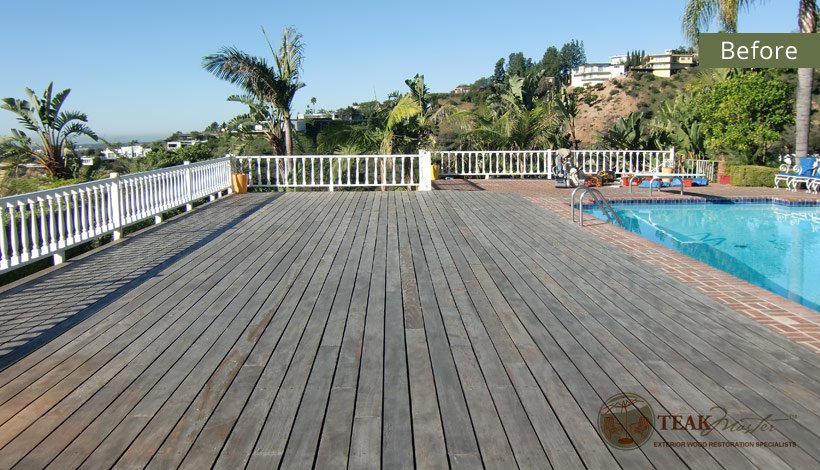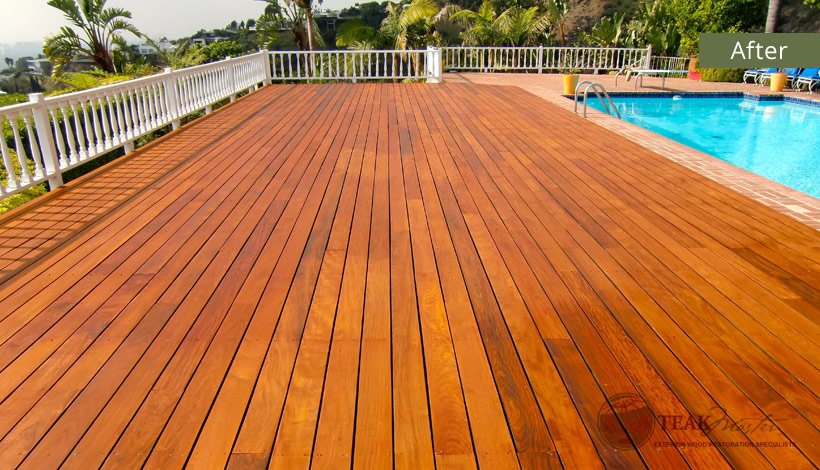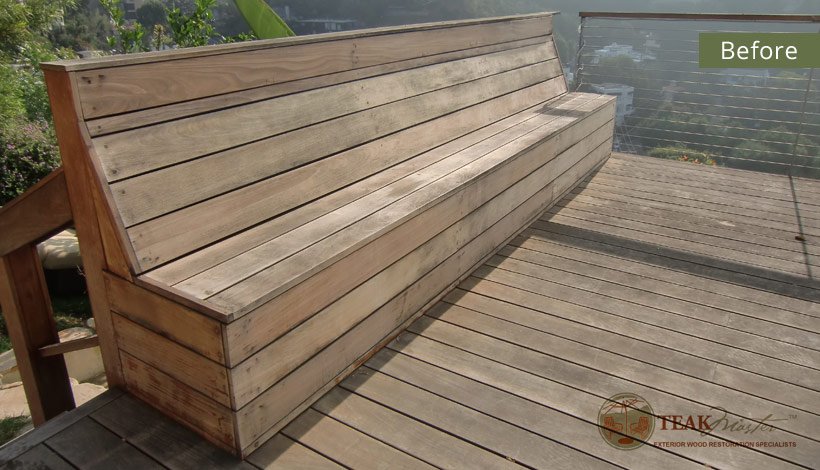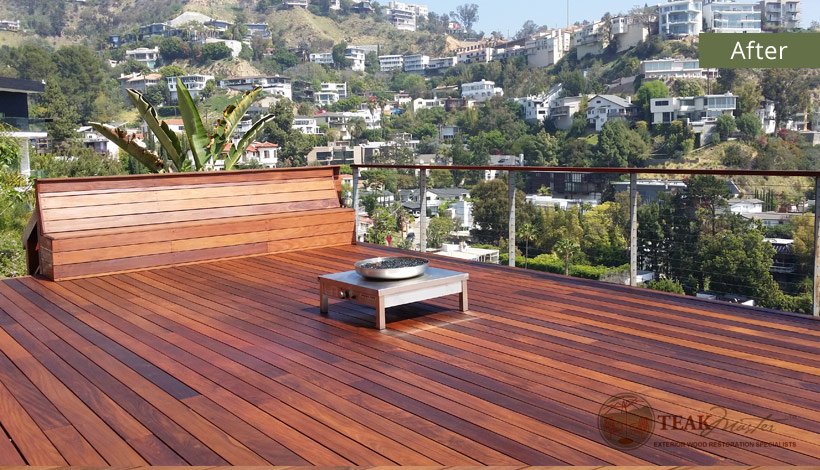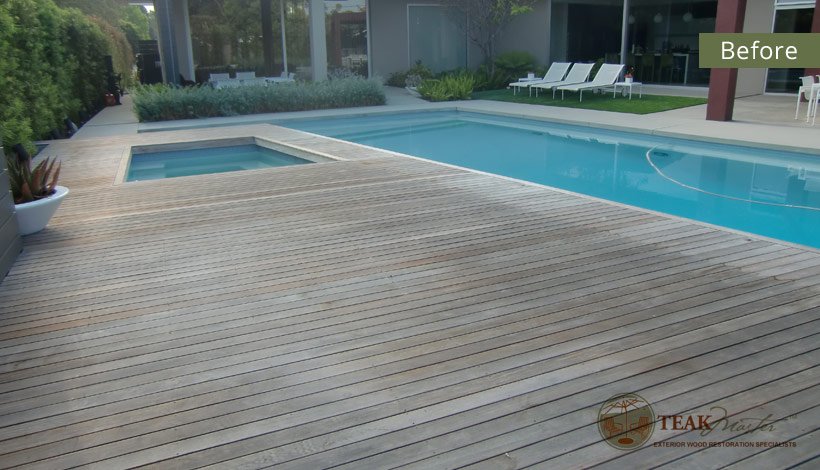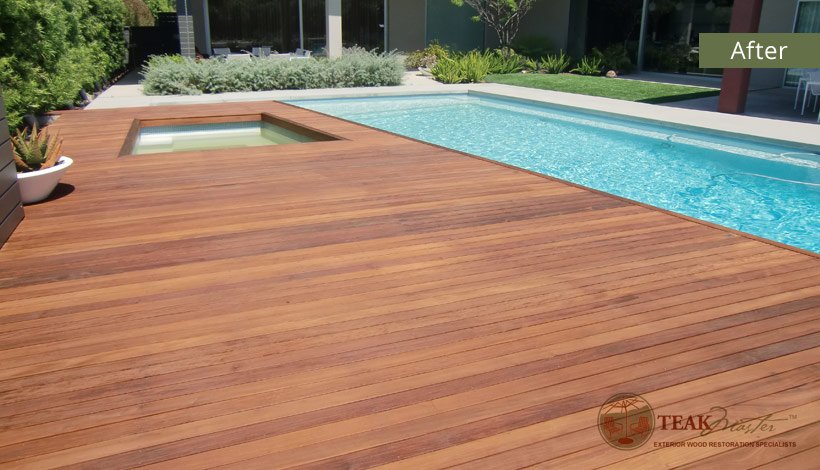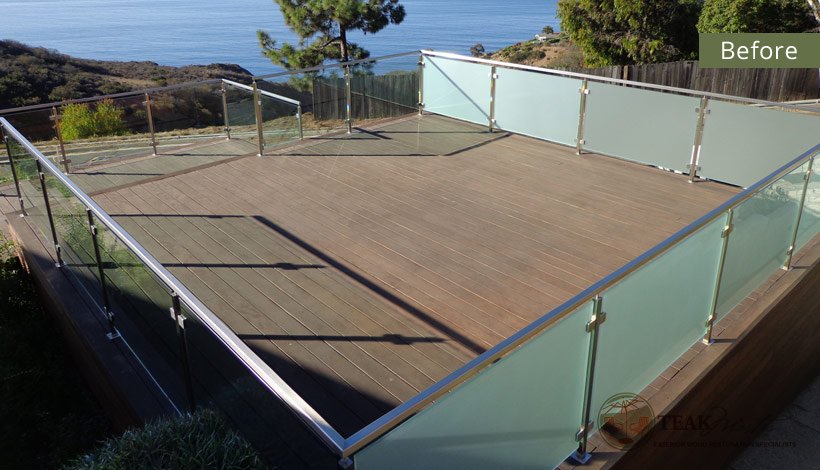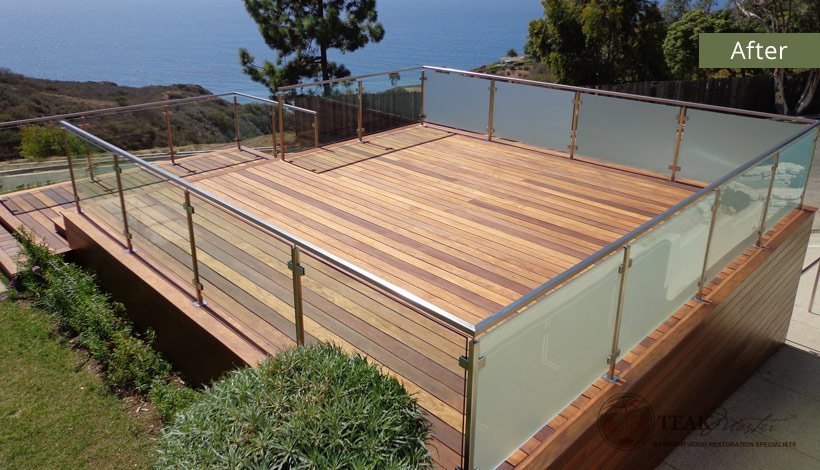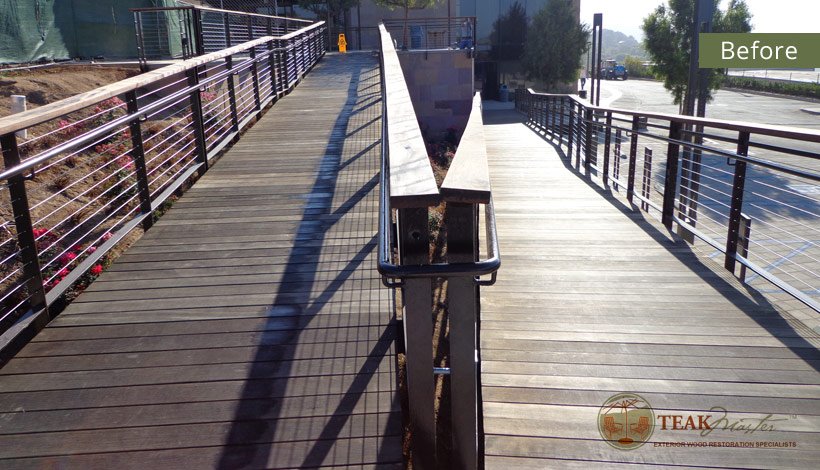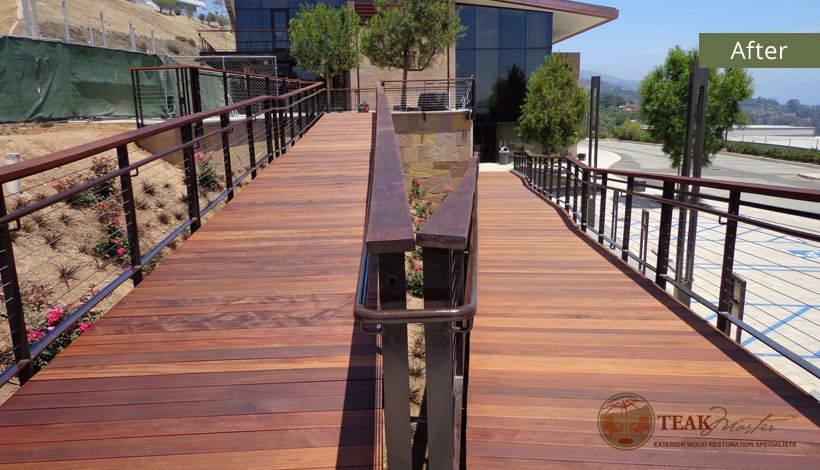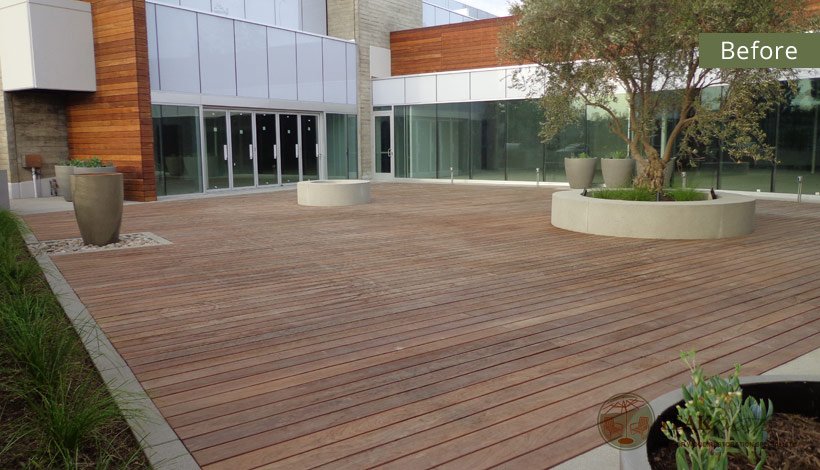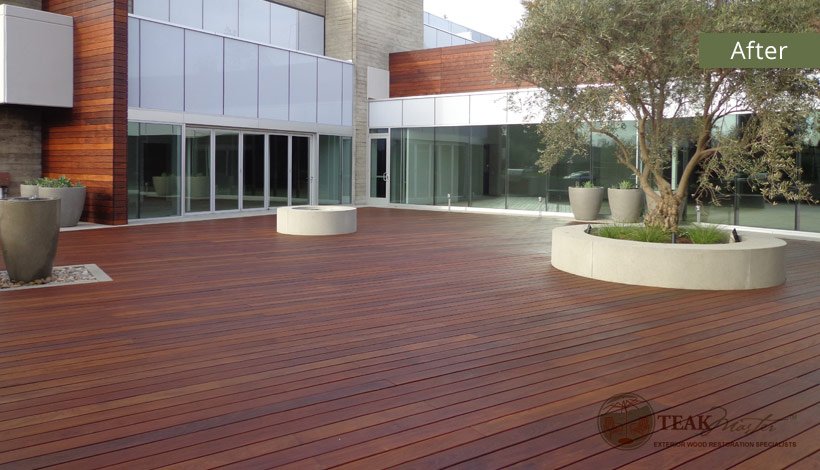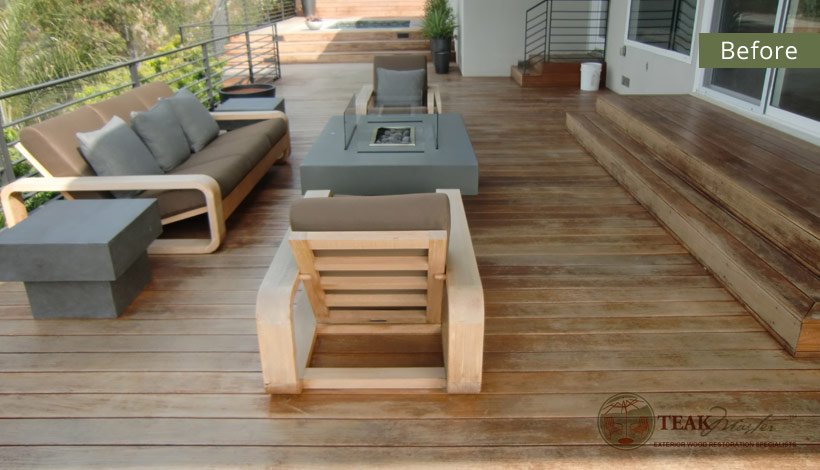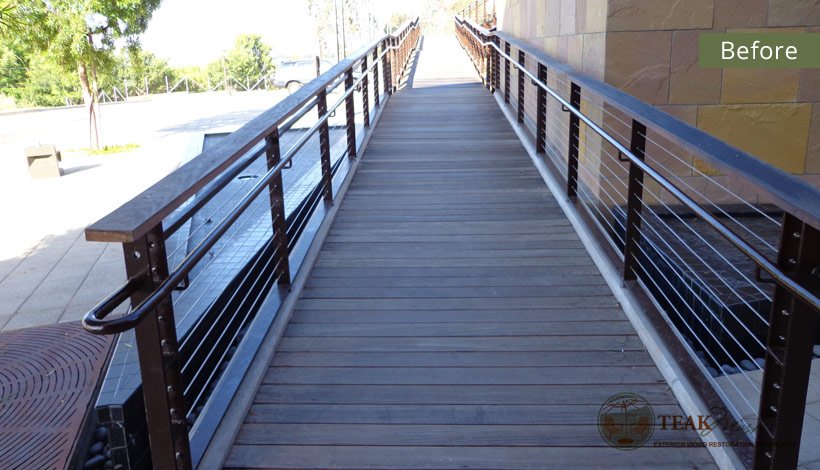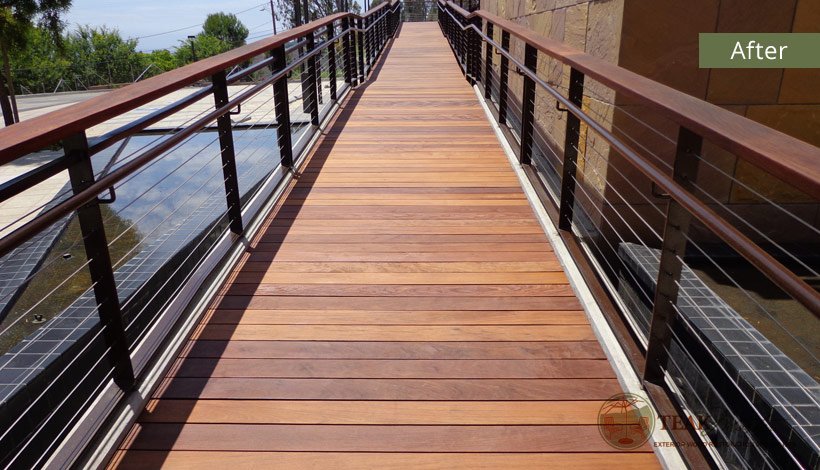 Ipe Deck Refinishing
Over the past 10-15 years Ipe wood has become a staple in modern deck building. It is prized for its natural reddish-brown color, tight grain, and long-lasting strength and durability. Just as exotic woods like mangaris and teak can be difficult to take care of, the general population doesn't know how to properly care for and maintain valuable, exotic hardwood. Contrary to popular belief, just because someone knows how to construct an amazing deck, it does not necessarily mean they know how to correctly protect it so it is maintainable moving forward. A common mistake made by many is the application of the wrong type of coating or even more common, over application. This leaves the wood black and sticky and almost unusable. Over the course of almost two decades, we have seen it all and there is no challenge too great for our team. Teak Master will restore and properly protect your investment so it can be enjoyed for years to come.
Ipe Deck Refinishing Fact Sheet
| Ipe Deck Refinishing | Details |
| --- | --- |
| What is Ipe? | Ipe is a hardwood from Brazil that is commonly used for decks and siding in the united States. It is prized for its strength and durability and unique grain and color. |
| Are Ipe Decks Durable? | Ipe decks can last a lifetime. If you choose to keep it in its natural look, only simple care and maintenance is needed. |
| How to Clean Ipe Decks? | The best way to keep your Ipe deck clean is by using a leaf blower to remove surface dirt and debris. You may also mop the wood clean with a mild soap and water. |
| Ipe Sealers | The best Ipe sealers are oil based. Oil base sealer gradually dissipate over time and allow for realatively easy maintenance. |
| Safe to Pressure Wash Ipe Decks? | It is entirely safe to pressure wash and Ipe deck. Experience is the key in presuure washing as it can permenently scar the wood without proper pressure, height, and nozzle. |
| Are Ipe Deck Oils Safe? | Ipe deck oils are safe to use and apply. Safety is the key, as oil base ipe deck oils are flammable. |
How to Restore Ipe Wood Decks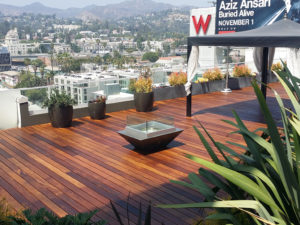 We stated that we have seen it all when it comes to nightmarish projects, and that is actually an understatement. We have seen brand new decks with 3 or 4 layers of oil and anything that lands on it sticks to it, even a poor old bird in one case! Owning this type of wood deck does not have to be so difficult. We begin each and every Ipe deck refinishing project with a thorough evaluation. We look at how the deck has been maintained through the years. We look for the previous coating that may still be on the surface and check to see how long the deck has been left unprotected. Our deck refinishing technique begins with cleaning to remove surface dirt, gray oxidation, previous coating, and any contaminants that have landed on the surface. Strippers and harsh chemicals are almost never used because we do not want to chance runoff ending up damaging plants or hardscape and god forbid ending up in our oceans. Good old fashion cleaning and sanding usually does the trick and will eliminate even the most stubborn coatings. Once the surface is clean, thorough sanding will be employed. Sanding is absolutely necessary because it removes debris that cleaning does not. It also exposes fresh new and smooth raw timber, while opening the grain. The surface will be cleaned with wood brightener to promote color and eliminate contaminants such as mildew and black mold. The wood will be coated with penetrating sealer specifically formulated to Ipe and hardwoods decks. The sealer is applied the old-fashioned way by hand with a brush. This ensures maximum penetration while achieving a consistent application even between boards.
Deck Maintenance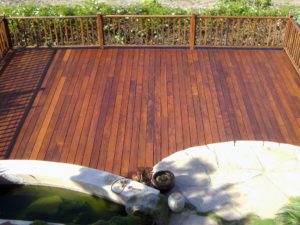 It seems like the maintenance of decks is a taboo subject. Many gather snippets of misleading information they read from the internet or from their general contractor. Where else are you supposed to go, right? Teak Master is here to set the record straight. There are two main factors to determine when it's time for maintenance, microclimate, and its visual appearance. The various microclimates of Southern California each have their own properties that can break down a protective coating. Climates such as Malibu, La Jolla, or Newport Beach will need maintenance more often because of the constant barrage of moisture and salt air. Inland city climates such as Los Angeles, San Diego, or Calabasas receive constant sun and high heat that can also contribute to weathering. Also, despite manufacturer's claims on the longevity of any particular product, the only official way to determine the frequency of maintenance is by visual inspection. We formulate a maintenance schedule based on these factors coupled with years of experience servicing Los Angeles, Orange County, Ventura, and San Diego. We begin our service with a thorough cleaning to remove the accumulation of debris on the surface. The wood may be spot sanded to remove stubborn stains and water spots. Wood brightener will be applied to promote a natural tone and help prevent mold and mildew. The same sealer will be applied by brush to replenish and nourish the wood. The vibrancy will be restored and the surface will be protected for roughly, the same period of time.
Protective Coatings
Sealer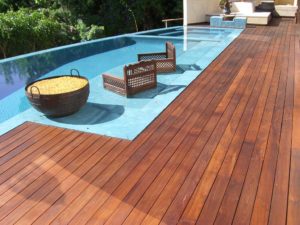 The best way to protect your Ipe deck is with an application of an oil base penetrating sealer. The naturally dense cell structure and natural oils in the wood can make the application of the protective coating difficult. Our proprietary blend of Ipe sealer has sophisticated solvents that allow oils to penetrate deep into the surface. The protective coatings also have special UV reflectors called trans oxide pigments that prevent the wood from premature graying and oxidizing. We apply the protective coatings with a special marine-grade brush that holds a large amount of sealer. Each and every board is sealed from end to end to achieve a clean and even look. Brushing the sealer allows us to coat between boards as well. The oils are allowed to penetrate and excess is wiped clean with a rag. We never apply coatings with anything except a good ol' fashioned brush. Our Ipe sealers are a one-coat system, which means multiple layers are not needed as the wood can only accept so much oil. We never apply varnish or water-base coatings to horizontal surfaces because they will blister and peel and are not maintainable. In fact, varnishes and water-based top coatings are unsafe when wet. The oils will magnify and highlight the natural grain and color of the Ipe wood and will dry matte. Sealers are also available in various tints to slightly change the natural appearance of the wood. Over the course of several months, the oils will naturally dissipate due to weathering characteristics in your area. General maintenance of your deck will be in the range of 4 to 8 months or whenever visually necessary.
Protecting Your Ipe Deck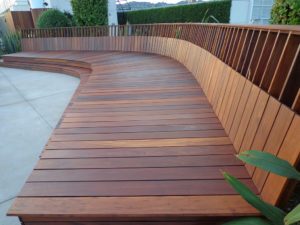 The damaging effects of weather will immediately attack wood that is unprotected. We recommend protecting your new Ipe deck within 2 weeks of it being built. Allowing 2 weeks before application of the protective coating will give the wood time to acclimate and expand and contract with hot and cold. It will also allow some of the natural oils to dissipate so the protective coating can penetrate. We begin our new deck sealing process by lightly sanding to remove mill glaze and open the grain. We will clean with brightener to eliminate contaminants. The wood will be coated with an oil base penetrating sealer specifically formulated for Ipe decking. The sealer is brushed for a clean and even appearance. Never apply multiple coats to any deck to avoid stickiness and a shiny appearance. The sealer magnifies the natural grain and color of the wood and dries matte.
Repair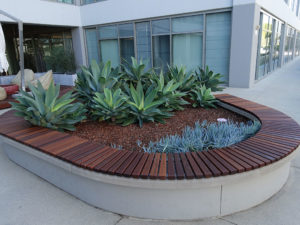 Being a relatively newer wood type used for decking, Ipe has a plethora of fastening systems. Many of these systems are not as well designed as others and problems may arise. We are experienced with all types of fastening systems and can help correct boards that may be loose or fastened incorrectly. We can also replace severely cupped or checked boards.
Ipe Deck FAQ
What is the best way to protect an ipe deck?
The best way to protect an ipe deck is by applying an oil-based penetrating finish. The oil-based finishes have solvents that delve deep into the wood's grain and protects it from within. It allows for a natural appearance while keeping maintainability with relative ease.
Why does my ipe deck have water stains?
Often, ipe deck boards are microscopically cupped. Despite protective coatings, it can be susceptible to watermarks. Marks occur on ipe decks when water sits on the surface for long periods of time, extracting natural oils. The outside edges of the board dry first, followed by the middle – leaving stains.
Will pool water damage my ipe deck?
Pool water may be filled with chlorine and additives that can leave watermarks. Even when an ipe deck is correctly protected, additives, chlorine or salt will leave deposits and/or marks. It would be wise to invest in a deck squeegee to move the pool water off of the boards.
How often should I maintain my ipe deck?
An ipe deck should ideally have maintenance performed whenever it's visually necessary – e.g., whenever it looks like it's weathering or losing color. Ipe deck maintenance can be estimated according to the climate the deck is located in. Usually, ipe decks should be serviced every 4-8 months.
Why does my ipe deck fade at various rates?
The rate an ipe deck will fade depends on weather patterns for any particular year. Other factors that may contribute is the amount of use the deck sees. Unfortunately, the rate at which an ipe deck will fade is in the hands of Mother Nature.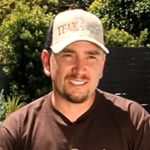 Tim Gilliam
I am as passionate about the services our company provides as the day I started as Teak Masters' only employee in 1997. For 2 decades I have been obsessed with continuing to developing state of the art refinishing techniques and application of the finest cutting edge wood coatings modern science can create. I have training certifications and have been hired as a consultant for esteemed companies such as Benjamin Moore, Arborcoat, Messmers, Dewalt, Porter Cable, TWP, Sikkens, Tropitone, and Brown Jordan.