What is Commercial Teak Furniture Restoration?
Teak furniture is widely preferred in commercial environments such as hotels, restaurants, golf courses, office buildings, and property management companies because of its beauty and durability. This type of diverse environment can present challenges in maintaining teak furniture's appearance and structural integrity because of its frequent use. Food stains, weathering, breakage, improper coatings, and improper repairs are common issues that we often see with teak furniture in large volumes in high use. Many engineering and maintenance crews simply cannot keep up with maintaining their furniture because of the many other challenges they face on a daily basis maintaining large facilities. We specialize in caring for teak furniture in commercial environments through attentive scheduled maintenance and use of fine protective coatings. Our large crew is efficient in restoring large volumes of furniture in a quick manner without creating a mess or disrupting your guest's or employees.
What is Teak Master's Process for Commercial Teak Furniture Restoration?
We understand that wood patio furniture takes a beating when it is used repeatedly on a daily basis. Outside contaminants such as food grease, weathering, graffiti, bird droppings, and failing coatings can leave commercially used furniture looking horrific and almost unusable. The wood's surface will be gently cleaned to remove these contaminants. The next step is sanding. Sanding remove all debris that may still lay on the wood's surface. Thorough sanding will level the wood's surface making it soft and smooth to the touch. Sanding the furniture will make it look brand new because it will bring back the beautiful natural blonde color of the wood. The wood needs to be cleaned after sanding. Dust and debris are pushed into the wood grain and need to be removed. The furniture will be cleaned with wood brightener to alleviate dust and promote the color of the wood. The final step is application of the protective coating. We have a wide array of protective coatings that hold up in commercial environments. We will suggest the best coating suited for your needs.
Teak Restoration Before & Afters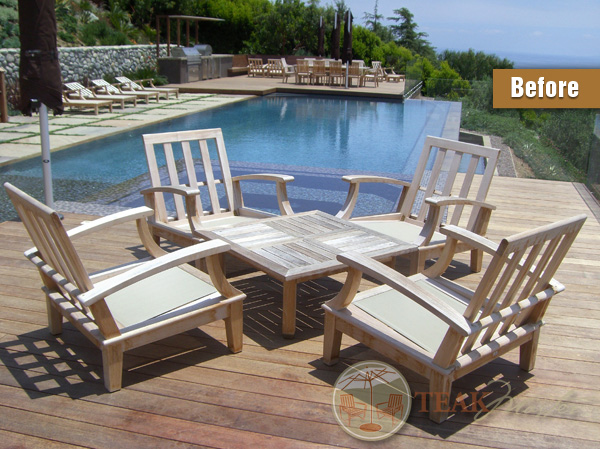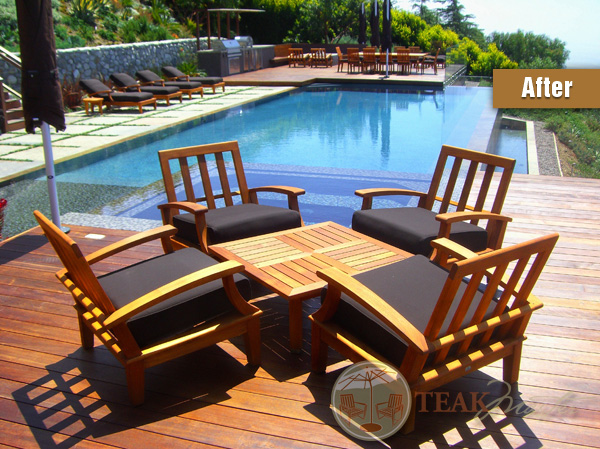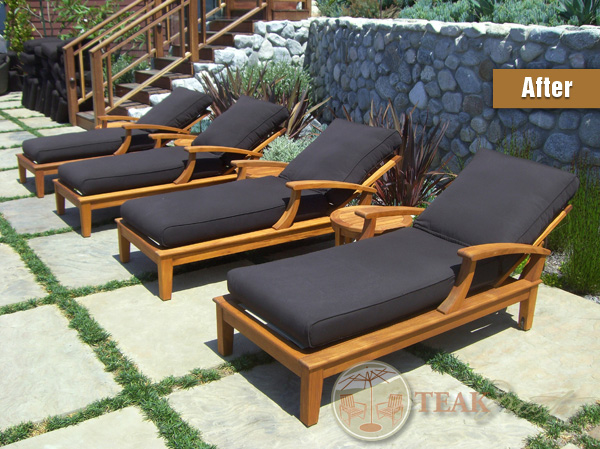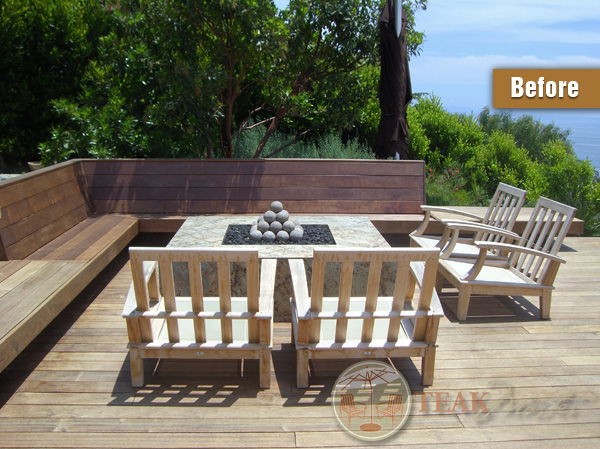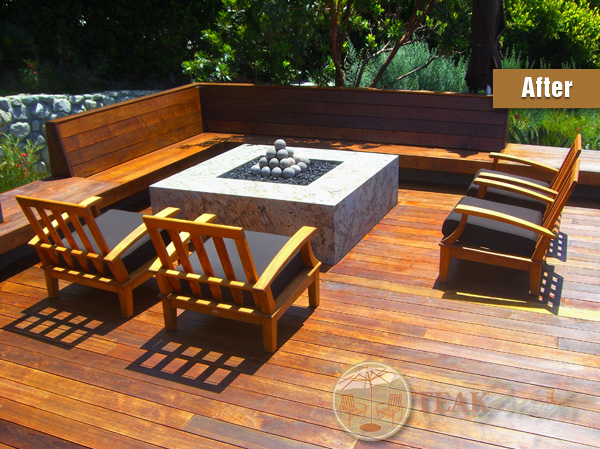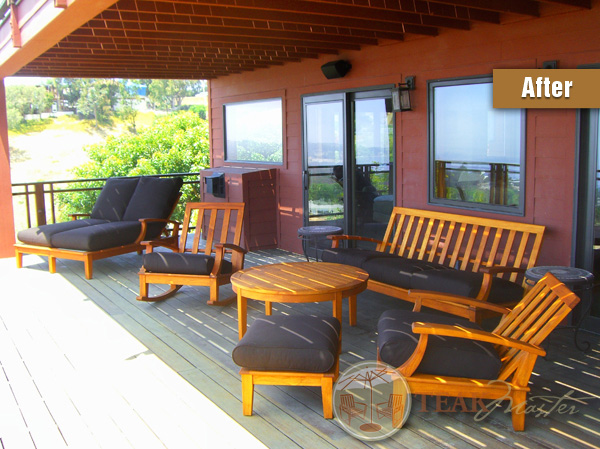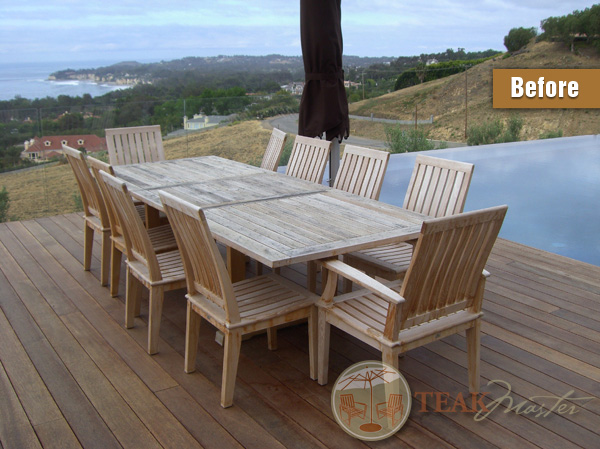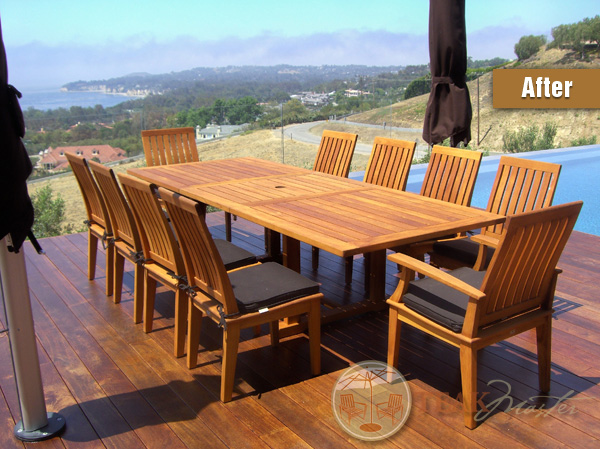 Protecting New Teak Furniture for Commercial Clients
When purchasing outdoor teak furniture for a commercial institution, it is essential to begin with the proper coating from the beginning. Teak furniture must be coated within two weeks of outside exposure to prevent the graying process. It is vital that our clients with extensive collections of furniture understand that there is maintenance to keep it looking its best. The best way to maintain a large teak collection is to coat it with a product that will be easily maintainable. When you are dealing with hundreds of pieces of outdoor furniture, selecting a quality coating will help with timing of maintenance and also cost effectiveness. Our process consists of making sure the wood surface is clean and free from mill glaze and mold. The wood will be coated with marine teak sealer to protect it. Teak sealer is the most cost effective way to easily manage large collections of teak furniture. We also offer polyurethane coatings for added protection against stubborn food stains or to achieve a yacht like appearance. Our poly finishes come in several different solid colors as well. We only recommend the use of poly coatings if the furniture is under a covered patio.
Commercial Teak Furniture Repair
It can take an incredible amount of work to maintain hundreds of pieces of outdoor teak furniture. Along with protecting it comes its occasional repair. The most common repairs in a commercial environment consist of loosening joints and breakage due to moving parts or abuse. We our repair technicians are skilled in tightening loose joints, inlaying missing pieces of wood, and fabricating new pieces. We can also fix substandard repair practices such as removing screws, L brackets, and Bondo. All of our repairs are performed to factory standards or better. In fact many teak furniture manufacturers suggest our company for any and all repairs of their furniture.
Commercial Teak Maintenance Program
The key to keeping teak furniture protected and in good shape is to maintain it. Maintaining with relative ease is our approach when it comes to protecting large volumes of furniture. After your damaged furniture has been restored or new teak furniture sealed, it will need periodic care to keep it protected against the elements. We will plan scheduled follow up to make sure your investment is in good shape depending on the exposure to the elements and amount of use it will be receiving. When it is time to service your teak collection, we will simply clean the surface of the wood. The furniture may be lightly spot sanded to remove stubborn stains or weathering. Recoating will complete the process. The maintenance is quick, easy, and cost effective. All maintenances can be done onsite with no interruption or inconvenience to your clients and guests.
Do You Work On Site or Pick Up for Commercial Teak Furniture Restoration?
Commercial institutions often have specific needs in order to restore or maintain their furniture. Space may be limited or noise from sanding and cleaning may not be an option to do on site. Repairs and stripping may best be done off site in a controlled area in order to avoid run off. Many commercial institutions cannot be without furniture for their guests to enjoy, and have only a small window where furniture can be worked on. We offer off site and onsite and offsite teak refinishing services. Our 5,500 square foot facility can handle even the largest project. Our large team of teak professionals can address large projects in a timely and efficient manner.
What Areas Do You Service for Commercial Clients?
Our restoration services can be performed 100% mobile which allows us to address a broad territory. We service all of California, Arizona, and Nevada for commercial projects with special attention for Southern California. Our crew is large, efficient, and able to perform large project quickly.
How Much Does Commercial Teak Restoration Cost?
Project costs are based on level of restoration needed, coating desired, and volume. We offer discounts for high volume clients with over 25 pieces of furniture. We understand that having your furniture looking its best and accessible at all times is a must. Our teak refinishing technicians are able to address high volumes of furniture quickly without compromising quality.