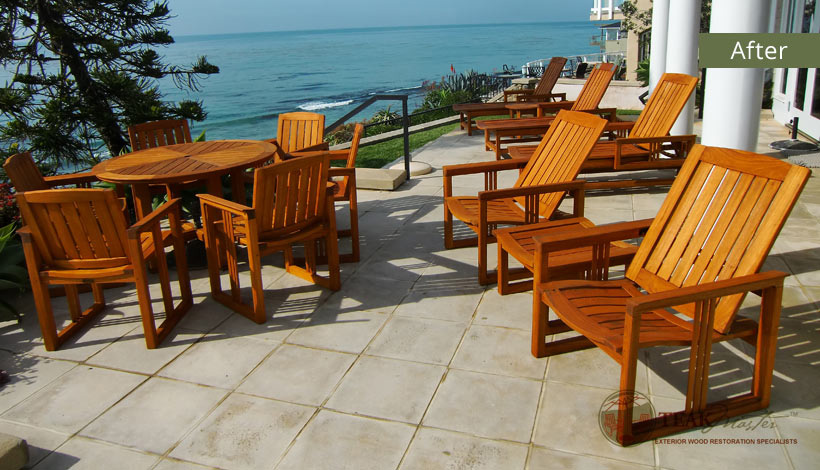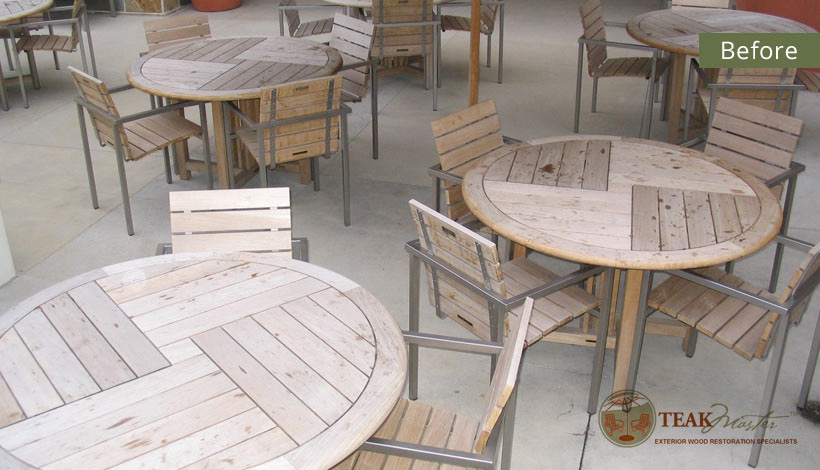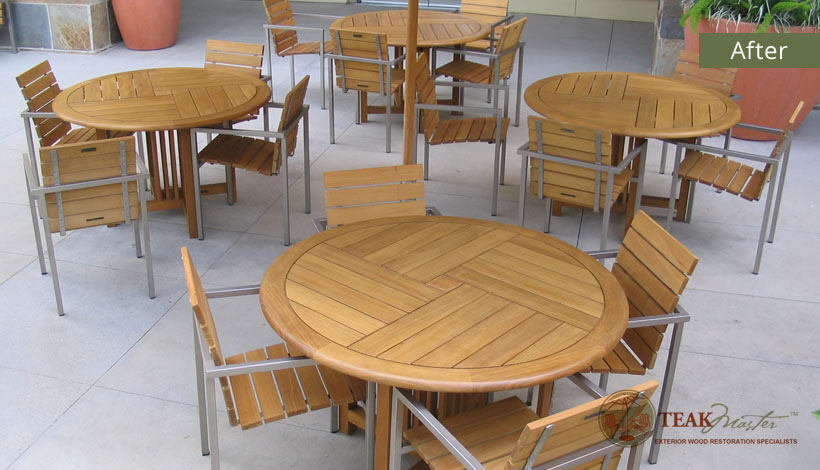 Commercial Teak Refinishing
Outdoor teak furniture is widely preferred in commercial properties such as hotels, restaurants, golf courses, office buildings, and property management companies because of its natural timeless beauty and durability. However, maintaining its original clean look can present challenges for commercial institutions with large volumes of furniture and unfamiliarity of care and products. Weathering, food stains, breakage, substandard coatings, and improper repairs are common issues that we often see with teak furniture at commercial institutions with large volumes in high use.
Most engineering and maintenance crews simply do not have the proper commercial teak refinishing knowledge cannot keep up with the maintenance of their furniture. We specialize in caring for teak furniture in commercial environments through attentive scheduled maintenance and the use of fine maintainable protective coatings. Our large trained staff is efficient in restoring large volumes of furniture in a quick manner without disrupting business or guests.
Commercial Refinishing Process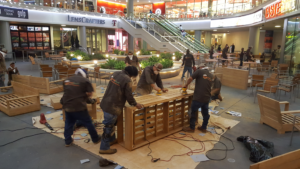 Wood patio furniture takes a beating when it is used on a daily basis. Contaminants such as food stains, grime, bird droppings, and dirt leave commercially used furniture looking dirty and unusable for guests and tenants. We begin our commercial teak refinishing process by gently washing to help remove surface contaminants. The next step is sanding. Sanding removes debris that may still lay on the wood's surface. Thorough sanding will level the wood's surface making it soft and smooth to the touch. The furniture will be cleaned with a wood brightener to alleviate dust and promote the natural color of the wood. The final step is the application of the protective coating. We have a wide array of protective coatings that are perfect for commercial environments. We will suggest the best coating based on your specific needs.
Commercial Deck Maintenance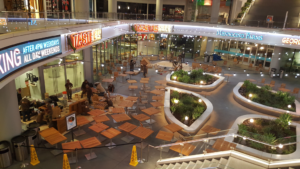 Besides coating your furniture correctly from the beginning, there is nothing more important than maintenance. Unfortunately, there is nothing that is going to permanently stop Mother Nature's weathering characteristics or damage from frequent use. However, planned teak furniture maintenance will thwart attacks from these two constant enemies. Teak Master will formulate a planned maintenance schedule based on the amount of use, microclimate, and finish type to keep your investments looking great all the time.
When it is time for maintenance, your furniture will be cleaned to remove contaminants that have settled on the surface. Spot sanding may be employed for horizontal areas such as tabletops and arms which receive the most amount of UV exposure and contact with food and human interactions.
Protecting New Teak Furniture for Commercial Environments
Outdoor furniture is a big investment for any commercial institution. Keeping a clean appearance is essential. Rule number one. Outdoor teak furniture needs to be protected correctly from the beginning. A large percentage of our business comes from correcting and removing inferior coatings. The furniture needs to be protected before it is placed outside in a commercial environment. Without protection, it will simply not hold up and will become a larger project to remove food stains and weathering. The wood will be lightly finish sanded to remove mill glaze and polishing techniques from manufacturers. The wood will be coated with the appropriate protective coating based on your specific needs. We will consult with you to choose the best options for protecting your investment. We offer sealer finishes that resemble a very natural look and are relatively easy to maintain. We also offer yacht grade varnish available in two sheens for a timeless look that is easy to clean.
Pick up and Delivery and On-Site Services
We offer quick turnaround and can pick up your teak furniture and return it to you ready to use. This service eliminates noise, dust, and space considerations.
On-site teak services are a great option as long as space is available. We are available to work nights and weekends to meet your needs.