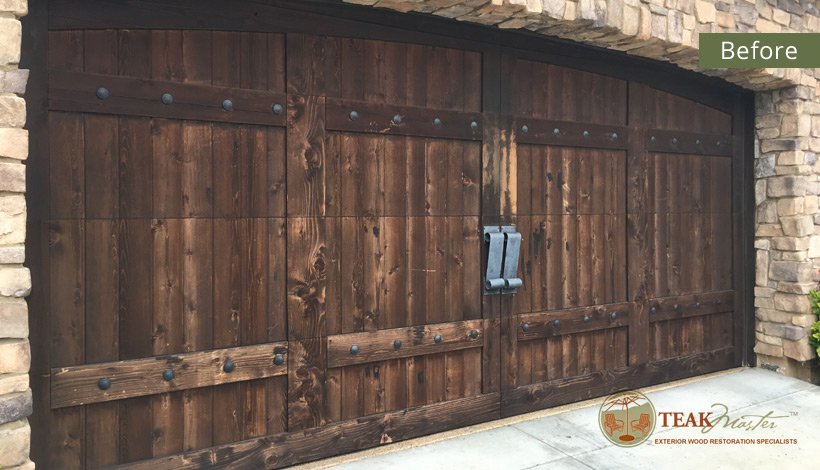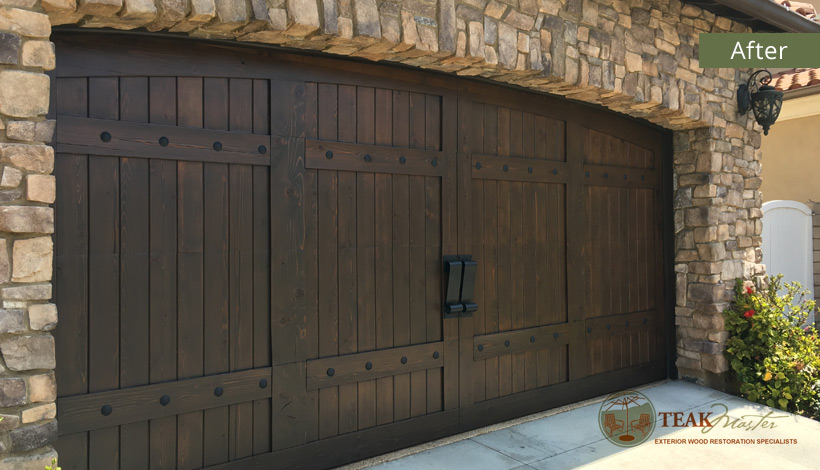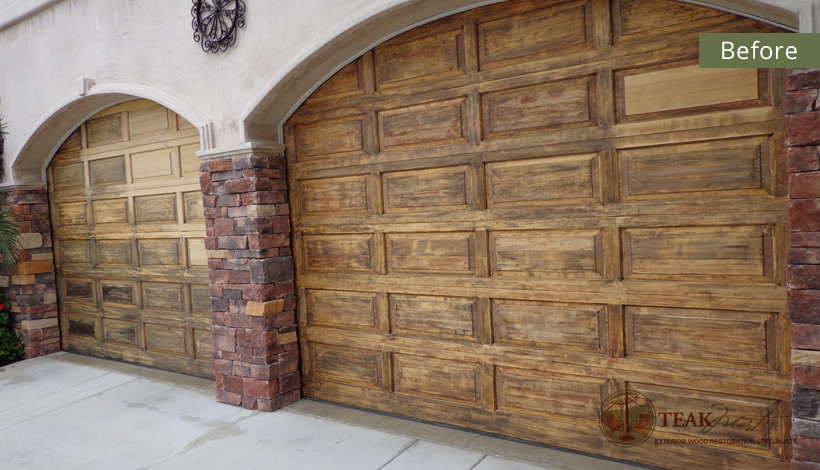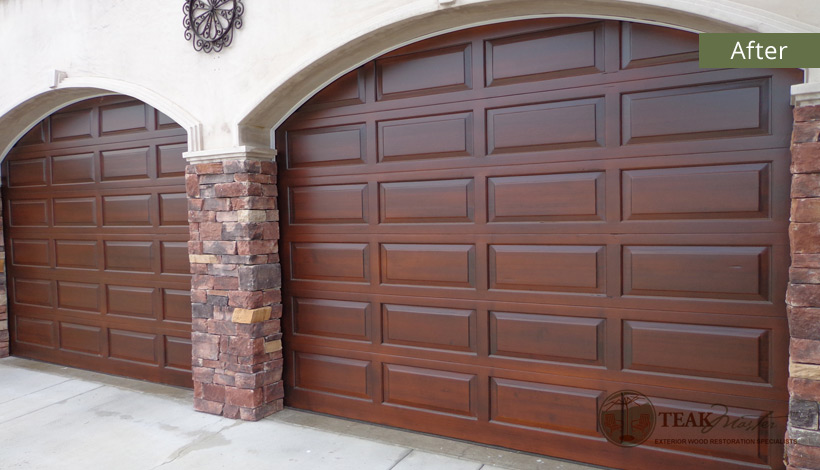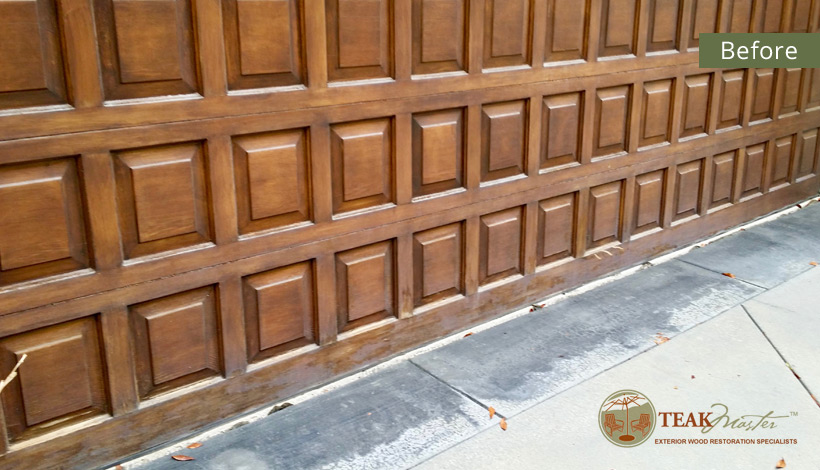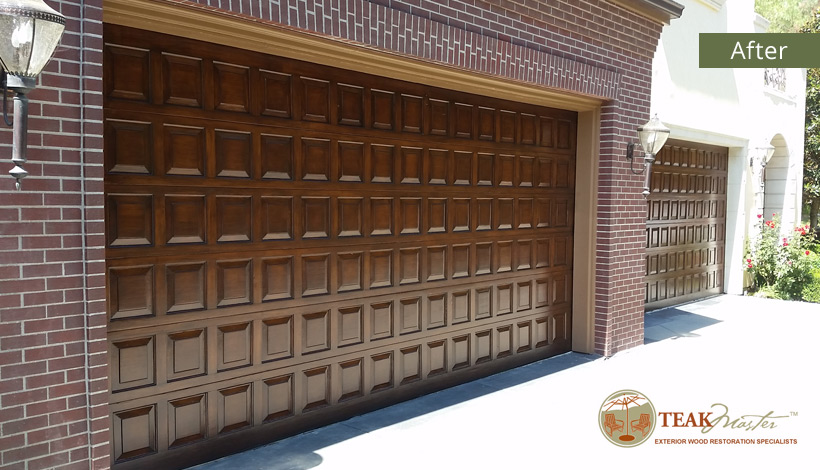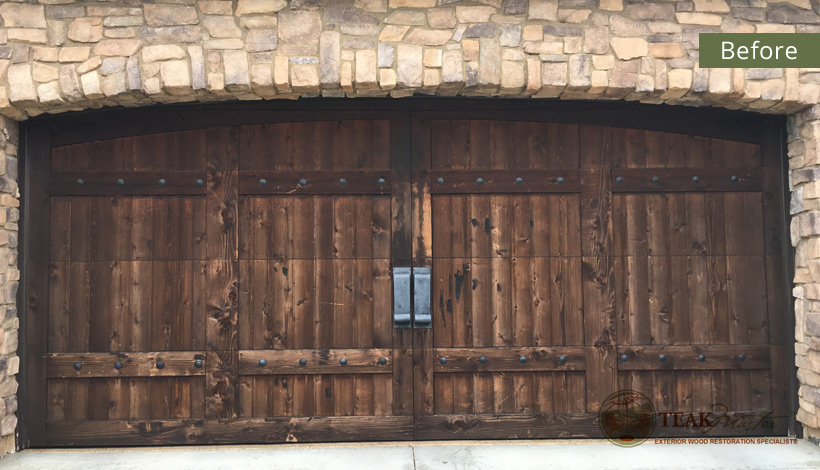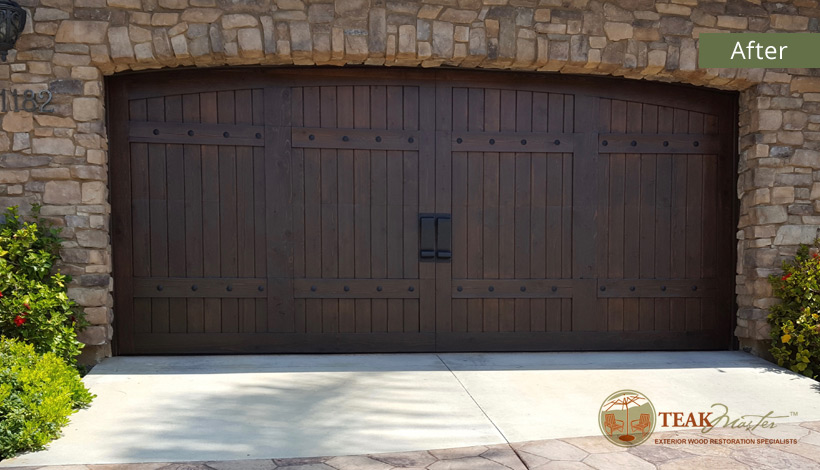 Garage Door Refinishing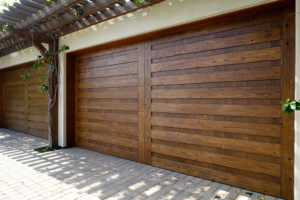 Wooden garage doors add natural beauty and depth to any home. In fact, they can take up as much as 20 to 40% of the front exterior of your home. So it goes without saying that they need to look absolutely perfect all the time. Direct sun and Nature's elements bombard protective coatings and break them down in a relatively short amount of time if not properly serviced and maintained. Our professional garage door refinishing services reverse unwanted changes such as blistering, peeling, or oxidizing and restore the vibrant original natural wood look. Why trust a handyman or person who paints with such an important feature of your home? We have over 20 years of experience and our detailed home restoration and garage door refinishing techniques will not only save your wood garage door investment but will enhance the look of your entire home.
Our Process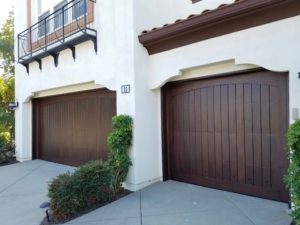 Failing coatings that have cracked, blistered, oxidized, or peeled need to be entirely stripped from the wood. Attempting to save a finish that is failing compromises the look and integrity of a new coating and is a total waste of time and money.
We begin our wood garage door refinishing process by removing old coatings from the surface. This process can be done by sanding or by using a light chemical remover. The wood will be carefully sanded to expose fresh new smooth raw surfaces. Extra special attention will be given to keep the integrity of carvings and molding. The wood will be stained/sealed in a color of your choice or to match what was previously applied.
First, a base layer is applied. We will finish sand between coats until we apply 3 to 4 layers. Finish sanding allows the next application to bond and adheres to its full potential. This technique is what gives the finish a fine furniture-grade appearance. We apply all of our finishes by spraying or by brushing. All work areas, glass, finials, and hardware will be meticulously protected and taped off during the refinishing process.
Refinished Garage Door Maintenance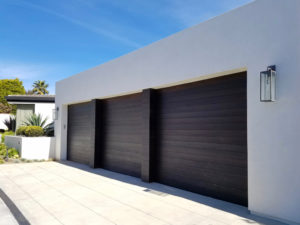 Protective coatings are designed to slow down the effects of Mother Nature's weathering process. The best way to keep your newly restored garage door in stellar condition is with planned maintenance. We will formulate a planned schedule according to the microclimate and exposure your door receives. Maintenance consists of wiping the surface clean to remove dust and debris. The door will be lightly scuffed sanded so that the maintenance coat will bond and adhere. The surfaces will be coated with one to two layers of clear coat. This technique will keep a strong and fresh coating on your garage door all the time. Planned maintenance will keep the surfaces from ever needing a full garage door refinishing.
Protecting New Garage Doors
It is essential to protect new surfaces correctly to protect and allow for easy future maintenance and eliminate the need to garage door restoration. New doors should be allowed to acclimate from 1-2 weeks. We will lightly finish sanding to make sure the wood is finished properly to our specifications. The door will be stained, and sealed in color of your choice on all 6 sides. The wood will be coated with 3-4 layers of yacht-grade clear coat. We will finish sand between layers for a fine furniture-grade outcome.
Effects of Sunlight on Garage Doors
Garage doors may not look new after a few years, gradually fading and not looking like their original stain color. Sunlight, especially direct and prolonged exposure, brings ultraviolet (UV) rays that cause fading garage door finishes and degrades their ability to protect the wood from the elements. Besides fading, the top coat becomes thin and cracks as the wood expands and contracts from temperature and humidity fluctuation. Damaged finishes let moisture and contaminants in, leading to discoloration and rot. Wood will eventually crack, bow, and split as more of it is exposed to sunlight, rain, changing temperatures, and humidity.
Catching issues related to sun exposure is critical if the garage door faces south or west since it receives the strongest sunlight. The garage door surface temperature can exceed 140 degrees, with a dark stain and hot climates increasing heat absorption and temperatures even more. Dark colors add risk to garage doors in hot climates and during high sun exposure. Drastic temperature fluctuation from day to night speeds up surface wear.
Weather Conditions That Affect Garage Doors
All types of weather and environmental conditions affect wooden garage doors. Areas susceptible to heavy winds can bring debris, rain, hail, and dirt to your garage door surface, wearing down protective layers. Water and dirt enter scratched, dented, or cracked surfaces, accelerating degradation and discoloration. Coastal areas may have corrosive salt that damages stain, paint, and other wood finishes. Prolonged moisture leads to mold, mildew, and rusted components that can damage finishes and wood.
Regular cleaning and routine garage door maintenance can help prevent damage caused by contaminants, mildew, and other factors and help you uncover issues like scratches and worn topcoats. Careful cleaning can help a garage door look new by removing dirt, chalking, and other contaminants. Cleaning is best done with a mild detergent, using cleaning tools that are safe for the surface, like cloths or a brush. Work from the bottom section up, cleaning all surfaces, including the weatherstripping. A garden hose works best to wash the surface, as power washers can damage the surface. Avoid strong cleaners like solvents, bleach, or abrasive cleaners.
Setting up an annual inspection with Teak Master lets our experts professionally clean and plan for top coat renewal and other maintenance to ensure the beauty of your garage doors shines for years to come.
Garage Door Refinishing FAQ
How do you refinish a wooden garage door?
The deteriorating protective coating must be removed through a process of stripping and sanding to reveal the stainable surface. The wood should be stained and coated with multiple layers of a clear film-forming finish. The wood can be sanded between coats for a smooth and rich appearance.
How do you restore a faded garage door?
Garage door surfaces that are faded or damaged can be fixed, with issues caught early being easier to remedy. Some repairs can be quite simple, while others may require extensive work. As with any part of your home, monitoring for problems and conducting preventative maintenance can go a long way in extending the life of materials.
Minor issues should be corrected before they lead to damage from moisture and contaminants. Scratches and dents can be fixed individually, sanding the area and applying touch-up filler and stain to blend in with surrounding surfaces. If part or all of the surface is faded or missing protective layers of coating, the door may need a new maintenance coat of varnish or similar covering. Cleaning and light sanding will help prepare the surface to accept the new protective coating.
More extensive damage, such as weather damage and neglected maintenance, will require extra work to restore the door to its original appearance through surface restoration. Heavy sanding and treatments for discolored or damaged surfaces will be needed. Stain and the top coat will need to be re-applied, with remnants of the old finish removed to create a consistent appearance. UV-resistant coatings will limit future fading and degradation, making your garage door last longer. Damaging sunlight can also be mitigated by strategically placed shade trees or sun shades.
What colors can you choose when refinishing your garage door?
Your garage door can be stained in almost any color. Once a color is chosen, it should be applied to your garage door's wood type to see the true color. Various wood types accept stains differently and a test sample should always be performed when choosing a stain.
How much do garage door restoration services cost?
Restoration services can vary depending on many factors, including the condition of the wood, type of wood, shape of the door, and type of finishes needed. Teak Master's multi-step process is customized for your doors and includes cleaning, removing old coverings, and applying new specially designed stains and sealants to protect them.
Don't hesitate to address the damage if your garage door has a faded finish, dents, dings, or other damage. The longer you wait, the more damage can occur. Faded finishes can be remedied with a good cleaning and a new top coat. Peeling finishes that lead to discolored and cracked boards require more extensive restoration services.
Specialty wood conditioners will ensure the new stain and coatings provide years of protection from the sun, environment, and regular wear and tear. Restoration has three main steps:
Removing old finishes and contaminants.

Sanding and preparing the surface with brighteners and neutralizers.

Applying coatings that are surface-correct, including stains, sealers, and protectants.
The process is uniquely tailored to the garage door's condition, type of wood, how it's shaped and installed, and environmental factors like trees. Rough-cut wood with textured grain requires specialty chemicals and brushing to prepare since it can't be sanded. Check out testimonials from satisfied customers who have benefited from Teak Master's services. Garage door restoration could cost between $1,500 and $12,000, depending on the doors' condition, design, and size.
How can I clean my newly refinished wooden garage door?
The best way to clean a newly refinished garage door is to wipe it clean with some water and a damp towel. A mild cleaner such as SIMPLE GREEN or MRS. MEYERS can be added to help clean off stubborn debris.
How long will my wooden garage door refinish last?
The coating applied when your garage door has been refinished needs to be periodically reapplied to protect the door from sun and moisture. Periodic maintenance of a garage door will eliminate the need for a full refinish and keep the garage door looking its best.
What should I look for when inspecting my garage door?
While you should frequently monitor your garage door for damage to the surface, mechanical issues with tracks and garage door openers, and other safety concerns, a close inspection of the finish is only needed annually. No surfaces are truly maintenance-free. Finishes and other surfaces wear over time. To keep on top of issues before they cause costly damage, follow these three key steps:
Watch for evidence of weakening protective coatings. Blistering, cracking, fading, or peeling surfaces are signs of weakened protection and infiltration of water and contaminants that can rot and discolor wood.

Note any damage that can cause water and contaminants to get into the wood, such as scratches, gouges, dents, and other excessive wear.

Inspect the entire surface, touching it to see if it feels dry or if the finish is missing or inconsistent in areas. Surfaces exposed to the sun, moisture, and wear will likely experience a missing finish earlier.
Contact Us
If you're in the Los Angeles area and looking for someone to refinish your garage door, contact Teak Master today. With over 20 years of experience, we can bring your wood garage door back to life! Not convinced? Check out some of our previous garage restoration projects!