Children's wood play sets are a popular backyard addition for families with young children. These play sets look nice and provide hours of outdoor fun and exercise for kids. They encourage children to spend time outdoors, which is important for their health and well-being.
However, over time, the materials used to construct wooden play sets can wear out. Just like other types of wooden outdoor furniture, you will eventually have to restore your play set to keep it looking nice and in good condition. This is where the professionals at Teak Master come in handy! 
What is play set restoration?
Some of the best children's outdoor play sets are made of different kinds of wood. Although wood is a durable and functional material, it can break down over time when exposed to the elements. The wood could also develop sharp or uneven pieces that can cause splinters. You will want to remedy this problem or prevent the problem from happening. Doing so will help keep your kids safe and make sure your play set looks welcoming and inviting.
If you are in Southern California, then you should contact our team to learn more about our play set restoration process. Our experienced technicians can restore your wooden play set and make sure that it is safe to use. The appearance and functionality of your play set will amaze you after we finish your restoration project.
The Teak Master Process – How We Restore Play Sets
At Teak Master, we understand the importance of keeping your children's wood play set clean, safe, and free from splinters. Our restoration process begins with a thorough cleaning of the entire surface. Our goal is to remove any dirt and grime that might have accumulated over time. We also want to strip away the previous finish applied to the wood. 
After the wood is properly clean and dry, we sand the wood multiple times to create a smooth finish. This step removes any uneven sections that could cause splinters.
Next, we brighten the wood to bring out its rich, original color and apply a protective coating to the surface. The coating will prevent moisture and other damaging elements from penetrating the wood, keeping it looking great throughout the changing climate conditions.
We perform all of these steps by hand to make sure we do a complete and detailed job. Our technicians recommend having your wooden play set restored and refreshed regularly to maintain its appearance and keep the surface smooth. We will need to reapply the protective coating every couple of years, and we will contact you when it's time to schedule this service.
Play Sets Restoration Before & Afters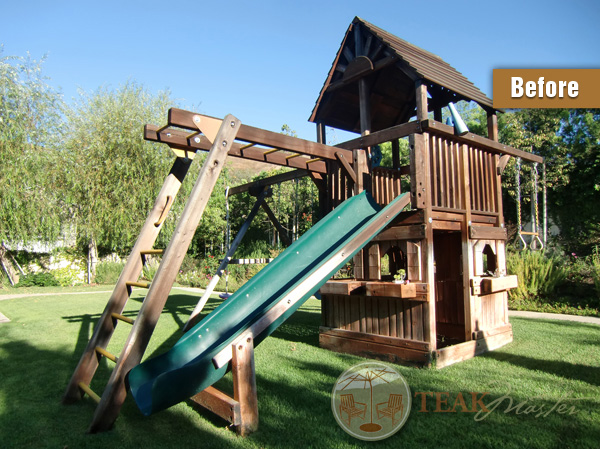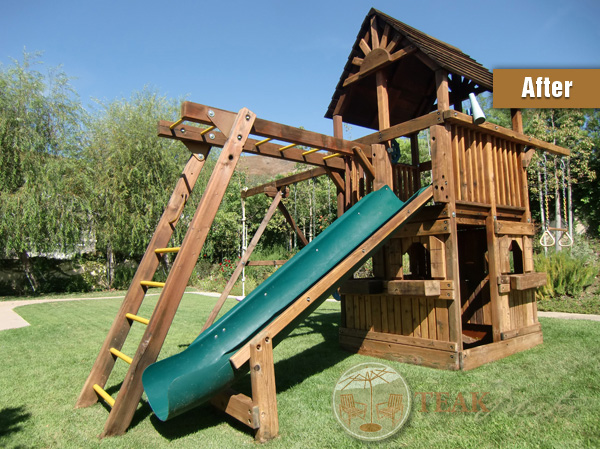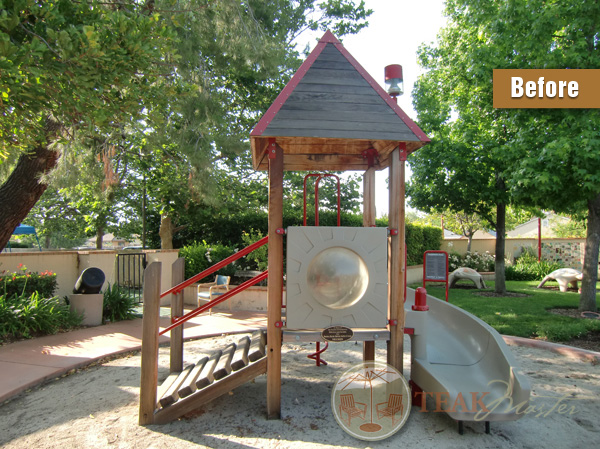 What are the best ways to maintain a wooden play set?
After we complete the restoration process, it is important for you to protect your wood play set and keep up its nice appearance. Also, you will want your kids to play on it as much as possible. To maintain a wooden play set, it's important to seal the wood, inspect the play set regularly, keep it clean, remove any detachable parts when winterizing it, and make sure the play set is properly placed. Below, we have put together some basic tips you can follow to help you maintain the equipment and make sure it's always safe and ready for use.
Seal the Wood
Sealing the wood is one of the most important things you can do to extend the life of your wooden play structure. A waterproof sealant will protect the wood from UV rays, limit how much moisture can seep into the wood, and provide a protective layer against mold and mildew. Since you should typically reseal every one to two years, we follow up our wood play set restoration process by sending you a reminder to let you know when it's time to schedule a date to reseal. 
Inspect It Regularly
To keep your play set safe, you'll want to regularly inspect all of its components. Since our warm Southern California weather means your kids can use their play structure throughout the year, you should inspect the components once a month. If you can't use your play set during the winter months, you'll want to inspect it in the spring before your kids starting playing on it and at least two more times during the summer.
When you inspect the play set, you should glance at all the accessories and hardware that hold the unit together. Look for broken or protruding bolts or screws that could become safety threats. You should go through and tighten all the nuts, bolts, and screws that look lose. You should keep an eye out for rust on metal components and cracks on plastic parts. If you seen any parts that are beginning to crack or rust, then you need to replace them immediately to avoid injuries. 
Finally, you should make sure that no insects have made nests in or around the play set. Wood-boring insects are known to take up residence in any type of wood they can find, and your child's playground equipment is no exception. Wasps can set up nests in the roof peaks and interior corners, so watch out for signs of these bothersome (and potentially dangerous) flying insects.
Keep It Clean
Not only will a regular cleaning help keep your play set looking nice, but it can also help keep the wood from staining or rotting due to wetness. To clean your wooden play structure, you can simply use a mild soap and some water. You can also use a soft bristle brush to remove dirt and bird droppings.
Part of cleaning also means preventing bugs and pests from making holes in the wood and building nests. One easy way to keep bugs away is to use a rag or cotton ball to apply liquid dish soap to the edge and inside corners of the roof lines. Also, don't forget to apply the soap in the interior corners and roof peaks to keep wasps and spiders from building their nests or webs inside.
Remove Detachable Parts
If you need to winterize your wooden play set or protect it from an incoming storm, you'll want to remove any parts that you can easily detach. These parts might include rope ladders, gliders, and swings. By removing these parts and storing them indoors, you can avoid any breakage or deterioration and extend their usable life.
You also might want to consider taking down the canopy roof if you can easily remove it. This will help prevent any stretching or tearing that can happen when the vinyl or fabric is exposed to strong winds or the heavyweight of snow.
If you can't easily remove any parts from your play structure, you can cover it with a tarp during a storm or during the winter months. This will still provide some protection to the wood and other components of your play set.
Place It Properly
If your play set is exposed to constant moisture, then the risk of damage increases significantly. While wood used for playground equipment is often treated for moisture exposure, too much water can cause the wood to warp or swell. If possible, keep your play set in an area of the yard where it will not get drenched by the irrigation system or exposed to heavy rainfall.
How can I maintain a play set during the winter season?
Although some people keep their play sets up year-round, especially in Southern California, others choose to close them down for the winter. If your kids decide to remain indoors because of chilly weather during the winter, you should think about winterizing your equipment. This process includes removing and storing detachable items such as swings and rope ladders. 
If possible, remove the play set's canopy roof to prevent tearing or stretching that can occur when the material is exposed to heavy winds. You can cover a play set that doesn't have easily removable parts with a tarp to provide protection against the harsh climate conditions.
Why hire a professional for wooden play set restoration services?
Wood play sets are typically constructed with commercial-grade materials that require specific experience and knowledge for proper care and repair. Additionally, wood play sets can consist of a variety of different pieces, such as swings, climbing structures, ropes, slides, monkey bars, climbing walls, tires, basketball hoops, and more. These pieces can be made of wood, PVC, steel, rubber, or even a combination of these materials.
Professionals know the current safety standards for different types of play sets. Plus, if your wood play set needs any repairs, professionals have access to replacement parts and the specialty equipment needed to make those fixes.
What areas do you service?
Our mobile crew is ready to address your play set restoration project. We service all of Southern California.
How much does it cost to restore a wooden play set?
At Teak Master, we offer competitive pricing on all our services, including play set restoration. The exact price of your project will vary depending on the size and layout of your play set. However, you can reach out to us to request a cost estimate.
We will come out to your home and give you an accurate price estimate to restore your children's wooden play set that meets all of your specific demands. Some of the most common repairs include smoothing and restoring wood, replacing splintered wood, repainting structures, tightening or replacing bolts and screws, and replacing damaged parts.
Our Maintenance Program
Play sets need to be maintained to keep the color of the wood preserved and free from splinters. We follow up by sending you a reminder letting you know it is time to give us a call and schedule a date to reseal. Periodic reapplication of the protective sealer will prevent the wood from splintering and discoloring.
Children's wood play sets are a popular backyard addition for families with young children. These look nice and provide hours of outdoor fun and exercise for kids. However, just like other types of wooden outdoor furniture, you'll eventually have to restore these to keep them free from splinters and looking nice. Discover how Teak Master can restore your wooden play set to keep it safe for your children to enjoy.
Get In Touch
With more than 20 years of experience restoring, maintaining, and repairing wood furniture, Teak Master is the one to trust with your wood play set. If you have a wood play set in need of restoration, or if your outdoor equipment is looking worse for the wear, then we encourage you to reach out. Our mobile crew services all of Southern California and can help you with your refinishing and restoration needs. Contact us today to discover how we can bring joy into your children's lives by giving them a safe and functional play set.