What is it?
Deck restoration is the process of transforming damaged or weathered decking back it its original look. There are many reasons why your deck may need restoration. If a Cumaru deck is left unprotected it will gray in color because the natural oils in the wood oxidize. If it has been coated with an inferior product, it may suffer from discoloration, stickiness, mold, or a built up film barrier. The only way to remove inferior products is to have it fully restored back to bare wood.
Our Process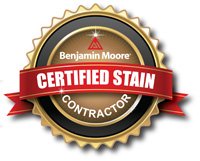 All restoration and refinishing projects are performed on a case by case basis. We start by evaluating the problem at hand. The two most common reasons why Cumaru decks are in need of restoration are because they have weathered gray or have an inferior product that needs to be removed. We start our process by cleaning to remove layers of dirt, mold, oxidation, and previous finish from the wood's surface. Many coatings may need to be chemically stripped and removed depending on thickness and density. After the wood has been cleaned it will be sanded. Thorough sanding is required to remove all previous coating and oxidation from the wood's surface. Sanding will restore a smooth texture back to the wood while opening wood's pores and grain to accept the sealer correctly. The deck will be cleaned to free it from dust that may be embedded in the grain of the wood. Wood brightener is the applied to promote color and eliminate and prevent mold. The final step is the application of the protective coating. Our deck sealers are specifically formulated for dense hardwoods such as Cumaru. The sealer penetrates deep into the dense wood by forming a layer of protection against the damaging effects of sun and weathering. The finish magnifies the beautiful grain of the wood and dries to a beautiful rich matte sheen. The look is gorgeous and natural.
Before & Afters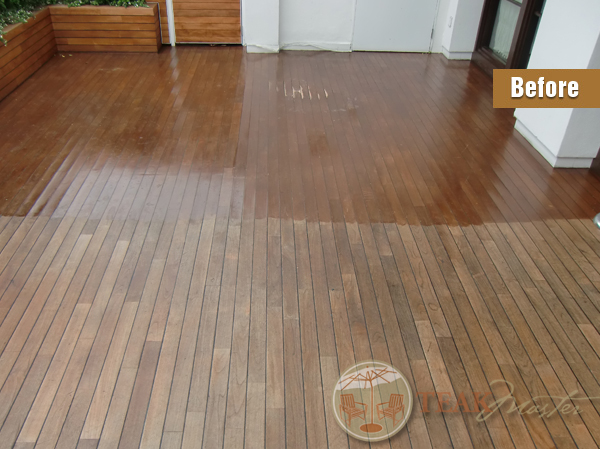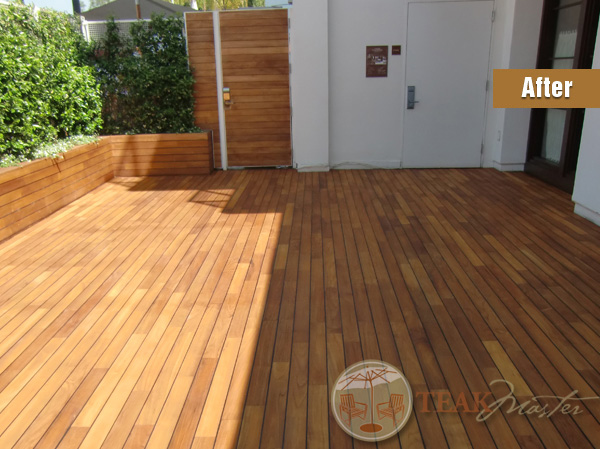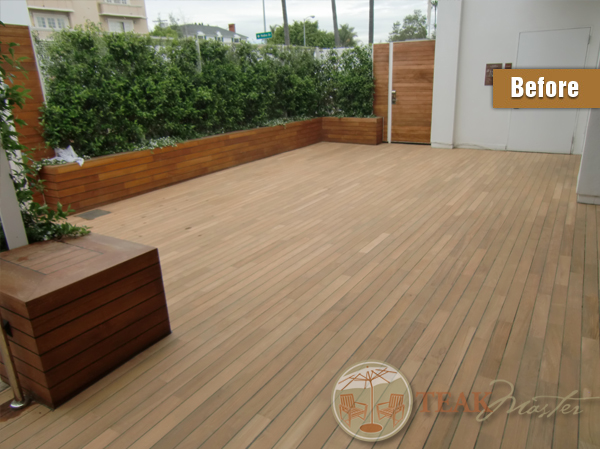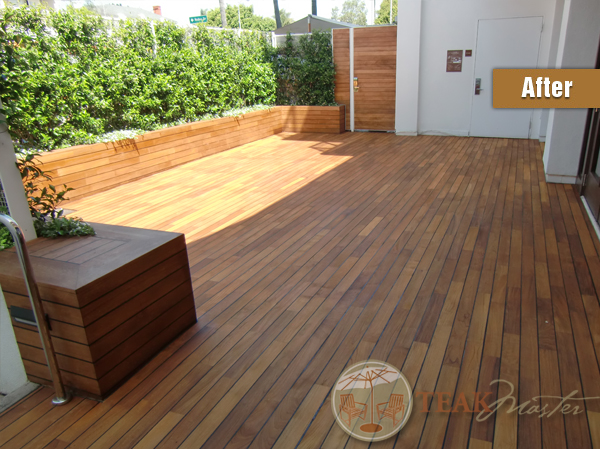 Sealing New Cumaru Decks
It is crucial to protect your new deck with the correct finish from the beginning. Sealers are best to protect decks because they add natural elements into the wood and can be easily reapplied for continued protection. There are few finishes that have the penetrating elements needed to dig deep down into dense wood. Most finishes do not penetrate correctly and are sticky and hard to apply. This means they are not penetrating correctly into the wood. Sticky and top laying finishes are not maintainable. They actually build up a barrier that does not allow for reapplication. Our sealers will last 6 to12 months depending on exposure to the elements. They can be applied with relative ease, constantly adding protection to your valuable hardwood deck. Sealing new decks begin with a mild surface wash to remove dirt, dust, mill glaze, and tannins from the wood. After the wood has dried, an oil based deck sealer will be applied by brush and excess will be buffed. We never use pump sprayers or rollers to apply finishes as they over apply the product. The sealers will magnify the natural grain of the wood and dry matte. The end results are absolutely amazing. We will recommend a maintenance schedule depending on your deck's exposure to the elements.
Repair
Cumaru deck repair is a specialty of ours. We can address minor cupping issues by sanding the deck with a drum sander at a heavy grit. This will slightly shave off the ends of each board so that the cupping is not as noticeable. We can also replace boards that have been damaged. We will replace boards with high quality kiln dried wood and match the grain. We can also address inferior deck fastening systems. It is a fact that not all deck fastening systems are equal. In many cases we can fix and repair most issues that arise with deck fastening systems.
Maintenance Program
Your deck needs periodic maintenance to keep them in pristine condition. After we have refinished or sealed your new deck all that is needed is reapplication of the protective coating. We follow up with you through emails and reminders letting you know it is time to recoat. We can also stop by your home at no charge for an evaluation of your deck. We will determine the right time to recoat and set up a schedule to reapply the sealer. Our maintenance consists of a mild surface wash to remove dirt and debris on the woods surface. After the wood has dried we will apply the same sealer as before with the same technique. This will add the oils back into the wood that have depleted. With continual maintenance your valuable deck will look its best for a lifetime.
Areas of Service
Our wealth of knowledge and experience about deck refinishing and care has been sought after by clients throughout Southern California for almost 20 years. Our large and efficient deck refinishing crew is at the ready to handle all of your needs. We are ready to tackle deck refinishing projects from Santa Barbara, Ventura County, Los Angeles, Orange County, to San Diego.
What is the cost?
The cost is almost always more reasonable to replacing your deck. Deck refinishing costs are based on several factors. The factors that we take into account when formulating are the severity of weathering, stripping, square footage, and repairs. After your deck has been restored only periodic maintenance id needed to keep it in pristine shape. Our maintenance program eliminates the need for restoration with cost effective annual care.