By: Tim Gilliam
What is it?
Chances are if you own a deck, at some point you will need professional restoration. In fact we have restored over 100 teak decks throughout Southern California. How do you know you need deck refinishing? Take a close look at the color of your deck. If it has changed from a beautiful blonde honey color to an unsightly gray appearance, it needs to be professionally restored. Deck restoration consists of applying proven refinishing methods to decks made of wood to make it new in texture and appearance. Years of hands on experience is why we are highly skilled in addressing all types of deck restoration issues such as gray oxidation removal, varnish and polyurethane removal, and mold elimination.
Teak is a dense type of wood. It holds up well when used for outdoor furniture. Since it's a weather-resistant wood, with some upkeep, it can last for decades.
Professionals source teak from rain forests in Thailand, Indonesia, South Asia, Malaysia, and Burma. Teak has a beautiful gold sheen in its natural form, and with age, it changes to a silver color that is equally as attractive if that's the look you prefer. Teak has expanded in popularity and works for many applications. One of the top uses is outdoor furniture. Teak isn't inexpensive, but it's a wise investment. A piece of teak furniture can last you a lifetime.
Our Process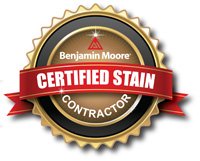 Our deck restoration process begins with an onsite evaluation to determine what needs to be done. Many decks are in need of refinishing because of lack of maintenance. When decks are unprotected, they will gray in color when the natural oils in the wood oxidize. The grain of the wood can lift because of temperature change and dust, dirt, and mold can embed itself in the wood leaving it black in color. Contractors often apply varnish or urethane to coat decks to resemble a yacht look. Varnish and urethane may be ok for a small deck of a boat or yacht whose owner has the time and money to maintain it, but for a large deck, it's an absolute no-no. We have restored many decks that have had the wrong finish applied to it such as varnish and other subpar products.
Deck restoration begins with cleaning the wood's surface to remove dirt, dust, pollen, oxidation, and mold. Inferior coatings will be stripped to remove it from the surface of the wood. After the deck has been cleaned, it will be thoroughly sanded. Efficient sanding will eliminate remaining coatings and restore a smooth feel back to the wood. After the wood has been completely sanded, it will be cleaned and bleached. Wood bleaching is needed to promote color and eliminate mold. The final step is coating the wood. The best way to maintain a natural appearance of a deck is to have it sealed with a high quality sealer. Our sealers are natural in color and dry matte.
How to Care for Teak Outdoor Furniture
With proper care, teak outdoor furniture can last for decades. While the wood is substantially durable, it still needs some TLC and maintenance to keep it looking its best. Whether you want the natural blond look or the silver aesthetic that comes with slightly weathered wood, consider the following tips for how to care for teak outdoor furniture.
If you prefer the natural blond look, you can use certain formulated teak cleaners to brighten and clean the wood. You can also use a mild washing or cleaning agent with a soft bristle brush to keep your wood bright and fresh. Be sure to rinse thoroughly to avoid any residue.
Cities along the coast, such as Laguna Beach, Malibu, and Newport Beach, will require more TLC for teak furniture than inland locations such as Orange County and Los Angeles. Inland owners should perform maintenance on their teak outdoor furniture once a year, while owners along the coast will benefit from more frequent maintenance.
How to Protect Teak Outdoor Furniture and Best Methods for Sealing Teak Outdoor Furniture
Protecting and sealing your teak outdoor furniture will help keep it bright and natural-looking as well as prevent mold or other damage. Several options exist to safeguard teak outdoor furniture and keep it looking better longer.
The best option for protecting your teak outdoor furniture is to use a sealer. Sealing teak outdoor furniture helps protect your investment to keep it as beautiful as the day you got it. This sealant allows the wood to maintain a natural appearance and enhances the grain without a shiny appearance. Brush a sealant onto the wood so that the teak absorbs as much of the sealant as possible. Maintenance with a sealer is easy; reapply it over previous applications. Various tints can help you achieve a customized look.
Varnish is another option used to protect teak outdoor furniture. Varnishing gives teak a deep, finished look, and it's available in various sheen options, including high gloss and matte. You must apply at least three layers, and each application needs to go onto a smooth surface.
You can also use a water-based clear coat to protect your teak outdoor furniture. This method is becoming more popular and is a long-lasting solution for protection against the weather. Clear coats also must be applied in layers, but each layer will dry quickly. Many water-based clear coats are eco-friendly products.
Having your teak wood furniture preserved within two weeks of purchasing it is the best way to keep it looking newer for longer. Don't allow damage to happen to your wood; contact Teak Master today and protect your investment from the beginning of your purchase.
Teak Furniture Restoration
When purchasing teak outdoor furniture, be sure to learn about the proper maintenance and ways to keep your furniture looking new. If you have improperly maintained teak furniture, Teak Master offers teak furniture restoration to restore your wood to the state you bought it in. We have more than 20 years of experience and have a passion for restoring weathered teak to enhance it and help protect it from further damage.
Our multistep restoration process removes accumulated dirt, signs of aging, and discoloration to bring out the natural color and grain of your teak pieces. It takes someone who has experience working with teak to know when to sand versus clean and what sealants and oils to use to restore teak furniture. Teak Master has the tools and skills necessary to restore cherished teak furniture pieces.
Teak Furniture Refinishing
Teak furniture refinishing helps keep the wood looking as good as the day you got it. Whether you've experienced some change due to natural aging or have mold or dirt that you need to remove, the knowledgeable team at Teak Master has the experience necessary to do the job.
The first step in refinishing teak furniture is to clean the wood as described above. We recommend using a mild cleanser with a brush and water directly on the wood. Once clean, be sure to rinse thoroughly to avoid leaving any residue behind. You can use bleach to treat deep stains or mold. Once dry, sanding the wood helps remove any silver that has appeared and helps smooth the surface. When you've finished sanding, you can apply a sealer, varnish, or water-based clear coat to preserve and protect the wood.
Before & Afters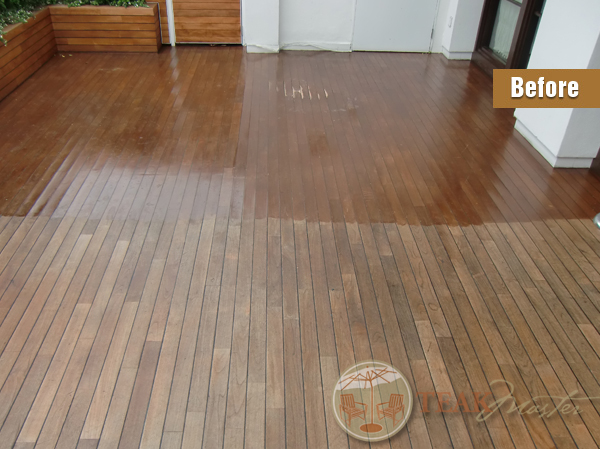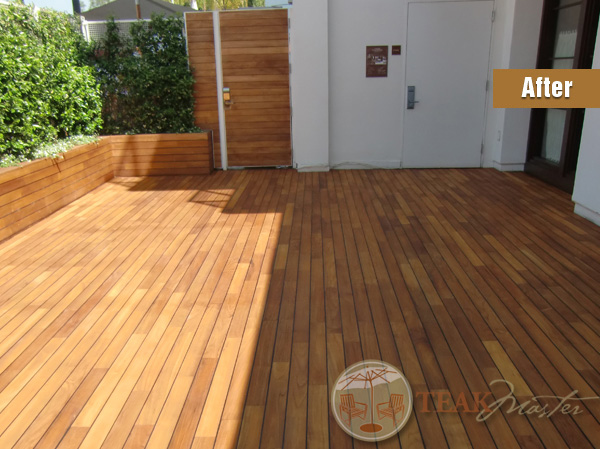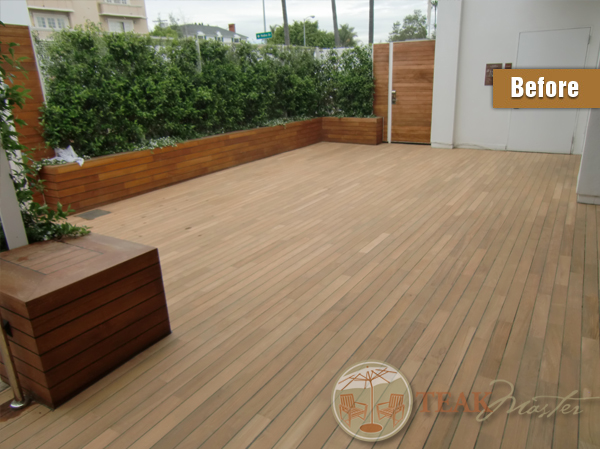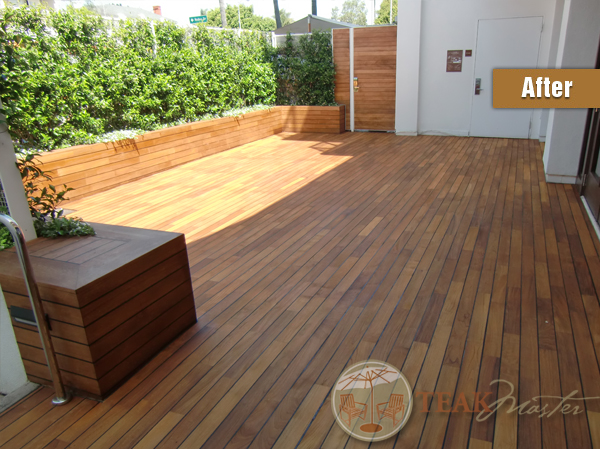 Sealing Teak Decks
Teak decks are rare and very expensive. These decks need to be coated within two weeks after construction has been completed. Contaminants such as dirt, sun, moisture, and pollen will discolor a new deck immediately if it is not properly protected. Our process for sealing new teak decks begins with a thorough surface wash with deck brightener to remove tannins, mill glaze, and mold. This is essential because it removes unwanted contaminants from the wood and allows the coating to adhere and penetrate to full potential. After the wood has dried for at least 24 hours, it will be coated. Penetrating sealers are the best coatings to protect decks because they are maintainable. Our sealers dig deep down into dense wood, adding natural elements and pigments to protect. Overtime the sealer will dissolve and natural wood will be exposed. Maintenance service will need to be performed at this time.
Maintenance Program
After your deck has been coated properly, all that is needed is intermittent maintenance to keep it from needed deck refinishing. Our sealers will gradually fade overtime depending on exposure to sun and moisture. We will plan a tentative schedule to check on you deck to make sure it stays protected. Our deck maintenance consists of a mild surface clean to remove contaminants that have embedded themselves in the wood grain. The wood will be brightened to promote color and appearance. Your deck will be coated with the same product as used initially. The whole process is simple and will keep your valuable deck in tip top shape.
How Much Does it Cost?
The cost of deck restoration is based on the level of refinishing that needs to be done. Many decks have simply weathered over time and some decks have years of coatings that have accumulated on their surface. On site evaluations ultimately determine the cost of deck refinishing. The factors listed above are taken into account with many other variables to consider. Deck restoration is a cost effective way to keep your deck without having to replace it. If you choose to restore your deck, simple maintenance can keep it looking great, saving you money in the long run.
What Areas Do You Service?
Our services have been sought after by clients in search of deck restoration from around California, Nevada, Arizona, and New York. Our crew efficiently travels to your location and restores your deck and leaves your home and yard clean and ready to use each and every day they are onsite. We have been performing Teak deck refinishing in Orange County, Los Angeles and San Diego areas for many years. Our main focus is restoring decks in our own backyard of Southern California.
Contact Teak Master Today
If you have teak outdoor furniture that you need to restore, reach out to the knowledgeable team at Teak Master today. We can answer any questions you have, help you set up a maintenance schedule, or work with you to refinish or restore your teak furniture. You can reach us online via our secure messaging system or at 888-204-8316. With more than 25,000 satisfied customers, you can trust Teak Master with your restoration needs. We're available seven days a week for your convenience.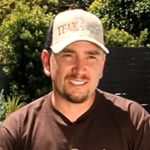 Tim Gilliam
I am as passionate about the services our company provides as the day I started as Teak Masters' only employee in 1997. For 2 decades I have been obsessed with continuing to developing state of the art refinishing techniques and application of the finest cutting edge wood coatings modern science can create. I have training certifications and have been hired as a consultant for esteemed companies such as Benjamin Moore, Arborcoat, Messmers, Dewalt, Porter Cable, TWP, Sikkens, Tropitone, and Brown Jordan.