By: Tim Gilliam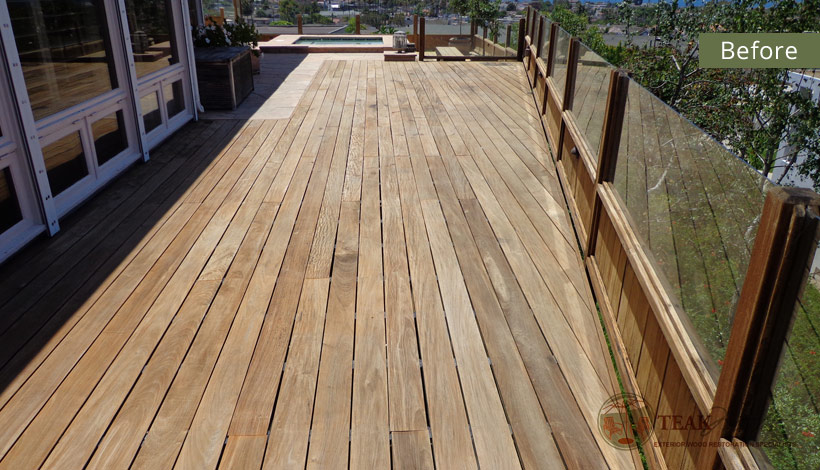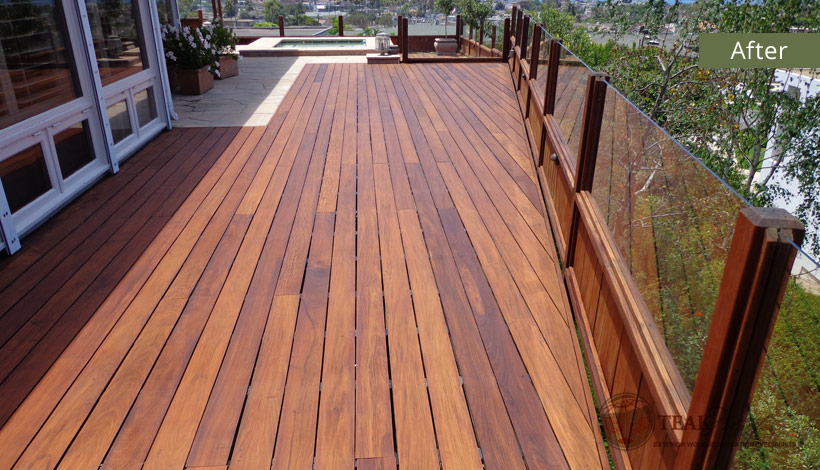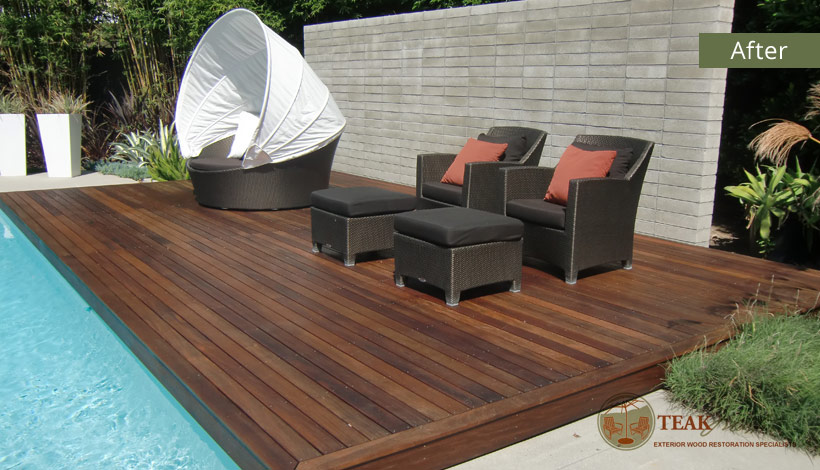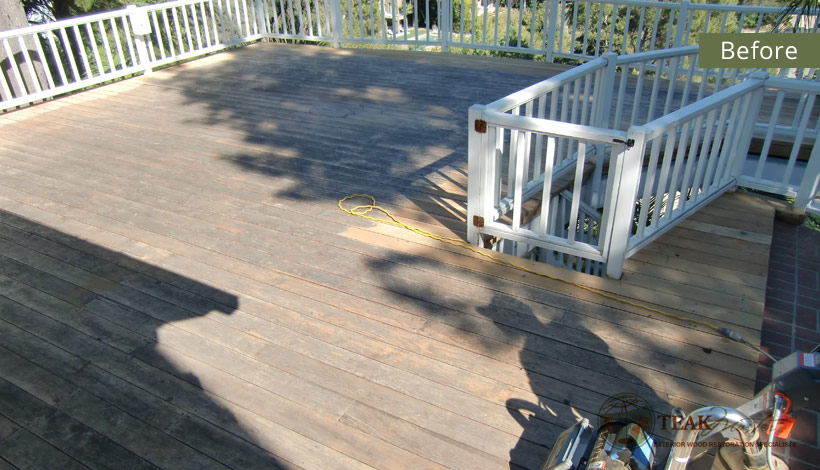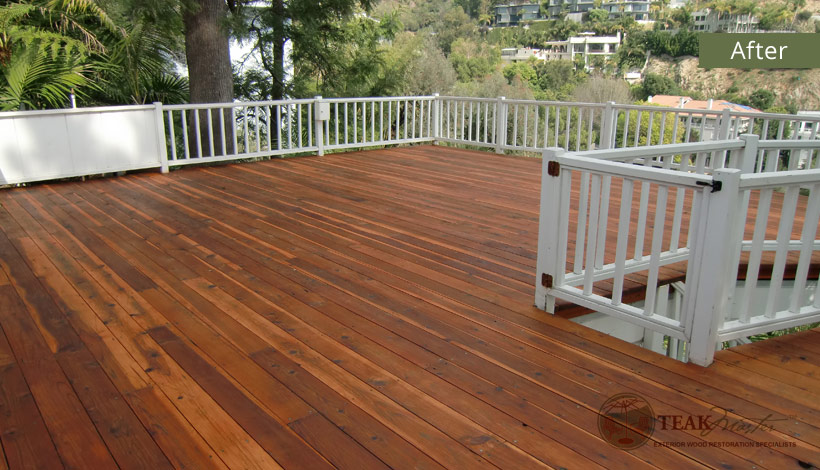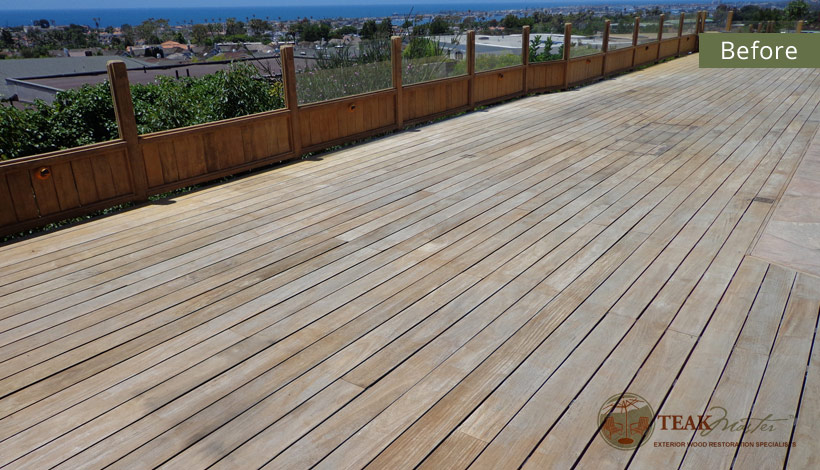 Trust Teak Master for Your Deck Refinishing Project
Homes strewed along the hillsides of Laguna Beach, Newport Beach, and Orange County has some of the most amazing views of the Pacific Ocean and valleys. If you own one of these homes, chances are you have taken advantage of incorporating a wood deck on your property to enjoy what many say are the most beautiful sunsets in the world. Although these types of exterior wood surfaces pop up daily, little is known on how to correctly preserve and maintain them. We are here to set the record straight. Deck refinishing is our forte. We incorporate time-tested restoration techniques and coatings for various species including Ipe, Redwood, Teak, or Mangaris, Mahogany, and all other wood types.
What Can Be Done To Restore My Weathered Deck?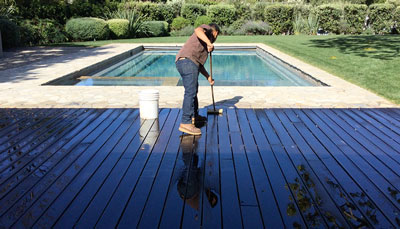 Harmful effects of weathering from sun, rain, moisture, and salt air break down and kill cellulose fibers of wood and change their color to an awful looking grayish black color. An unprotected deck can also develop black mold and algae. Without protection, the grain raises and debris that lands on the surfaces embed in microscopic cracks and crevices. These weathering characteristics will eventually break down any protective coating if not properly maintained.
Reversing damage begins with washing the surface in order to remove contaminants that have embedded in the grain. The goal of washing is to properly prepare for the next step which is sanding. If we do not clean first, we will essentially be grinding debris into the wood. A proper drying period will be allowed. Besides the protective coating, the most important and essential step in our deck refinishing process is sanding. Although now clean, dead cellulose fibers still exist and is a barrier for the protective coating and must be removed. Various stages of sanding will be employed according to wood type and condition. Thorough sanding will ensure a smooth and reinvigorated surface. Sanding is absolutely needed in every deck restoration and cannot be skipped.
The surfaces will be mopped clean with a brightening agent to not only remove dust from the grain but also promote natural color and help eliminate and prevent back mold and algae.
The wood surfaces are now ready for the protective coating. Your deck's specific wood type will determine the best product to preserve and maintain. All of our coatings are applied by brush and never with a sprayer. Our protective coatings will achieve the best look and will allow for future maintenance to preserve your investment.
What Type Of Future Maintenance Is Involved?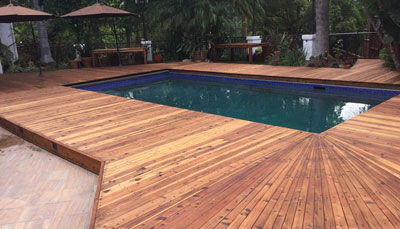 Weekly sweeping or blowing with a leaf blower is the best way to keep your newly refinished surface clean. Eventually, Nature's elements will break down any protective coating no matter how expensive and despite manufacturers longevity claims. The goal is to have our protective coatings gradually and gracefully dissipate over a long period of time rather that at an immediate fast and alarming pace.
Your microclimate and wood type will determine a basic schedule for deck maintenance. Maintenance should optimally be performed whenever it is visually necessary. Maintenance should be performed right on schedule and whenever visually necessary because waiting a few extra months will result in more work and higher costs. The various areas of Orange County will differ in timing for service because of each specific microclimate. For instance wood surfaces that are coastal in Newport Beach and Laguna Beach will need maintenance more often than inland in Irvine and Yorba Linda.
Our service includes mild cleaning and mopping to remove debris that has landed on the surfaces. A light spot sanding may be required for areas that have weathered unevenly. The protective coating will be re-applied to replenish and reinvigorate. Your surfaces will look as good as new and will last for another cycle. This will eliminate the need for deck refinishing ever again.
When and How Should I Protect My New Wood Deck?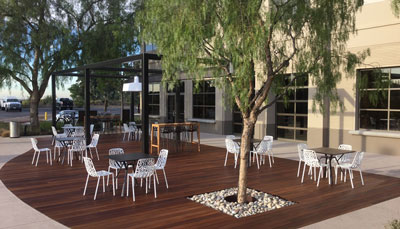 As we talked about before, contractors in Orange County are constantly building beautiful works of art made of Ipe, Redwood, Teak, Mangaris, Cumaru, and Thermory. Builders that erect these works of art often do not have the knowledge or crew to correctly protect and maintain their masterpieces. Again, with 20 years experience, this is where we come in. It is essential to protect your investment correctly from the beginning to ensure care is easy and seamless.
New wood decks should be coated within 2-3 weeks of installation. It is a good idea to allow the wood to acclimate to your microclimate. Anything further than 2-3 weeks will result in damage from UV and exposure.
Protecting new surfaces includes mild finish sand to remove mill glaze and construction dust and debris. Surfaces will be brightened to eliminate contaminants and mill glaze. A protective coating will be applied according to wood type and color desired.
Microclimate Considerations for Weathering and Maintenance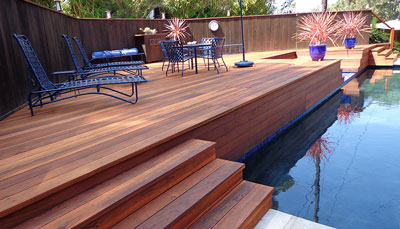 Decks will weather at various rates for each microclimate in Orange County. We find areas that have a closer proximity to the ocean will need maintenance more often. These areas include Huntington Beach, Newport Beach, Laguna Beach, San Juan Capistrano, and San Clemente. Decks that face the ocean receive direct marine layer and salt air that will add to the breakdown of the protective coating. Areas such as Newport Beach and Laguna Beach also have highlands that are elevated well above sea level that absorb a larger amount of UV coupled with salt air and morning dew. We recommend maintenance at 4 – 8 months for these areas.
Inland areas such as Irvine, Mission Viejo, Yorba Linda, Orange, and Lake Forest have a bit less diverse microclimate even though their proximity to coastal areas may seem close. The hillsides of the coastal areas block a good amount of marine layer. It also shields salt air and moisture from the ocean. This ultimately results in a more mild climate for your wood surfaces. Although these inland areas receive a large amount of UV coupled with heat, they are less harsh of an environment than the other areas. Maintenance for these cities could possibly need service less often at 6 to 10 months depending on wood types such as Ipe, Teak, Redwood, Cumaru, Mangaris, and Thermory. Keep in mind the better you keep up with maintaintance the less likely it is you'll need full restoration.
If you have any questions about deck maintenance and restoration feel free to contact us at anytime.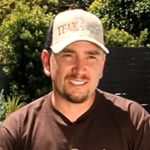 Tim Gilliam
I am as passionate about the services our company provides as the day I started as Teak Masters' only employee in 1997. For 2 decades I have been obsessed with continuing to developing state of the art refinishing techniques and application of the finest cutting edge wood coatings modern science can create. I have training certifications and have been hired as a consultant for esteemed companies such as Benjamin Moore, Arborcoat, Messmers, Dewalt, Porter Cable, TWP, Sikkens, Tropitone, and Brown Jordan.