By: Tim Gilliam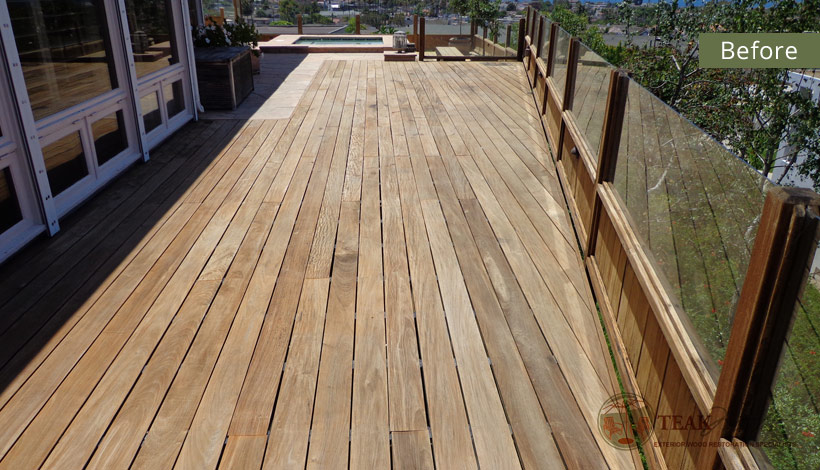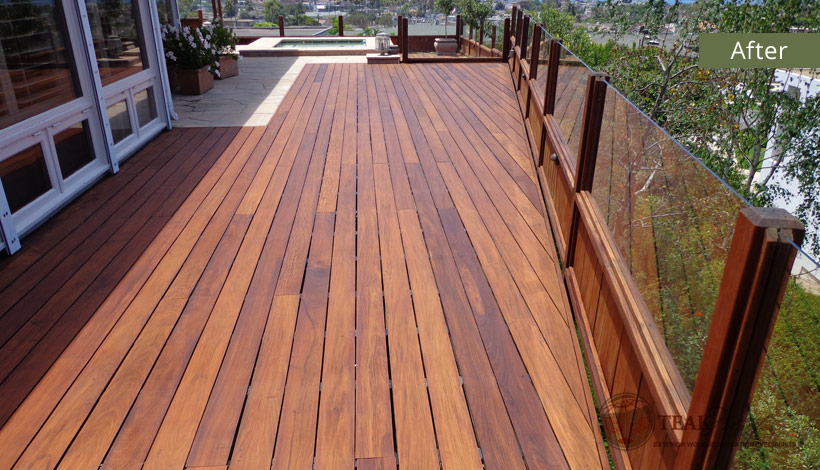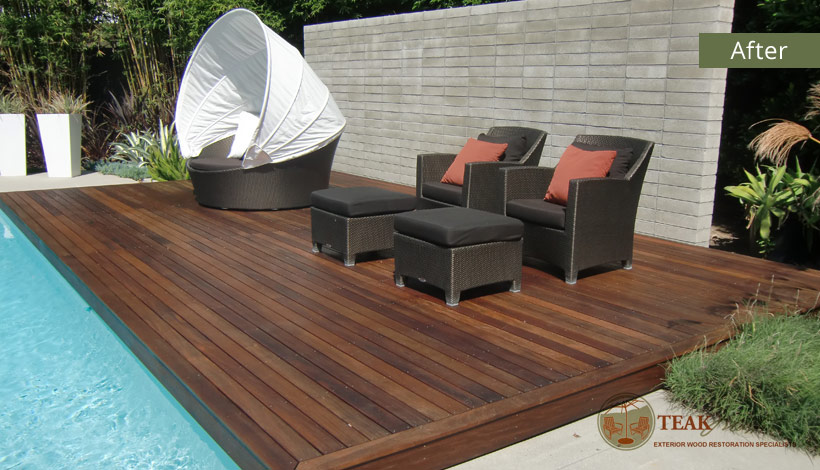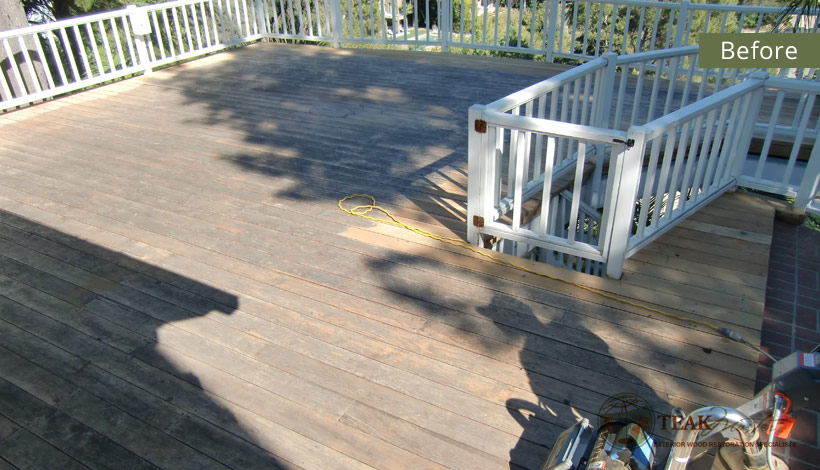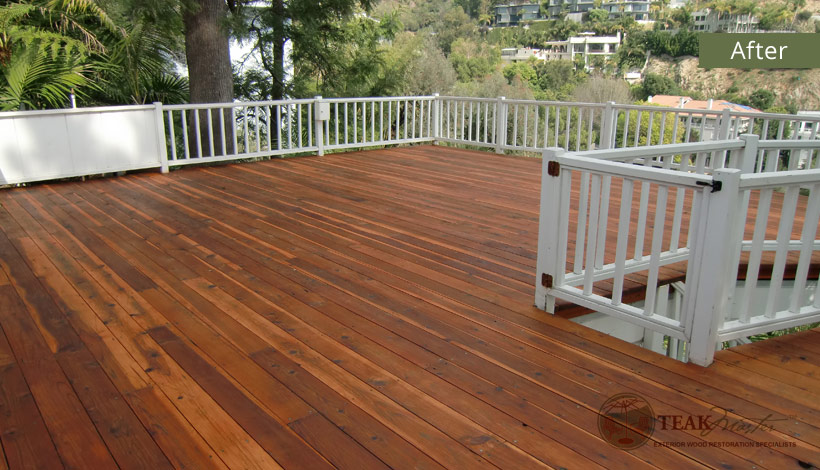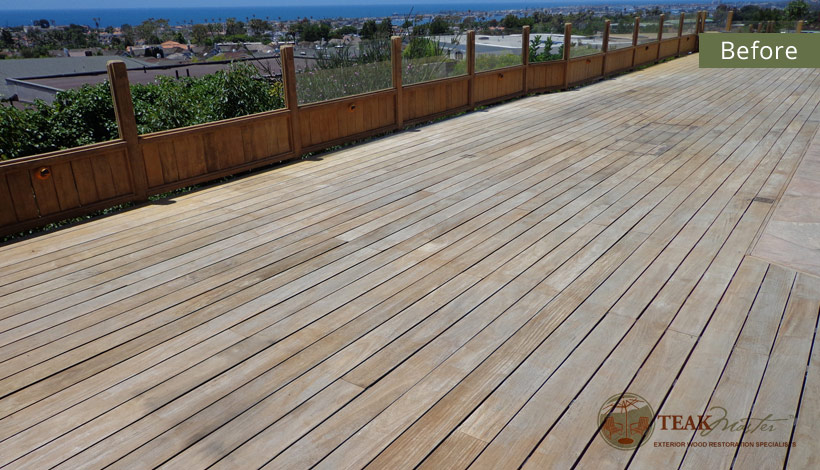 Orange County's Premier Deck Refinishing Company
At Teak Master, we specialize in providing professional deck refinishing services in Orange County, CA. Our skilled team is dedicated to transforming your weathered and worn-out deck into a stunning outdoor space that you can be proud of. With our meticulous refinishing process, we revitalize the beauty and durability of your deck, ensuring it becomes the centerpiece of your outdoor living area. We incorporate time-tested restoration techniques and coatings for various species including Ipe, Redwood, Teak, or Mangaris, Mahogany, and all other wood types.
Benefits of Deck Refinishing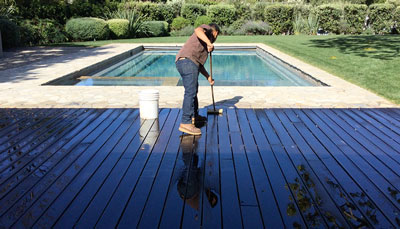 Over time, exposure to the elements can cause your deck to lose its color and become worn. Our refinishing process includes thorough cleaning, sanding, and staining to restore your deck's original charm. The result is a visually appealing deck that showcases its natural wood grain and provides a warm and inviting atmosphere for relaxation and entertainment.
Extend the Lifespan of Your Deck
Regular deck refinishing not only enhances the appearance but also extends the lifespan of your deck. Our expert team takes the time to inspect your deck, identifying and addressing any structural issues, such as loose boards or cracks. By maintaining the structural integrity of your deck, we ensure its longevity, allowing you to enjoy it for years to come.
Protection Against the Elements
Our refinishing process includes the application of high-quality sealants and finishes, providing protection against UV rays, moisture, and foot traffic. This proactive approach shields your deck from potential damage, minimizing the need for future repairs and reducing maintenance costs over time.
Teak Master's Deck Refinishing Process
Consultation and Evaluation
We begin with a thorough consultation to understand your goals and assess the current condition of your deck. Our experts will evaluate the wood, its structure, and any existing finishes or coatings. This evaluation helps us determine the best course of action and ensures that we address your specific needs and preferences.
Surface Preparation
To achieve a flawless finish, we start by preparing the deck's surface. This involves cleaning the deck to remove dirt, debris, and any remnants of previous coatings. We use environmentally friendly cleaners and gentle pressure washing techniques to avoid damage to the wood.
Sanding and Smoothing
To ensure optimal adhesion and a uniform appearance, we carefully sand the entire deck. This step helps remove any remaining old finishes, smooth out rough patches, and prepare the wood for the staining process. Our team utilizes professional-grade sanding equipment and techniques to achieve excellent results.
Customized Staining and Finishing
We offer a wide range of premium stains and finishes to suit your aesthetic preferences. Our team works closely with you to select the ideal color and finish that complements your outdoor space. The application of the stain enhances the natural beauty of the wood, while the protective finish adds durability and resistance against the elements.
Final Inspection and Cleanup
Before completing the project, our team performs a comprehensive inspection to ensure that every aspect meets our rigorous quality standards. We address any final touch-ups or adjustments to guarantee a flawless finish. Once the inspection is complete, we clean up the work area, leaving your deck looking revitalized and ready to enjoy.
Deck Restoration FAQ
How often should I refinish my deck?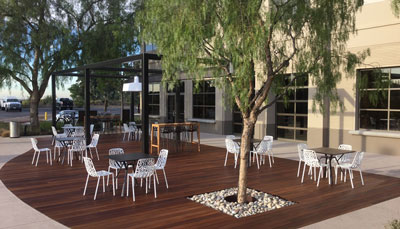 The frequency of deck refinishing depends on various factors, such as the type of wood, climate, and level of foot traffic. As a general guideline, it is recommended to refinish your deck every 2-3 years. However, our experts will assess your deck's condition and provide personalized recommendations during the evaluation process.
How long does the deck refinishing process take?
The duration of the deck refinishing process depends on various factors, including the deck's size, condition, and weather conditions. On average, the process can take anywhere from a few days to a week. However, our team will provide you with an estimated timeline based on your specific project during the consultation phase.
Is Teak Master licensed and insured?
Yes, Teak Master is a licensed and insured company. We prioritize the safety of our clients and our team, ensuring that we adhere to all industry regulations and maintain appropriate insurance coverage. You can have peace of mind knowing that your deck refinishing project is in the hands of qualified professionals.
Contact us today to schedule a consultation and discover how our expert deck refinishing services can transform your Orange County outdoor space.
Directions
Tim Gilliam
I am as passionate about the services our company provides as the day I started as Teak Masters' only employee in 1997. For 2 decades I have been obsessed with continuing to developing state of the art refinishing techniques and application of the finest cutting edge wood coatings modern science can create. I have training certifications and have been hired as a consultant for esteemed companies such as Benjamin Moore, Arborcoat, Messmers, Dewalt, Porter Cable, TWP, Sikkens, Tropitone, and Brown Jordan.