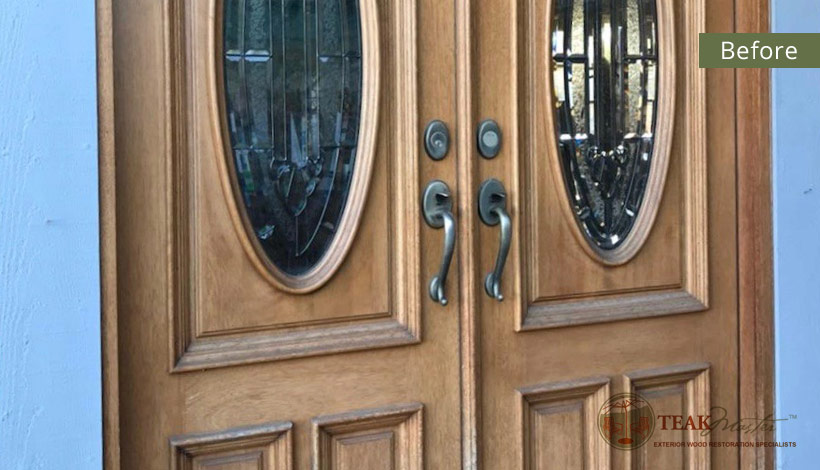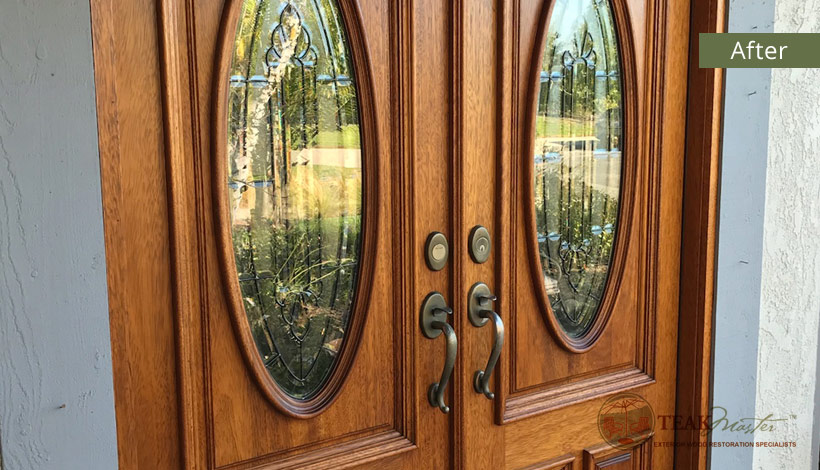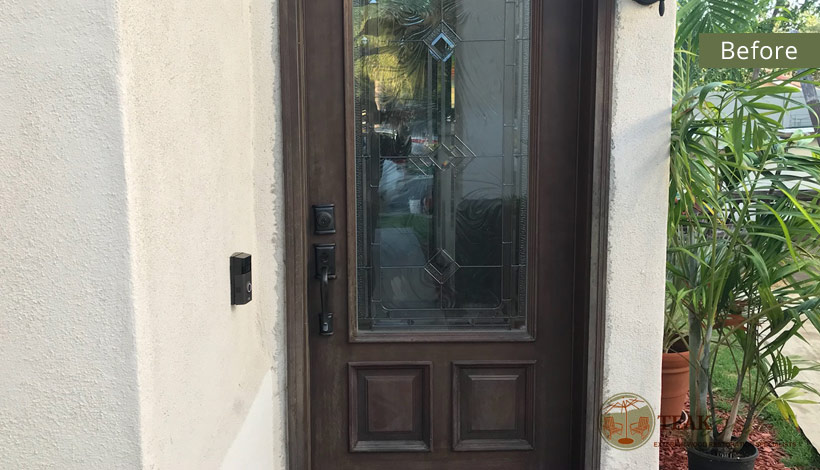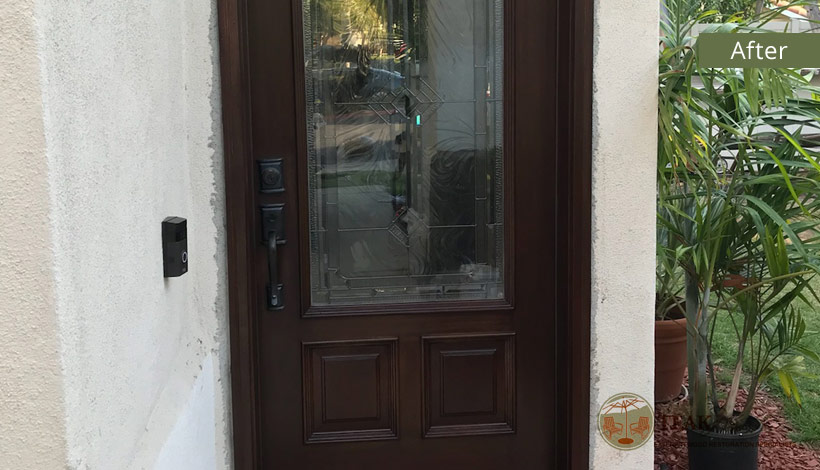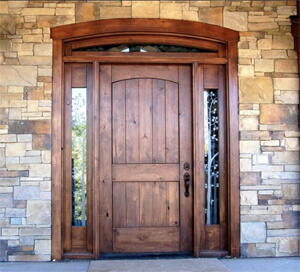 In the world of front doors nothing is more magical than real wood. Would you believe that 95% of residential homes have a wood front door? Synthetic materials such as fiberglass, plastic, or aluminum do not even come close to having the natural beauty as woods such as mahogany, alder, oak, redwood or walnut. Double front doors can take up as much as 30% of the front of your home. So it goes without saying that these surfaces need to look beautiful all the time. Over time Southern California's extreme sun and UV will break down even the most durable protective coatings. Our unique front door refinishing technique will not only restore the beautiful look but will also protect it so it lasts for many years to come.
How to Refinish a Front Door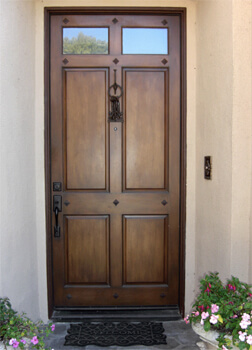 All of our home restoration processes, including front door refinishing, is done to the highest level without ever compromising. To achieve the finest look and most durable outcome your door will need to be stripped down to bare wood. This means we may need to employ the use of a stripping agent to remove the layers of varnish or polyurethane. Once these layers are removed the wood will be lightly sanded to remove remaining debris and exposed new smooth raw surfaces. Most front doors only need the outside refinished as this is the area that receives the most sun and UV. The wood will be stained and sealed in the color and tone of your choice. We can also match the backside of the door. We will apply three layers of yacht-grade marine clear coat to the wood. Our clear coat is not the run-of-the-mill cheap Home Depot or paint store-bought. We ship the finest coating from Denmark that is actually used on the finest boats and yachts throughout the world. Each coat will be allowed to dry thoroughly and will be finish sanded between coats for a smooth and durable furniture grade finish. All front door restoration work will be done on-site.
Care and Maintenance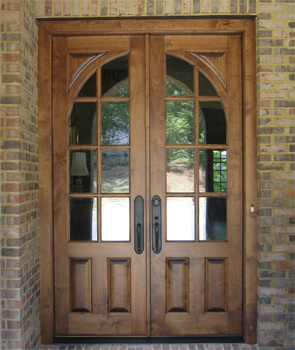 After your front door refinishing project has been completed, day-to-day care is very simple. The door can be cleaned periodically by wiping it with a damp cloth. You may use a mild soap such as Simple Green periodically to clean. Never use waxed base products such as Pledge or most indoor furniture polishes as they will inhibit future maintenance. The care and maintenance is the same for all wood species including alder, oak, redwood, mahogany, walnut, and teak.
Front door maintenance ultimately depends on the amount of sun exposure the door receives each day. As a general rule of thumb, we recommend a maintenance coat whenever visually necessary. Most doors that receive varying amounts of sun each day should have a maintenance coat performed at 2 to 3 years. For a fully covered door that does not receive sun, the maintenance period could be longer.
Maintenance usually consists of a light finish sand so that the fresh layer of clear coat will bond and adhere. We will repeat this process until two layers have been applied for maintenance. This service will keep your wood looking amazing and protected all the time without the need to ever perform a front door refinishing ever again.
Protecting New Front Doors
As with all exterior wood surfaces, it is essential to coat and protect correctly from the beginning so that future maintenance can be performed. Protecting new front doors consists of a light finish sand to make sure all mill glaze and imperfections are corrected and up to our standards. The wood will be stained and sealed in a color of your choice. The wood will be coated with our own proprietary blend yacht-grade marine clear coat. We offer varying sheens including matte, satin, and gloss. Just as fine indoor furniture is sanded between coats, the same process will be applied to your front door. This will ensure the finest outcome and furniture grade-type appearance of your new investment. Protecting your new front door correctly from the beginning ensures it will not need a full front door refinishing for many years to come.
Front Door Refinishing FAQ
Can my wooden front door refinishing be performed at home?
Wooden front door refinishing can always be done on-site. The door is removed, and the doorway will be covered in plastic while work is being performed. The front door will be returned and rehung at the end of each workday.
How much does a wooden front door refinishing cost?
Wooden front door refinishing costs vary according to intricacy and size. Other factors are if a coating must be removed if it's a double door or single door if it has sidelights or a threshold, etc. The cost of refinishing the exterior of a single door is about $850-$10,000.
How long does it take to refinish a wooden front door?
The complexity of design is the biggest factor in the time it takes to refinish a front door. The door's condition and the weather at the time of refinishing are the next factors. Typically, refinishing is 1-3 day process – there's no quicker method that exists that's as effective.
How long will a wooden front door refinishing last?
The door's protective coating needs to be periodically reapplied. It's better to do this rather than allowing the door to weather for an extended period. The more appropriate question would be, "How often should the front door be serviced" – to which we would say between 1½ -2 ½ years.
How do you refinish a wooden front door?
The first step is stripping off the decaying coating. Sanding will remove any remaining debris as well as exposing the fresh layer of wood underneath. The wood can be stained with a plethora of colors to suit your needs. Applying a protective clear coat will be the final step.
Does Hardware Need To Be Removed During Restoration?
Removing the hinges, locks, kick plates, and other hardware components is necessary for a complete restoration job with a superior-quality finish. Sanding and finishing around hardware can damage the hardware and result in an incomplete protective coating and spills on the hardware. Doors must be removed during the process, and the stripping chemicals, stains, and finishes must be horizontally applied, so they don't run and make an uneven mess. For safety reasons, the door is refinished on-site and re-attached at the end of the workday.
What's the Difference Between Solid and Veneer?
Veneer doors have wood grain that's only about 1/64th of an inch thick glued over the wood. A veneer increases resistance to warping and splitting. It allows doors to be lighter, but it can be easy to sand through and is susceptible to water damage.
Many solid doors have veneer covering the core. You can check to see if a door has a veneer by using one of the two different methods below:
From a ladder, check the top of the styles, or vertical frame boards, to look for a veneer. Look closely for the thin layer of wood with a different grain.
Look at raised panels on the door for changing or repeating grain patterns that wouldn't naturally appear in a large solid piece of wood.
What Are the Key Steps to an Even Finish?
Preparation is essential for getting a door's new finish to be even and provide nice curb appeal. The old finish must be removed so the wood evenly accepts new stains and coatings. Sanding must be uniform, going from coarser to finer grits across the door. Mineral spirits help prepare surfaces that have been treated with a stripper. Wood conditioners help soft woods. The allure of wood doors is their unique look that showcases natural variations in the wood. Trying to even out tones is a balance, requiring door finishers to be careful not to over-darken light or uneven spots.
How Do I Maintain My Doorway?
Take a few main steps to maintain the fresh look of your refinished doorway for years to come. Weekly dusting takes a few minutes. Sweep the area, shake door mats, use an extendable duster to clean, and wipe down with a dust rag. Monthly cleaning with hot water and mild soap removes accumulating dust and dirt; use a non-abrasive brush, soft sponge, or lint-free cloth to gently clean the open door around the edges. Wipe the door down and ensure the surrounding floors are dry.
Seasonal polishing with furniture polish or furniture wax will keep the surface protected. Varnish polishes work best on doors in sunny areas since they protect better than polyurethane. Wax-based polishes can hide scratches and imperfections. Lacquer polishes dry fast and keep fingerprints away. Caring for door components is essential as well. Keep hardware such as doorknobs and hinges clean and working smoothly with a bit of lithium or silicone spray. Monitor weatherstripping for signs of cracking or peeling, replacing damaged pieces after carefully removing the old material.
How Is a Faded Finish Restored to a Like-New Look?
As with most maintenance concerns, it's best to catch potential issues early. Faded or damaged door surfaces that are spotted early are easier to fix. Monitoring doorways and conducting regular preventive maintenance can go a long way in extending your door's life span. Minor issues such as scratches and dents should be addressed early to prevent contaminants and moisture from damaging and discoloring the wood. Small spots like this can be tackled individually by sanding and applying touch-up filler and stain to blend in with the surrounding wood.
More significant issues, such as damaged or missing coatings, can be remedied by light sanding and a new coat of varnish or similar covering. Restoration work may be needed in cases with more extensive discoloration. Heavy sanding, specialty treatments, a new stain, and a new surface coat will be required to create a uniform finish. For more information on front door refinishing or any of our other services, contact the professionals at Teak Master today.