By: Tim Gilliam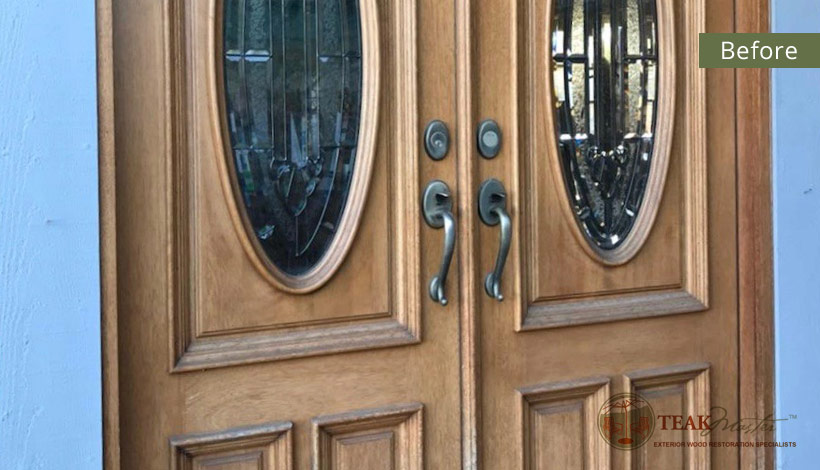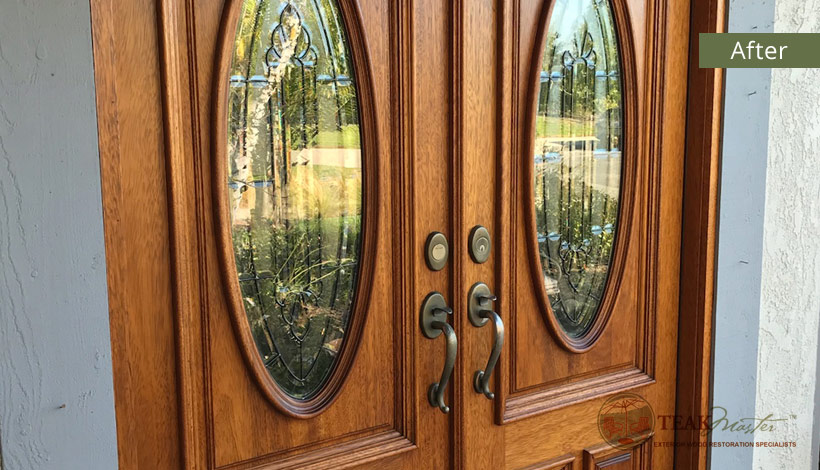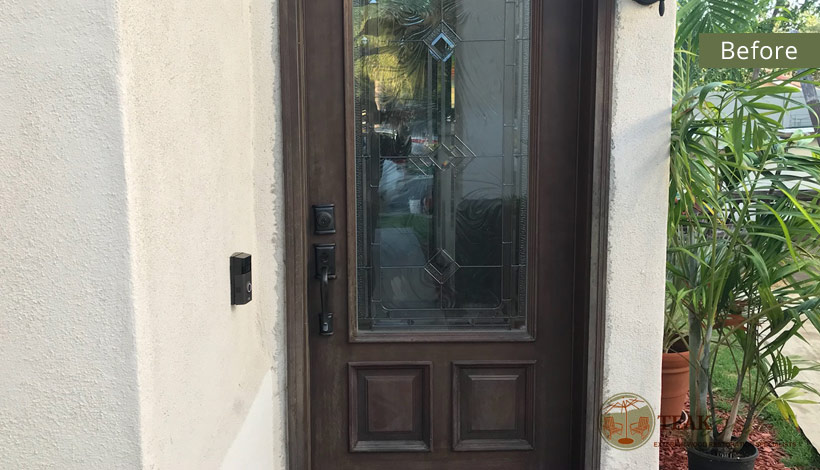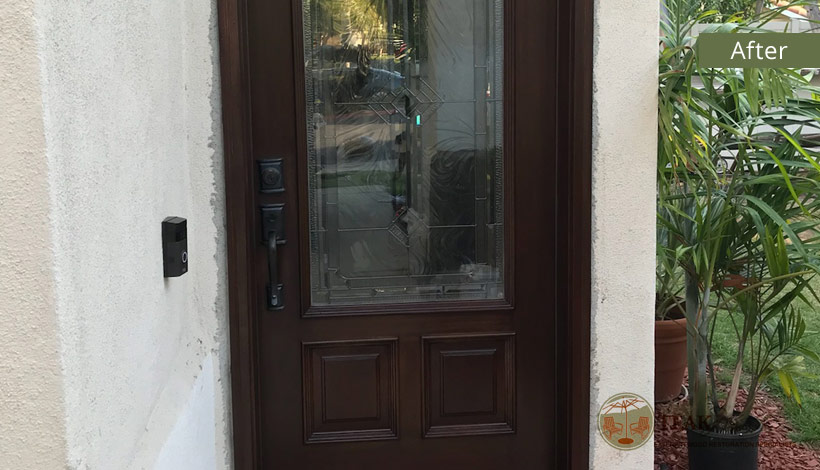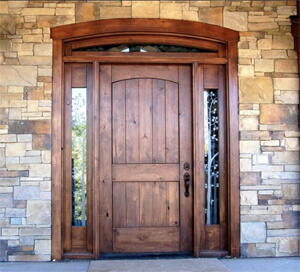 In the world of front doors nothing is more magical than real wood. Would you believe that 95% of residential homes have a wood front door? Synthetic materials such as fiberglass, plastic, or aluminum do not even come close to having the natural beauty as woods such as mahogany, alder, oak, redwood or walnut. Double front doors can take up as much as 30% of the front of your home. So it goes without saying that these surfaces need to look beautiful all the time. Over time Southern California's extreme sun and UV will break down even the most durable protective coatings. Our unique front door refinishing technique will not only restore the beautiful look but will also protect it so it lasts for many years to come.
Process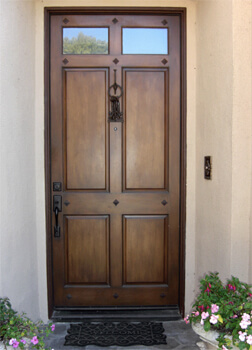 Our front door refinishing process is done to the highest level without ever compromising. To achieve the finest look and most durable outcome your door will need to be stripped down to bare wood. This means we may need to employ the use of a stripping agent to remove the layers of varnish or polyurethane. Once these layers are removed the wood will be lightly sanded to remove remaining debris and exposed new smooth raw surfaces. Most front doors only need the outside refinished as this is the area that receives the most sun and UV. The wood will be stained and sealed in the color and tone of your choice. We can also match the back side of the door. We will apply three layers of yacht grade marine clear coat to the wood. Our clear coat is not the run of the mill cheap Home Depot or paint store bought. We ship the finest coating in from Denmark that is actually used on the finest boats and yachts throughout the world. Each coat will be allowed to dry thoroughly and will be finish sanded between coats for a smooth and durable furniture grade finish. All front door restoration work will be done on site.
Care and Maintenance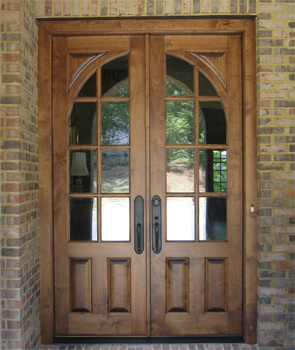 After your front door refinishing project has been completed, day to day care is very simple. The door can be cleaned periodically by wiping with a damp cloth. You may use a mild soap such as Simple Green periodically to clean. Never use waxed base products such as Pledge or most indoor furniture polishes as they will inhibit future maintenance. The care and maintenance is the same for all wood species including adler, oak, redwood, mahogany, walnut, and teak.
Front door maintenance ultimately depends on the amount of sun exposure the door it receives each day. As a general rule of thumb, we recommend a maintenance coat whenever visually necessary. Most doors that receive varying amounts of sun each day should have a maintenance coat performed at 2 to 3 years. For a fully covered door that does not receive sun the maintenance period could be longer.
Maintenance usually consists of a light finish sand so that the fresh layer of clear coat will bond and adhere. We will repeat this process until two layers have been applied for maintenance. This service will keep your wood looking amazing and protected all the time without the need to ever perform a front door refinishing ever again.
Protecting New Front Doors
As with all exterior wood surfaces it is essential to coat and protect correctly from the beginning so that future maintenance can be performed. Protecting new front doors consists of a light finish sand to make sure all mill glaze and imperfections are corrected and up to our standards. The wood will be stained and sealed in a color of your choice. The wood will be coated with our own proprietary blend yacht grade marine clear coat. We offer varying sheen including matte, satin, and gloss. Just as fine indoor furniture is sanded between coats, the same process will be applied to your front door. This will ensure the finest outcome and furniture grade type appearance of your new investment. Protecting your new front door correctly from the beginning ensures it will not need a full front door refinishing for many years to come.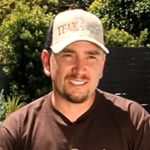 Tim Gilliam
I am as passionate about the services our company provides as the day I started as Teak Masters' only employee in 1997. For 2 decades I have been obsessed with continuing to developing state of the art refinishing techniques and application of the finest cutting edge wood coatings modern science can create. I have training certifications and have been hired as a consultant for esteemed companies such as Benjamin Moore, Arborcoat, Messmers, Dewalt, Porter Cable, TWP, Sikkens, Tropitone, and Brown Jordan.