By: Tim Gilliam
Thermory Deck Restoration and Maintenance

standing up to the wear and tear that the outdoors naturally inflicts on wood. Just as with all wood used in outdoor environments, there is a bit of care that is involved in keeping it protected and looking its finest all the time. If you own this type of product and have seen unwanted changes in its appearance, we can reverse it and keep it looking amazing all the time. We are Southern California's Thermory wood care specialists.
Thermory Refinishing Technique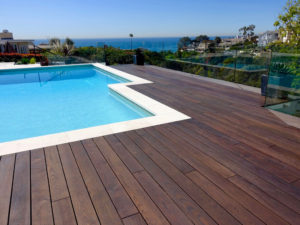 Just as all other exterior wood surfaces are prepped, we begin by removing toxins that have landed on the woods surfaces with a mild wash. Washing will allow the steam-treated wood to be sanded without grinding contaminants into it. A light sanding will remove the extra fine layer of oxidation and previous coatings. Sanding is essential in opening the grain to allow the sealer to penetrate to its full capability. The spruce, pine, or ash, will be bathed with a mild conditioning agent that brightens and removes toxins such as black mold, mildew, and algae.
The final step in our Thermory deck refinishing technique is applying the protective coating. We will apply the Cutex brand suggested by the manufacturer and we can also use any oil penetrating coating. These sealers come in various tints for a basic spectrum of colors. The protective coating is generously brushed into the wood, allow to penetrate, and excess is hand-rubbed to remove. The results are a vibrant hand-rubbed oil finish that will last at varying rates depending on usage and the microclimate it is the wood is located in.
Protective Coatings
To keep the natural finished appearance of your deck, it should be coated with a quality oil-based protective coating. For many years the manufacturer suggested a couple of brands that make penetrating sealers for hardwoods. These coatings work just fine for the maintenance of Thermory decks and siding. Cutex is the brand that is recently suggested to protect Thermory decks and siding. Each of the oil sealers is available in various tints to slightly alter the natural color of the ash, spruce, or pine. Of course, a natural sealer is always available to keep it looking as close to its natural appearance as possible. The sealer is always applied by brush and directions are followed as closely as possible according to manufacturers' suggestions. All sealers we recommend are one coat systems for easy care and maintenance.
Maintenance
The frequency of Thermory maintenance is the same as any other wood. Maintenance depends on the amount of use, but most importantly, the climate it is placed in. We recommend the maintenance of your Thermory deck or siding at 6-12 months or whenever visually necessary.
Maintenance consists of a mild cleaner to remove toxins and dirt that has accumulated on the surface over a period of time. A light spot or finish sand may be needed to remove stubborn stains and weathering. An oil-based sealer will be applied to replenish the wood with protectants. The sealer will keep the deck replenished for another period of time. This process is repeated for the life of the deck to keep it looking stellar and in clean condition.
Protecting Your New Deck
Don't make the mistake of allowing your deck to be protected by just anyone one. About 40% of our business comes from fixing damage caused by "pros" that aren't familiar with correctly protecting exterior wood surfaces. Our experience comes from protecting and restoring Thermory wood surfaces for over 20 years.
Your new deck will be lightly washed to make sure it is perfectly ready and clean before the application of the protective coating. The sealer will be applied to the wood to enhance and protect the spruce, ash, or pine. The coating will magnify the natural grain and color and will dry to a natural matte look.
Day to Day Care and Maintenance
The most thorough technique to keeping your Thermory deck clean and ready to use is by periodically removing dust and debris. The best way to do this is with the use of a quality leaf blower and shop broom. Using a leaf blower with at least a 250 MPH rating will push off dust, leaves, and contaminants that embed themselves in the grain of the wood. A quality shop broom will allow you to upend debris so that the leaf blower can push it off the surfaces.
Considerations
When refinishing Thermory decks, it is always best to manage expectations. Damage caused by metal, outdoor rugs, planters, space heaters, floor mats, foliage, screw or nail bleed, pets, sprinklers, and drip irrigation, excessive power washing, cross sanding, varnishing, improper refinishing techniques, excessive weathering, raised or missing grain, umbrella bases, birds, gouges, scrapes, scratches, rot, termites, color differences due to overhangs or rugs, cracks, splits, anchor seal, end grain seal, may not be entirely removed when refinishing. Many of these damaging effects can be minimized to varying degrees.
Just as other natural wood surfaces vary in color and grain, so does Thermory. Our protective coatings will magnify and enhance the natural color of the wood. Sometimes natural wood color can be altered using a darker coating. The natural color of your wood cannot be made "lighter" than its natural appearance or color.
Directions
Tim Gilliam
I am as passionate about the services our company provides as the day I started as Teak Masters' only employee in 1997. For 2 decades I have been obsessed with continuing to developing state of the art refinishing techniques and application of the finest cutting edge wood coatings modern science can create. I have training certifications and have been hired as a consultant for esteemed companies such as Benjamin Moore, Arborcoat, Messmers, Dewalt, Porter Cable, TWP, Sikkens, Tropitone, and Brown Jordan.