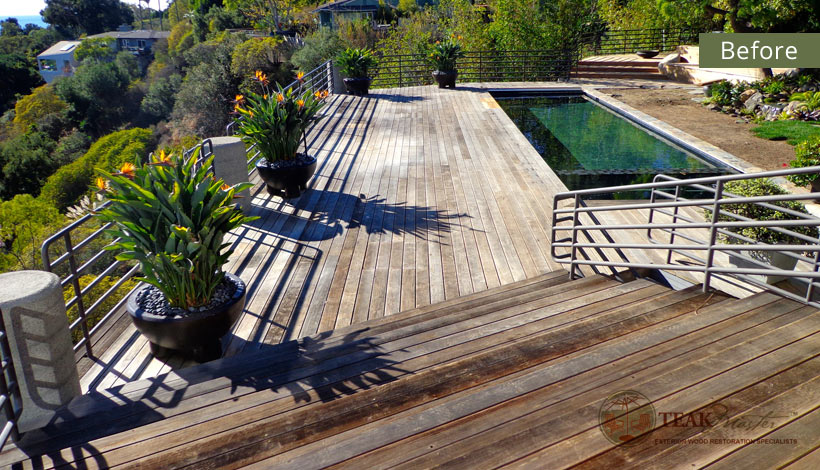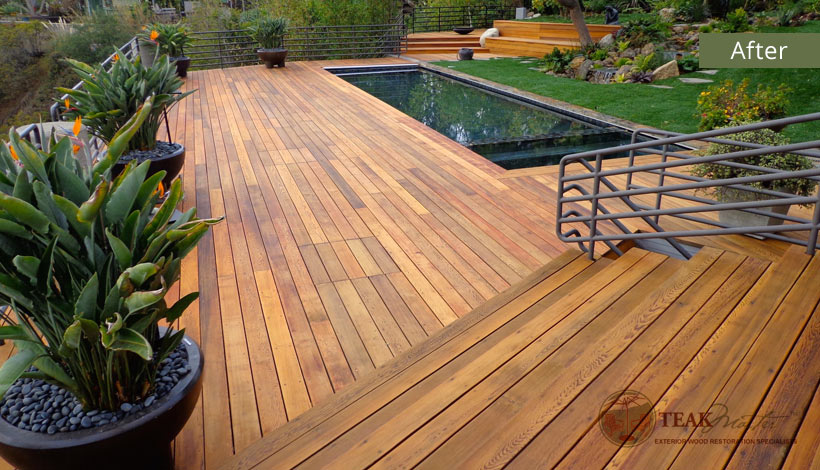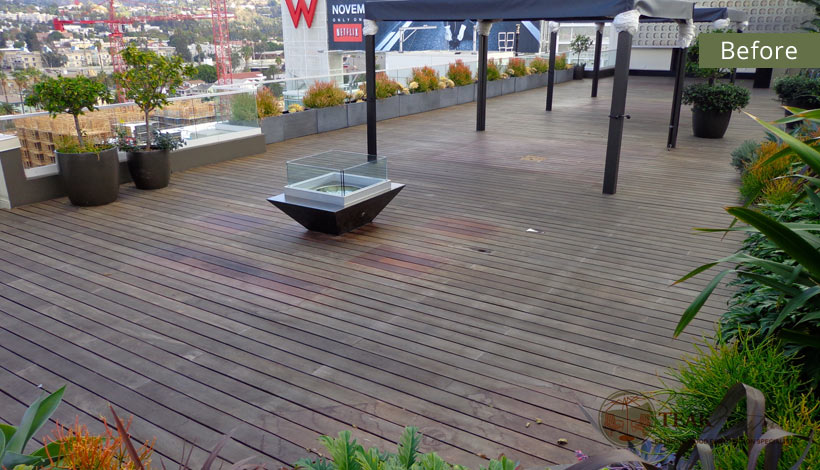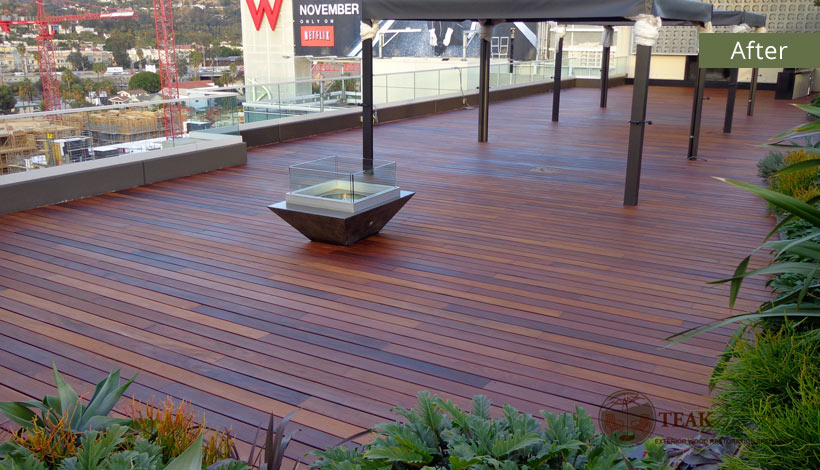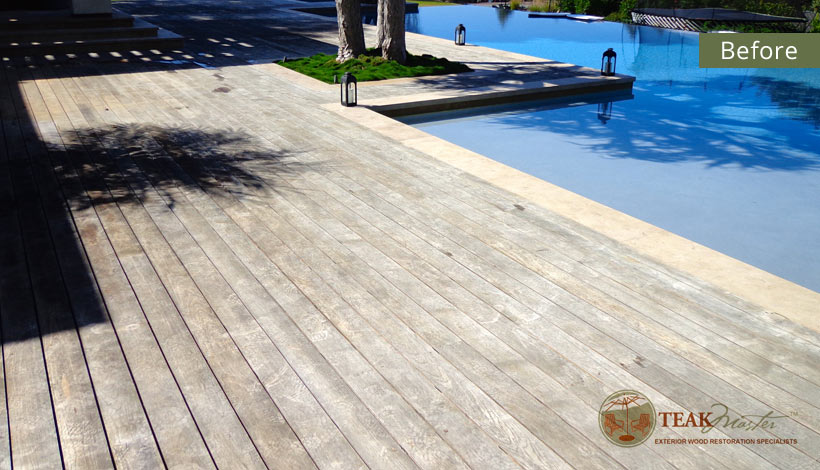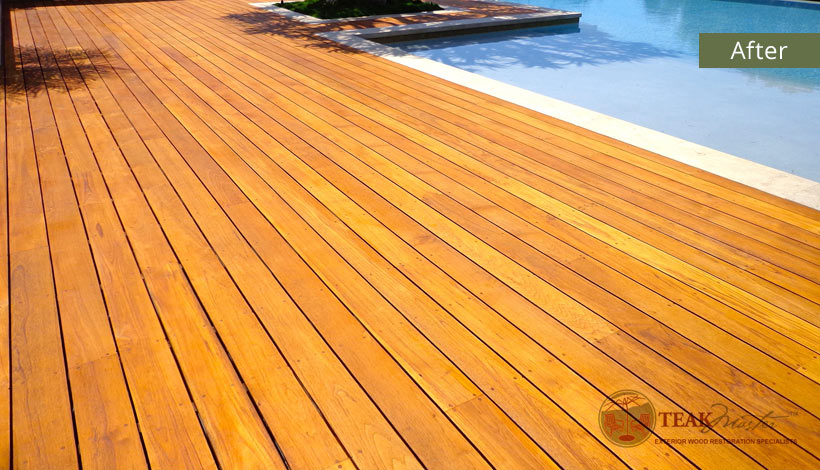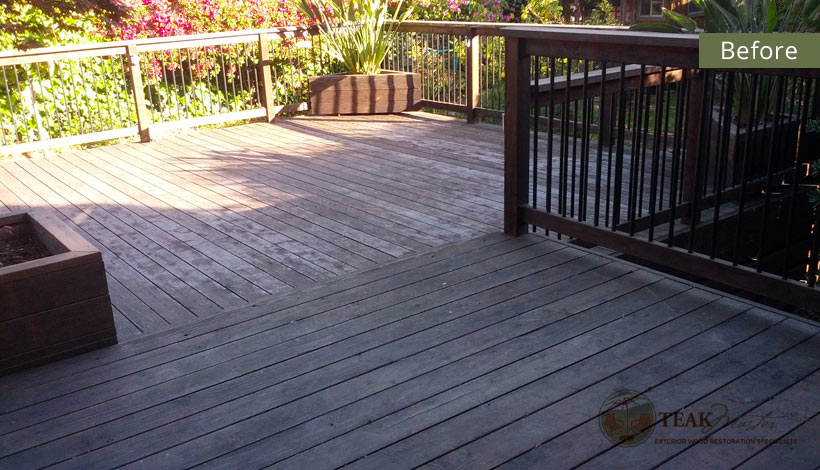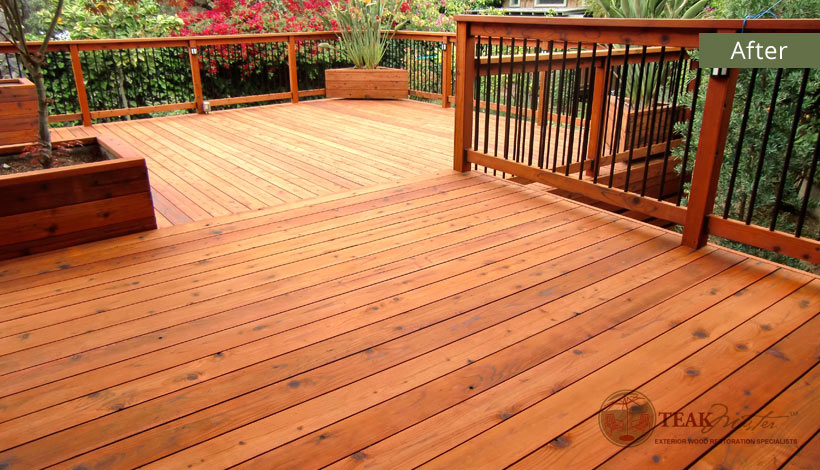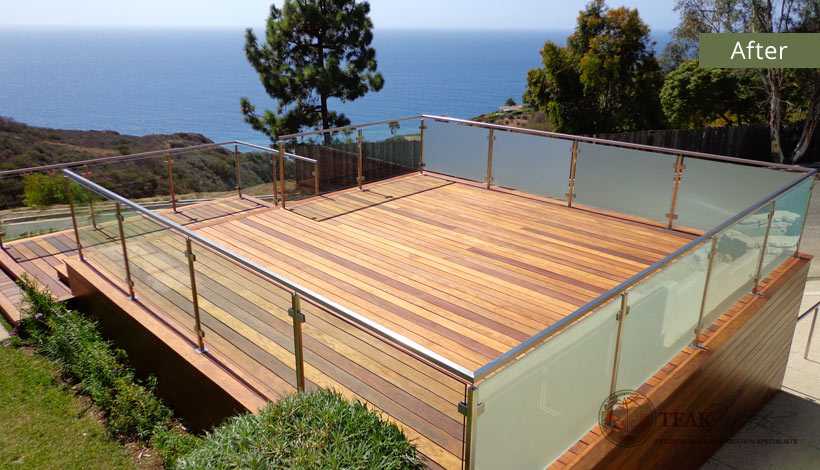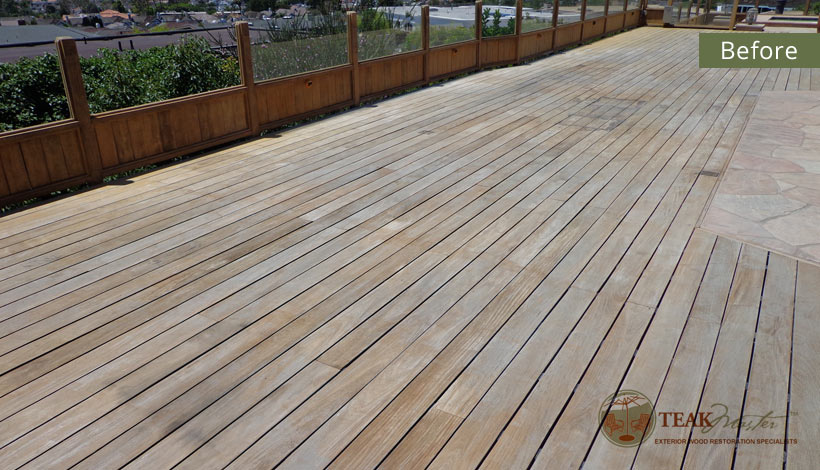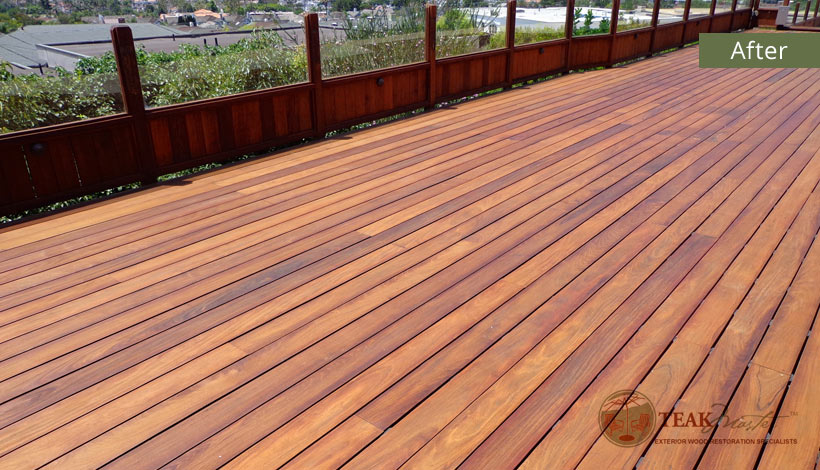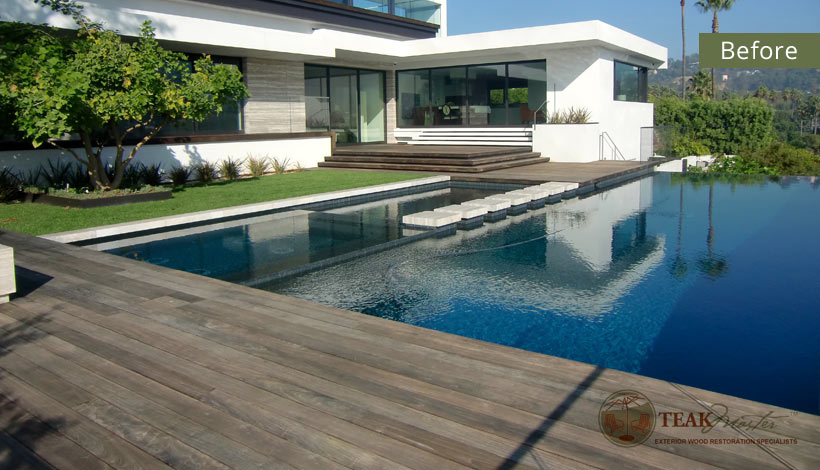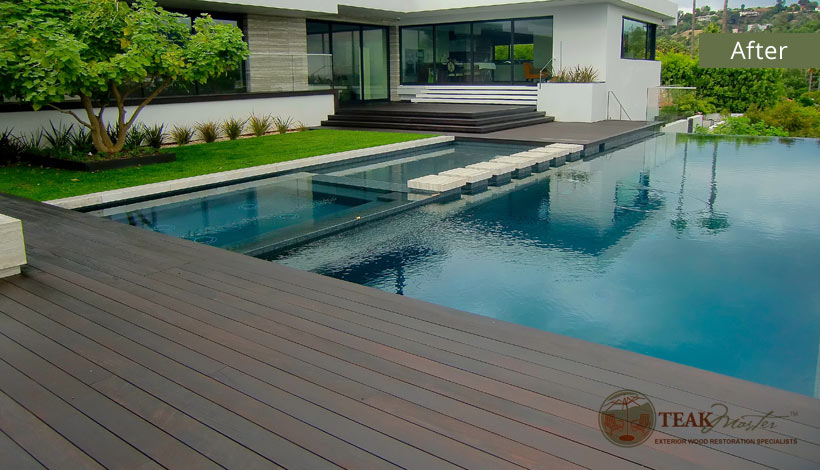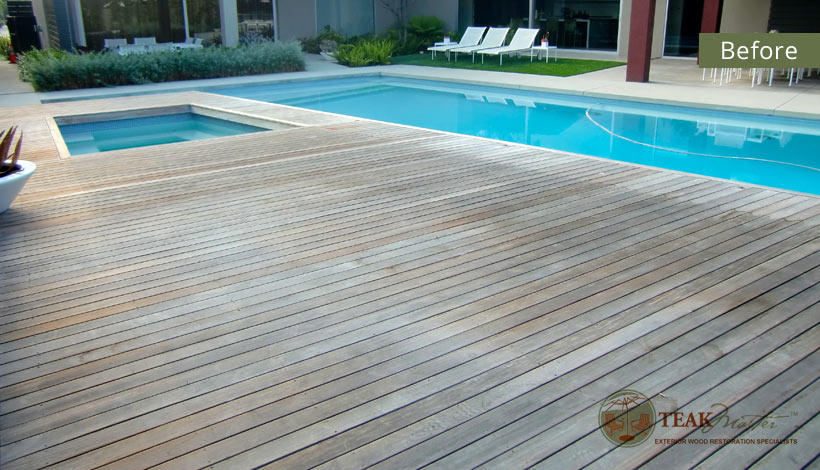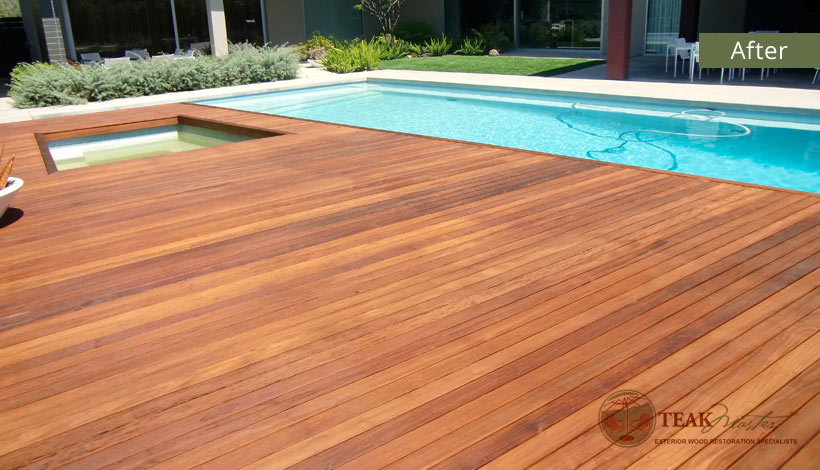 Wood Deck Refinishing & Restoration
Wood decks are distinctive outdoor living rooms that incorporate natural beauty and add value to your home and quality of life. The unique appearance and characteristics of wood species such as Ipe, Redwood, Teak, Cumaru, Mangaris, Cedar, Tigerwood, and Mahogany make them perfect for creating these magical outdoor living spaces. However, many people receive little or no information on how to properly care for and maintain them and are unaware a professional service exists to do it for them. If you are one of the many homeowners that have become frustrated with the look and performance of your deck it is fortuitous that we have made contact. We have mastered refinishing and maintenance techniques for each specific wood type used in modern buildings. Teak Master has been performing restoration and refinishing for nearly 20 years and we excel in understanding the unique challenges of weather in the various microclimates throughout Southern California. We often service clients in the Orange County area, which requires special knowledge of the climate and environmental factors. You can rest assured your wood investment will be receiving the highest level of protection and service available.
Deck Refinishing Fact Sheet
| Deck Refinishing | Details |
| --- | --- |
| Steps for Refinishing Wood Decks | Basic steps is deck refinishing consists of removing old coatings and weathering. Exposing fresh new smooth raw wood and apply a quality oil penetrating sealer. |
| Wood Deck Products | The finest products for protecting wood decks are oil based. Oil based penetrating sealers provide optimal protection while enhancing natural grain and making maintenance a breeze. |
| Can you Refinish Wood Deck Cheap? | A low cost option in deck refinishing is doing the work yourself. It takes time, skill, and a good amount of will, but it can be done. |
| Best Wood Deck Resurfacer | Good old fashioned sand paper is the best deck resurfacer. Sanding exposes new raw wood and is ultimately the best wood restorer. |
| Rustoleum Deck Restore | Deck restore by Rustoleum is a great tool for removing surfaces dirt and contaminants off of wood decks. |
| How to Maintain a Wood Deck | The best way to keep your deck looking its best is by periocally cleaning to remove surface dirt and contaminants. Applying a maintainable protective coating leaves maintenance a breeze. |
Restoration Technique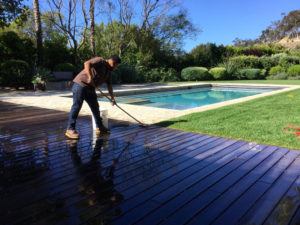 We begin our refinishing process by cleaning the wood to remove surface contaminants such as dirt, mold, algae, and previous coatings. Old coatings can be tough to remove and may need additional cleaning techniques to help break them down. The wood will need to go through a drying period before it is ready for the next step, sanding. Wood type and climate will determine how fast the wood will dry. Sanding is the next step in our refinishing process. Sanding will not only remove remaining contaminants missed in cleaning, it also exposes fresh new wood, opens the grain, and smooths the surface all in one. Thorough sanding is the most crucial step in refinishing and also the most skipped because it is very difficult, but absolutely necessary. Employing the use of floor, belt, orbitals, and good old-fashioned hand sanding to get into intricate railings, stairways, and flooring ensures every detail is restored. The wood needs to be cleaned after sanding to remove residual dust and contaminants from the grain. We clean with wood brightener to remove dust, eliminate contaminants, and promote the natural color of the wood, all in one. Wood brightener also helps prevent unwanted growth of black mold, algae, and mildew. Extensive preparation is the only way to ensure optimal results. The final step is an application of protective coating. Your specific wood type, coupled with the look or color you are trying to achieve, will determine the best protective coating. We use fine penetrating sealers for Redwood, Ipe, Teak, Mangaris, Cumaru, and all other woods. Products are also available in solid stains for a clean even look for almost any wood type. We apply all of our coatings by brush to ensure each and every piece of wood receives maximum penetration and saturation.
Deck Maintenance
Proper maintenance begins with a visual inspection. A timeframe of four to ten months can be used to get a general sense of frequency. However, as weathering, exposure, and wood type may vary, maintenance might be needed sooner and should be performed when visually necessary regardless of timeframe. Wood decks are large horizontal surfaces that accept massive amounts of UV, contaminants, and foot traffic. This is why horizontal surfaces need maintenance more often to keep them protected and looking their best. Imagine not washing your new car for 8 months. Chances are, it would look pretty bad. The best way to keep the paint looking great is with a periodic wash and wax. They need to be cleaned and periodically re-coated to protect them from damage. Maintenance begins with cleaning the surface to remove contaminants that have settled in the grain. Light spot sanding may be needed to remove severe weathering, stains, or scratches. Wood brightener will be applied to promote natural color and eliminate and prevent mold and algae. The same coating will be applied to enhance and protect the wood. Most maintenance can be performed in one day.
Protecting New Wood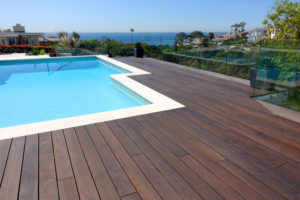 New wood should be coated within 2-3 weeks after installation. The damaging effects of weathering will begin immediately on unprotected surfaces and may require more preparation if left untreated for longer period of time. Although lumber comes from the factory looking brand new, it has various imperfections that need to be removed before a protective coating can be applied. Mill glaze is a barrier that occurs when wood is milled at the lumber yard. When boards are run through the mill, natural oils heat up and rub against metal creating a film and possibly varying patterns of black markings. This film can actually prevent a protective coating from fully penetrating and adhering and must be removed before application. Protecting new wood begins with a mild surface cleaning or light sanding to remove mill glaze and black markings. Cleaning also removes unwanted contaminants such as mold, mildew, pollen, and dust from the grain, leaving the wood perfectly clean and ready for the proper coating. Your specific wood type will dictate the correct protective coating. All of our finishes are applied the old fashioned way, by hand. This thorough method ensures a generous and consistent coating will be applied, even between boards.
Decking Woods We Service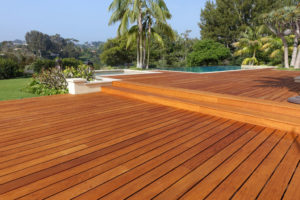 What to Expect
After your deck has been fully refinished it going to need some care and maintenance to keep up the appearance. Our time-tested clean, sand, brighten, and seal method will restore the wood back to as close to new condition as possible. The characteristic of any protective coating is to gradually fade and dissipate over time. The rate at which the coating will dissipate will depend on several factors. Sun and UV is a gigantic factor when it comes to the rate at which a deck will weather. Southern California's harsh UV rays couple with increasingly warmer temperatures wreak havoc on a large fully exposed horizontal surface like an outdoor wood deck. The wood itself absorbs a massive amount of UV on a daily basis coupled with its surface heating up to temperatures that could reach 130 degrees. Moisture such as rain, marine layer, and fog is also a huge factor when it comes to the rate at which your deck will weather. When it rains or when the marine layer occurs, the horizontal portions of the deck will have water sitting on its surface. Repeated moisture will eventually break down any protective coating. Water and moisture are so harsh, it can break down paint on a car and also cause damage to the metal. Just imagine how much damage it can cause on the horizontal portion of a wood deck. Repeated moisture can eventually wash off and even extract oil-finished from the wood. Moisture can also mix or combine with dust and contaminants on a deck that has not been maintained on a weekly basis and leave marks. Of course, weather patterns may change from year to year. Southern California weather can be riddled with extreme heat that may vary from year to year. Temperatures seem to be increasing on a yearly basis. The valley areas in Los Angeles can reach up to 120 degrees! Believe it or not, the occasional El Nino weather pattern will douse Southern California with glorious rain. With this being said, your deck will weather at varying rates from year to year. Ultimately Nature will dictate how often a deck needs to be serviced. With this being said, we recommend maintenance whenever visually necessary. Your microclimate will also determine the rate and frequency of maintenance and longevity of the coating. We recommend between maintenance service at 4-12 months depending on the weather pattern, microclimate, and wood species. Other factors will contribute to the rate at which a deck will weather such as pools and overflow and splashing, sprinklers overflow, planters, foot traffic and day to day use, patio furniture, space heaters, outdoor carpets, pets, animal droppings, trees, and foliage above, overhangs and pergolas that drip moisture, runoff from roofing or overhangs. Needless to say, a wood deck has an enormous amount of abuse to endure. The protective coating can only do so much. The main function of any deck sealer or coating is to slow down the graying and weathering process. The coatings trans oxide pigments are the UV protectant and will need to be re-applied periodically for it to continually do its job. You can think of it as applying sunblock to your skin. Over the course of daily activities, your sunblock will wear off and need to be reapplied, simple! The protective coatings will also help with preserving the integrity of the wood, providing the deck is built correctly. Manufacturers of deck coatings often give vague descriptions of what their products will do. We gather that the main function is to help preserve and also slow the weathering process. Unfortunately, they do not make a claim to stop any of the damage listed above such as overflow and splashing from pools, sprinklers overflow, planters, foot traffic and day to day use, patio furniture, space heaters, outdoor carpets, pets, animal droppings, trees and foliage above, overhangs and pergolas that drip moisture, runoff from roofing or overhangs.
Daily Care
Your wood deck is going to need periodic care to keep it clean and ready to use. Natures' contaminants along with other environmental debris will land on the surface of your deck. This debris willed to be cleaned off periodically to keep the wood clean and prevent it from being embedded into the grain. Just as your automobile will need to be cleaned to bring show off the beautiful color and for safety reasons, so does your deck. Keeping a clean and ready-to-use deck will help prolong the life of the protective coating and will also help with the integrity of the coating itself. A dirty and unkept deck can mix with moisture and the coating itself and leave marks. The most efficient way to clean is by investing in a leaf blower. A quality leaf blower that will push air at 150 mph will work sufficiently. A leaf blower can be bought at most local and big-box hardware stores or online. They are available in electric and even battery-powered options. The blower will remove dust and debris settled on the surface. The frequency at which the wood should be blown will be up to you. We recommend weekly maintenance for optimal results. Your gardener or maintenance person may also be able to incorporate this in their routine so you don't have to incorporate it in yours. Your wood deck can also be mopped clean to remove stubborn debris. Warm water alone will do the trick. Simply mop the deck clean until no dirt is being removed. Be careful not to have the fastener of the mop scratch the deck. For extremely stubborn stains, a mild solution of warm water and Simple Green or Mrs. Meyers will also work. Your deck can be mopped once a month or quarterly for the best results. Never mop your deck in direct sun or when the wood is hot. It is best to perform this work in the morning or when the temperature is between 80 and 90 degrees. Our deck refinishing services in Los Angeles and Orange County are the most thorough way to keep your investment up to par. We are always here to answer questions about deck maintenance and care. We ultimately want to eliminate the need to ever have a full deck refinishing performed ever again.
Deck Restoration FAQs
What are the stains and discoloration on my wood deck?
Stains and discoloration are caused by everyday accumulation of moisture, water, surface dirt and other contaminants – such as black mold and mildew. It's important to remove these to prevent allergic reactions or other health concerns. These stains can usually be removed by a deep cleaning and sanding.
Why are some of the boards on my wood deck a different color?
Wood is organic, each tree is different, and even trees from the same species may vary in color range. The boards that comprise your deck have more than likely come from different trees, so it's possible for there to be a mixture of lighter boards and darker boards.
What is wood deck restoration?
Restoring wood to pristine condition involves the removal of debris, oxidation, and contaminants. The first step involves a thorough sanding to remove any coatings or signs of oxidation. Next, the wood is washed clean with deck brightener. A protective coating is the final step and varies based off wood species.
What is the best way to protect a wood deck?
The best way to protect a wood deck is to apply a high-quality oil-based penetrating sealer onto it with a brush. An oil-based penetrating sealer keeps the deck looking clean, natural, and also allows for relatively easy reapplication and maintenance moving forward.
How often should I perform maintenance on my wood deck?
Maintaining a wood deck will depend on a few different factors. The biggest are the microclimate and weather patterns where the deck is located, and the amount of use it gets. Generally, wood decks should be serviced every 4-12 months based off whatever microclimate it's located in.
How can I refinish my wood deck?
Teak Master's "Clean, Sand, Brighten and Seal" method is best for refinishing a wood deck. The surfaces require deep cleaning to remove contaminants, and sanding to reveal the layer of smooth raw wood underneath. Wood brightener to promote color and oil-based penetrating sealer to provide a natural matte finish.
How long does it take for a wood deck sealer to dry?
The drying time of any protective wood deck coating will go according to the manufacturer's specifications as well as the weather patterns in the deck's particular area. Typically, most protective deck coatings will dry completely between 24-48 hours.