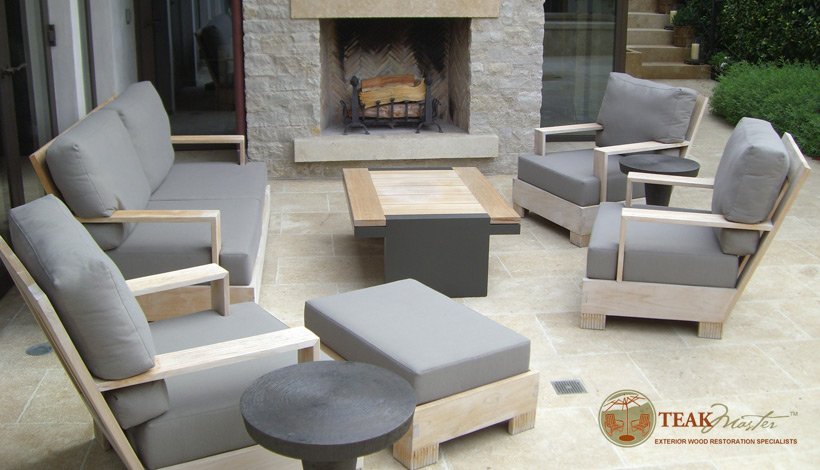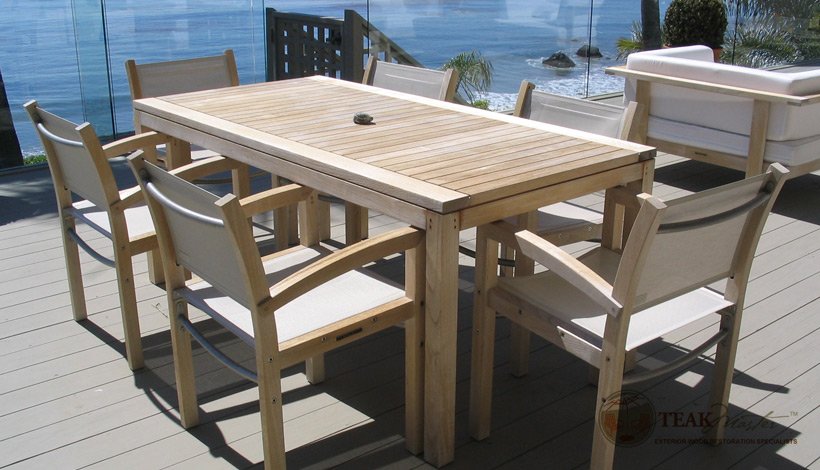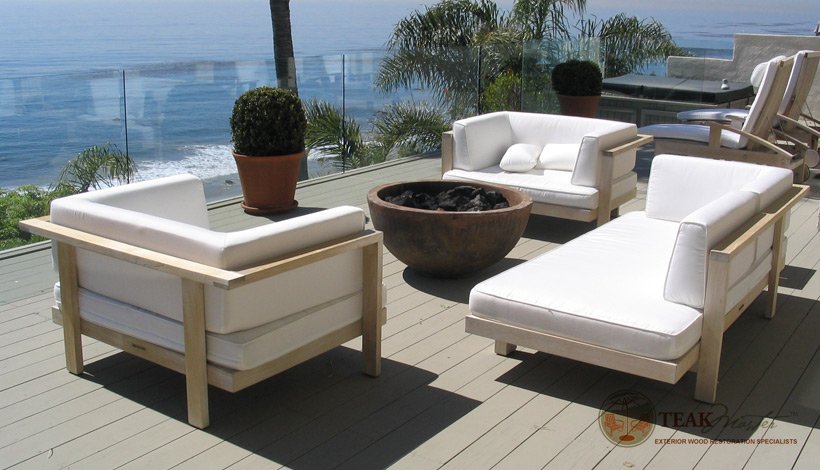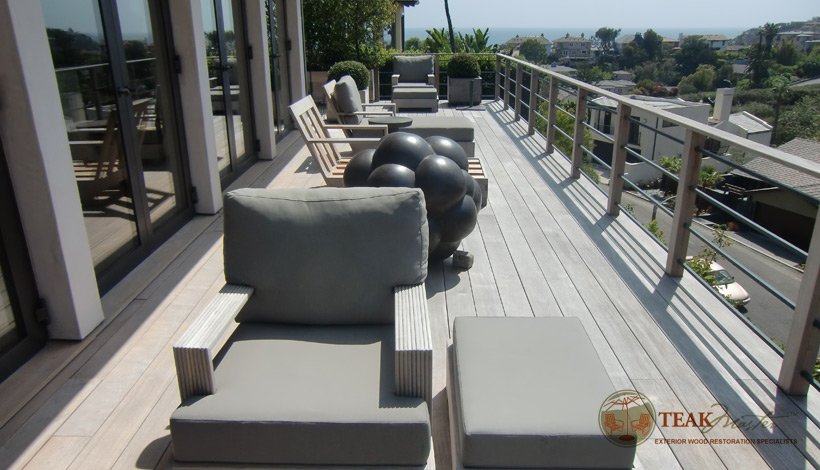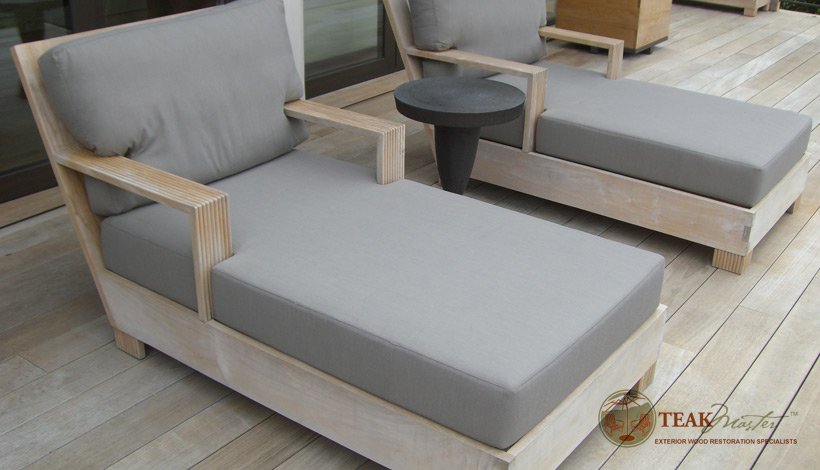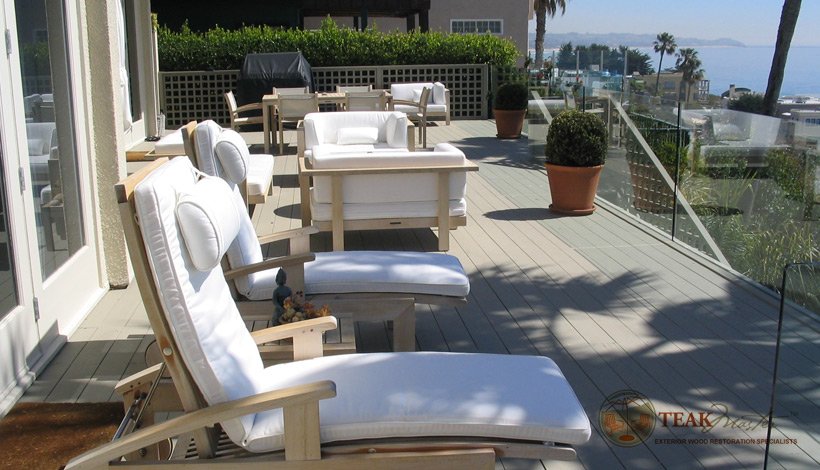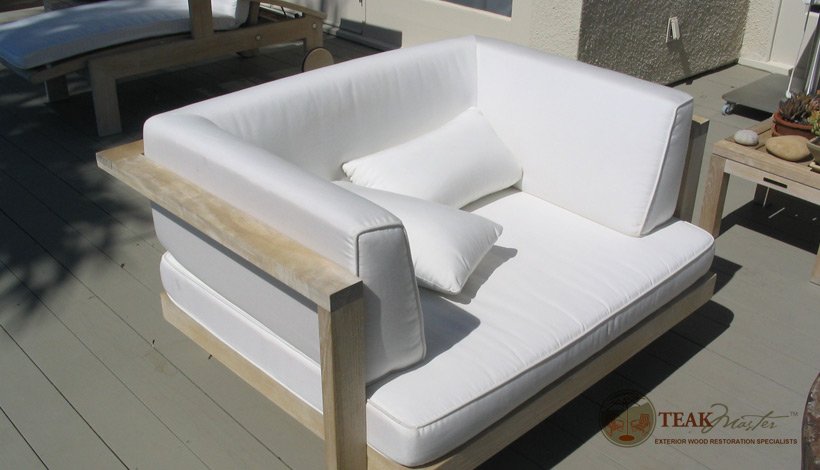 Many consider teak furniture to be most beautiful when it is unfinished in its natural state. In fact, what attracts most people to buy this type of furniture is its natural honey blond look. If you are interested in keeping the most natural appearance of your pieces it can be serviced to keep it that way.
Teak cleaning is used to keep the wood looking its best without the application of a protective coating and not allowing it to weather gray or oxidize. However, sometimes owners allow their furniture to weather and oxidize to a natural gray appearance. To achieve a clean and uniform gray appearance, the surfaces must be cleaned periodically to remove surface contaminants. This is also considered a form of teak furniture cleaning.
The wood has oxidized but it is still unfinished in its natural state. Both of these techniques have become increasingly popular in Los Angeles, Orange County, and Santa Monica over the past few years because they are cost-effective and beautiful.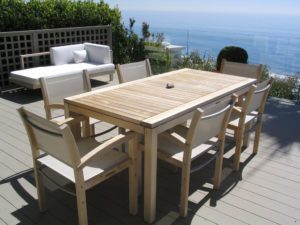 Teak Cleaning Fact Sheet
| Teak Cleaning | Details |
| --- | --- |
| How to Clean Teak? | The two most common ways to clean teak furniture is by using a soft bristle brush or mild power wash. |
| How to Clean Teak Mold? | Mold and mildew growth is a common problem on teak furniture. Apply wood brightener or wood bleach and follow directions per manufacturer suggestions. |
| Can you Clean Teak with Oxiclean? | Oxiclean can be useful product to clean teak wood and furniture. Make sure to rinse thoroughly to remove residue. |
| Can you Clean Teak with Vinegar? | Vinegar is not the best method to clean teak. Simply use a mild detergent such as Simple Green or Mrs. Meyers for best results. |
| Cleaning Teak on a Boat | Cleaning teak on boats can be done using a deck brush and a mild biodegradable detergent. |
How to Clean Teak Wood: Unfinished & Silver Appearences
Cleaning Technique for Natural Unfinished Appearance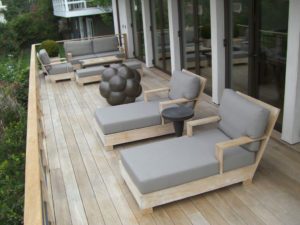 The natural honey blond look of your furniture will gradually fade when it is outside unprotected. To keep Teak wood from oxidizing and keep its natural appearance starts with a thorough cleaning. We begin our teak cleaning technique by gently washing the wood with a proprietary cleaner to remove oxidation, weathering, black mold, and contaminants. The surfaces will be washed by hand to remove these impurities with specially designed brushes to get between each and every slat. Our brushes are soft and special attention is given to preserve the grain. The wood will be washed with wood brightener to promote the natural color and help eliminate and prevent black mold and algae. Drying takes 24 hours and it is ready to use thereafter.
Cleaning Technique to Promote a Natural Silver and Oxidized Appearance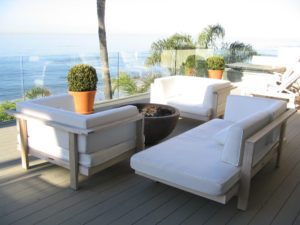 Teak and hardwood furniture is often sold as "maintenance-free". You may remember your salesman suggesting to do nothing and allow your furniture to gracefully weather to a silver patina. If you have taken this route, you have probably found out the hard way that any outdoor furniture requires some form of maintenance and unfortunately, teak furniture is no different. Yes, the wood will change color and oxidize and patina over time with exposure to the elements, but doing so evenly and gracefully without any maintenance is out outright lie. Just as anything left outside eventually gets dirty, so will your furniture. The wood will change color over time, but doing so evenly will take a very long time and is almost impossible without assistance.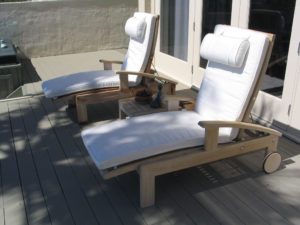 If your furniture has oxidized and does not have a coating on it, it can be washed to remove surface dirt and debris and keep the gray look. This type of teak cleaning technique will remove black mold, dirt, and algae from your wood and keep and promote the silver patina you desire. We want to keep and promote Teak's beautiful silver patina, a do so by using a mild surface wash to remove contaminants. The wood is rinsed with a wood brightener that will eliminate black mold and algae. A brightener is also used to bleach the wood, promote an even appearance, and promote a more graceful weathering pattern.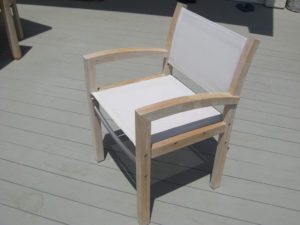 Furniture can also be stripped of its current coating and allowed to weather over time. We can come in and clean the furniture after it has been outside for over 6 or 8 months. New furniture can be allowed to weather and change color and we will come in and clean and brighten to promote the silver patina you desire. A natural unfinished look is perfect for English Gardens, Cape Cod, and Colonial-style homes. Many homeowners in beach cities such as Malibu, Laguna Beach, Newport Beach, and Manhattan Beach prefer this type of look.
How to Maintain Your Teak Furniture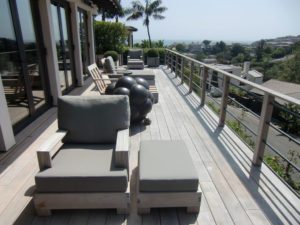 Teak is expensive, so you want to keep it looking its best and get the most out of your investment. Maintenance consists of periodically performing the same teak furniture cleaning procedure. Your investments will stay looking great all the time when we establish your maintenance schedule. Beach cities such as Laguna Beach, Newport Beach, and Malibu will need maintenance more frequently than inland cities in Los Angeles and Orange County. Maintenance should be performed at least once a year or whenever necessary depending on your microclimate.