If you have priced teak furniture or you already own some, you know it's not cheap. One of the reasons why teak is so expensive is it's not from the United States. All teak has to be imported, which adds to the cost. If you're looking to purchase teak patio furniture or already own a set, it's crucial to take care of it properly. You've spent a lot of money on your teak furniture, don't let the Southern California elements ruin it.
---
One of the best ways to keep your teak furniture looking fresh and new is to have it regularly refinished. At Teak Master, we specialize in preserving teak furniture. We are one of the only companies that specialize in teak wood restoration. With over 20 years of experience, you can relax knowing we will take the best care of your furniture.
Where Teak Wood Comes From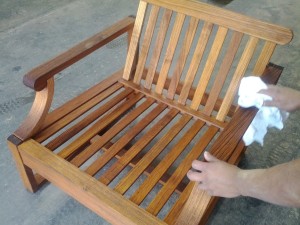 Teak wood comes from the teak tree, primarily found in the tropical forests of South and Southeast Asia, including Myanmar, Indonesia, Thailand, and Sri Lanka. Myanmar is the leading country where you find teak forests.
You can find naturalized teak in some other countries in the Caribbean and Africa. However, some varieties may not be considered genuine teak by definition. For example, Bermuda teak is genuine, but some African versions, such as iroko, are not. Iroko has similar properties and color, but it is not considered true teak by industry standards.
Why Teak is So Expensive
Many types of exotic woods can lighten your wallet, including Teak.
As Myanmar and other teak-producing countries introduced governmental restrictions, teak logging started to decline. Disputes over logging are not isolated to Myanmar alone either. Because of this, prices are on the rise. Demand continues to rise for teak, making it harder to come by. As demand increases and supply decreases, prices rise.
People think teak is one type of wood, but numerous different trees fall under teak. Some trees are endangered, which means you should not purchase furniture made with these particular varietals. If you find them in a store, they will be significantly more expensive. However, purchasing them could contribute to the few remaining trees being destroyed. One example of extremely rare and costly teak is Tectona Grandis. Now endangered, this tree is primarily found in Indonesia and the Philippines.
A teak tree can take around 50 years to mature. That means replacing trees can produce wood within a few years, but they're not as durable as older trees. That has led to inferior products on the market and imitation teak. A natural teak wood piece of furniture will be costly. If something seems "too good to be true," it's likely imitation. Watch for words like young teak or teak-like wood in descriptions.
Your geographic location can impact the price of teak as well. That is because some teak woods are dried to reach certain levels of moisture content. For example, a deck may require 12% to 15% moisture content. You could pay even more to have 8% moisture content, which is drier than the industry average.
When you buy teak in planks for a deck project, you may find some with a tongue and groove edging. These boards are much easier for installation, and the price reflects that. You can expect to pay more per square foot for planks with a tongue and groove edge.
When you are shopping for teak wood for your next project, you may see a class mentioned. The class of teak can impact its price. The three classes are:
A-Class: This is your top-of-the-line teak wood, which is the most expensive.

B-Class: This is still a higher-end wood, perfect for decks.

C-Class: This is the least costly teak and could lack uniformity in boards
Prices vary significantly depending on the class. C-Class teak sells for around $7 per board foot, while B-Class sells for $13 per board foot. A-Class boards might be over $41 per board foot.
Advantages of Using Teak Wood
One of the main advantages of choosing teak furniture is the wood's high durability. It's been used for centuries, especially in the marine industries for shipbuilding. Teak does not absorb water because it's not porous. With no moisture retention, it rarely gets mold, cracks, or sags. Some other benefits of teak wood include:
It has a non-slip surface, which makes it suitable for outdoor decking.

The natural oils in the wood help repel insects.

It is attractive and very versatile.

It is easy to clean and maintain.
As teak ages, it can turn to a pretty silver or gray color. Some people find this to be an advantage as they prefer this look over a traditional teak stain.
Disadvantages of Teak
One of the main disadvantages of teak wood is its price point. It's not the most expensive wood on the market, but it's costly. While some people like the silver color teak fades into, other people consider this to be a negative aspect. Maintaining the original shine and luster of teak requires regular maintenance and refinishing. Teak wood can also get very hot, especially when exposed to direct sunlight. If you use it for your deck, it could be pretty uncomfortable walking across it with bare feet.
Another possible disadvantage of teak is getting matching boards if you use lower-quality wood for a deck project. Your teak deck could have different-looking woods, which may or may not fit your style. If you need to replace a board, it will be harder to match. Even with higher-end teak, you may have a waiting period to source a replacement because many stores may have to special order it.
Contact Teak Master Today
Do you have teak outdoor furniture, or are you contemplating a new set? Either way, regular maintenance is essential, no matter whether your teak is one year or 20 years old. At Teak Master, outdoor teak furniture is our specialty. Let us help keep your teak furniture looking good as new. Contact us today to schedule a consultation.