By: Tim Gilliam
What Is Cedar Deck Restoration?
Cedar deck restoration is the process of renewing your wood decks' color and texture back to new condition. You may own one of the different types of popular cedar used for decking such as Western Red Cedar or White Cedar. As you may know, Cedar is a popular choice for wood decking because of its beautiful color and grain, and its reputation as a strong wood that can remain beautiful in outdoor applications. We have performed hundreds of cedar deck restorations throughout Southern California with proven time-tested techniques. If you are unhappy with the way your valuable cedar deck has weathered and wish to return it back to its original state, you have contacted the cedar deck restoration experts, Teak Master.
What is Teak Master's Process?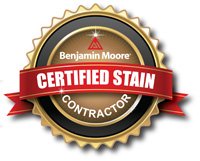 There may be several reasons why your cedar deck is in need of restoration. Cedar decks need restoration because they have not been properly maintained. Cedar decks that have not been properly maintained have generally become gray in color over time or have a deteriorating coating. Sometimes there is a combination of both. Our cedar deck restoration process begins with cleaning the wood's surface to remove dirt, mold, oxidation, and previous coatings. Meticulous sanding follows the cleaning process. Sanding guarantees a smooth texture is restored back to the wood's surface. Sanding also prepares the wood to accept the protective coating better. The wood will be brightened to promote color immediately after the sanding is complete. Applying our durable time tested protective coatings specifically formulated for cedar decking is the final step in our cedar deck restoration process.
Before & Afters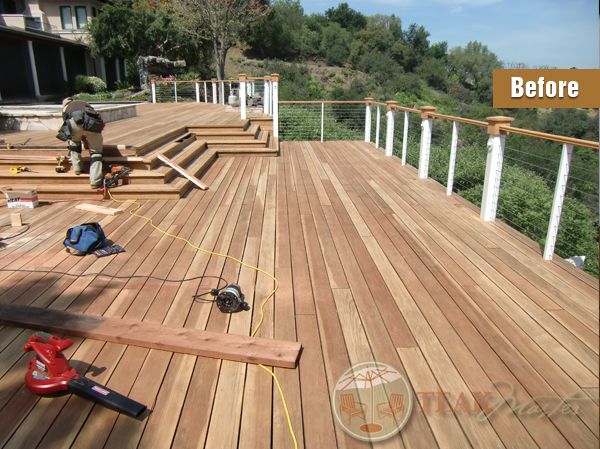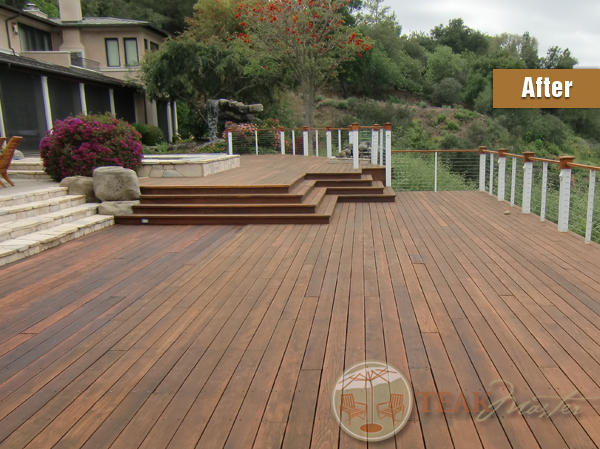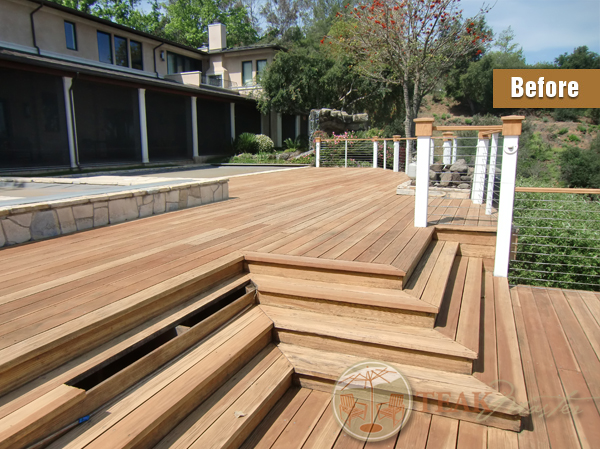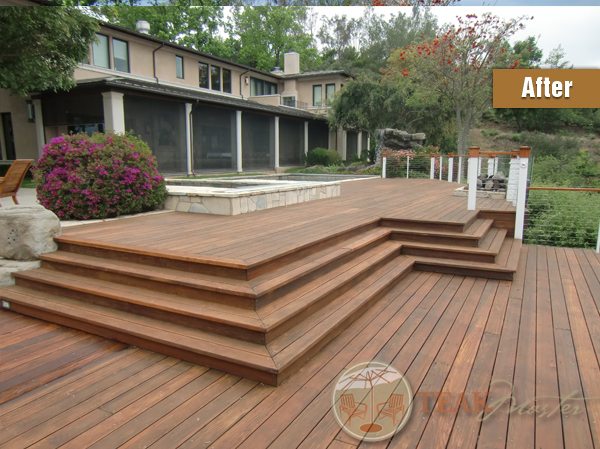 Sealing New Cedar Decks
It is essential to start off with the correct protective coating for your new cedar deck. It is essential to protect your new cedar deck immediately after construction has finished. The harsh effects of weathering can wreak havoc on an unprotected cedar deck in a matter of just a few days. Our process for sealing new cedar decks begins with a mild surface clean to remove mill glaze and tannins that are embedded in the grain of the wood. The cleaning process also helps prevent mold and ensures the protective coating adheres and penetrates evenly. After the wood has dried properly, the protective coating is ready to be applied. We offer a variety of protective coating to meet your aesthetic needs. We generally suggest the application of penetrating sealers if you wish to see the grain of the wood and keep it looking natural. Different tints are available to change the color slightly. If you choose to change the natural color of the wood, we suggest semi-solid and solid stains give it the color and opacity you desire.
Maintenance Program
The best way to keep your cedar deck in stellar condition is with our deck maintenance program. Depending on the protective coating you choose, we will formulate a planned follow-up when it is time to recoat. Some coatings may need less maintenance than others depending on exposure and chemical makeup. Our maintenance program is simple. In about 8 to12 months you will receive a reminder letting you know it is time to recoat. A free on-site survey of your decks' condition is also available and lets us know exactly when maintenance is needed. Maintenance generally consists of mild cleaning and reapplication of the protective coating. Maintaining your valuable deck is the most cost-effective way to keep it looking its best.
What Areas Do You Service?
We are ready to address the demands of clients throughout Southern California. Our skilled mobile crew can complete the most challenging project in just a couple of days. We have restored and currently maintain decks for clients from San Luis Obispo to San Diego. No matter where you are in Southern California our trained staff is ready to meet your needs.
Cost
The cost is significantly less than having your deck replaced. The cost of refinishing your deck depends on the level of work that needs to be done and the protective coating you desire. Transforming the look of your deck will add beauty and value to your home. We offer free on-site evaluations to all of Southern California.
Directions
Tim Gilliam
I am as passionate about the services our company provides as the day I started as Teak Masters' only employee in 1997. For 2 decades I have been obsessed with continuing to developing state of the art refinishing techniques and application of the finest cutting edge wood coatings modern science can create. I have training certifications and have been hired as a consultant for esteemed companies such as Benjamin Moore, Arborcoat, Messmers, Dewalt, Porter Cable, TWP, Sikkens, Tropitone, and Brown Jordan.