By: Tim Gilliam
What Is Deck Restoration?
Deck restoration means applying proven refinishing techniques to bring back the look and texture of your deck. Without proper attention and left unprotected, decks will weather gray in color and the grain will lift. Decks are rare and require years of hands on experience gathering knowledge and finding the best ways to perform deck refinishing projects. That's why homeowners, contractors, and designers throughout Southern California choose to hire the most experienced and only licensed deck restoration company, Teak Master.
What is Teak Master's Process?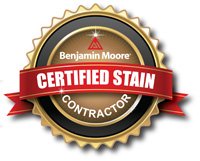 Our deck restoration process begins with a free on site assessment of your deck. If your deck has weathered to a ghastly gray color, not to worry. Mahogany is as resilient as Teak wood and does not rot or decay even left unprotected. Our process begins with cleaning to remove dirt and debris and preps for sanding. Sanding is an important step that takes off a small layer of wood leaving the surface smooth and brand new. It also allows the protective coating to adhere to the wood evenly and correctly. After sanding, the wood will be cleaned and brightened to restore color. A protective coating will be applied to the wood when it is fully dry. Our coatings add natural protection and penetrate deep into the wood's surface. The result is a beautiful magnified grain and matte finish.
Before & Afters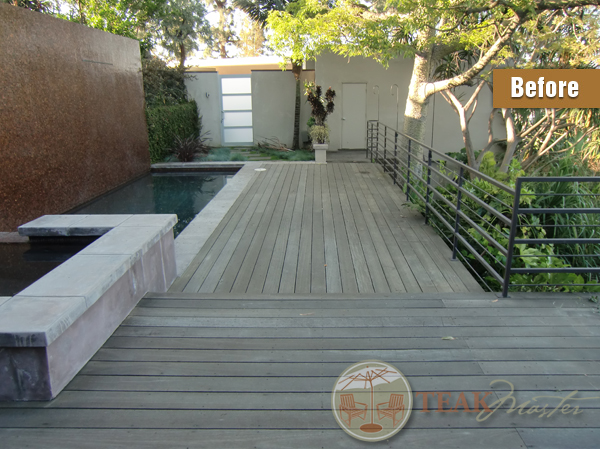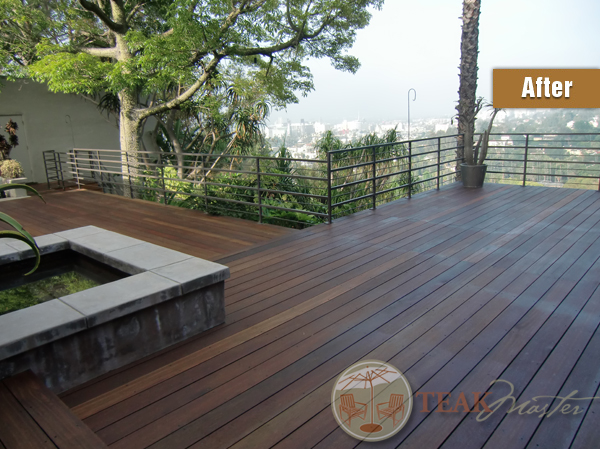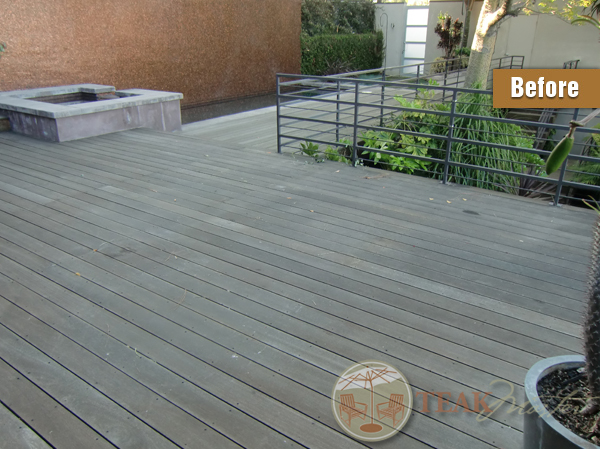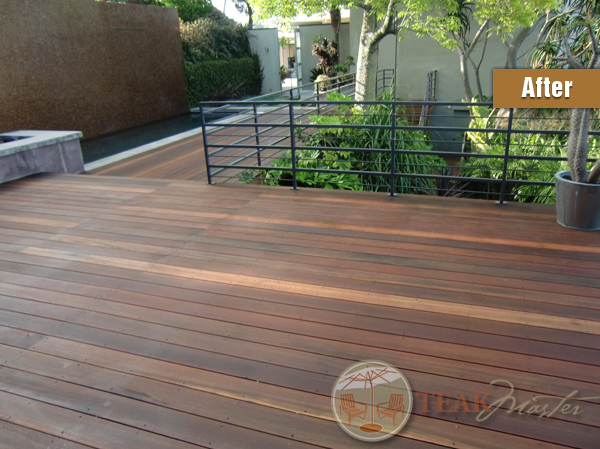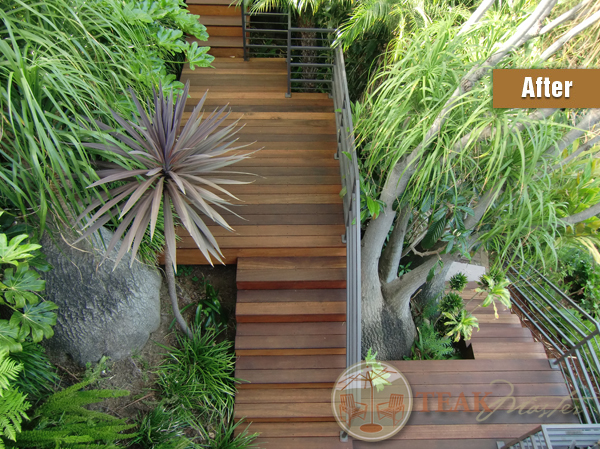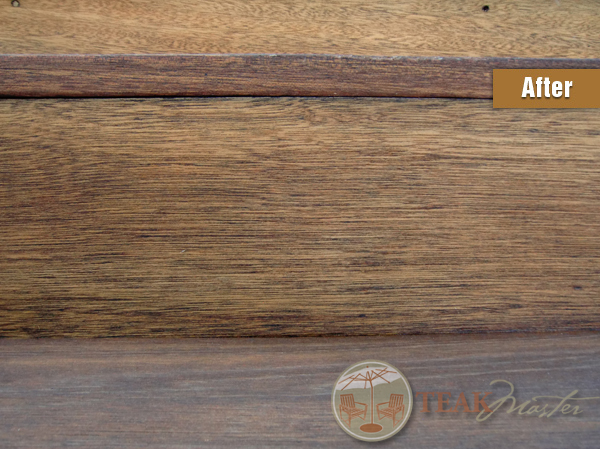 Sealing New Decks
New decks should be sealed without delay after construction has finished. The unforgiving effects of sun and rain can change the color and texture of your new deck in just a few days. Our process for sealing new decks begins by cleaning the wood's surface with a mild solution to eliminate tannins and even color. After the wood had dried completely, it is ready for its protective coating. We apply time tested sealers specifically formulated for Mahogany. The sealer will penetrate deep into the wood. The natural grain of the wood will be enhanced and the wood's surface will dry matte. Periodic maintenance will be needed to keep the beautiful appearance of the wood.
Maintenance Program
Annual maintenance is the best way to preserve the look of your deck. The natural oils in the wood gradually fade over the course of a year. We begin our process by gently cleaning the wood's surface. The wood will be re-coated to add the natural oils back into the wood leaving it with a brand new appearance. In about a year, you will receive an email and post card reminding you it is time to reseal. Most deck maintenance project can be done in just one day and ready to use the following day.
What Areas Do You Service?
Years of hand on experience performing deck restoration has allowed us to build a highly experienced crew. Our deck restoration and maintenance crew is ready to meet your needs by quickly and carefully performing each and every project. We provide restoration service for decks from Santa Maria to San Diego with special attention to Los Angeles and Orange Counties.
Cost
Costs vary depending on the condition of the wood. Cost factors to consider are how old the deck is and level of restoration needed. Many decks need simple cleaning and sanding to bring it back to life. Some decks require a previous coating that may need to be chemically removed and may result in a slightly higher cost. No matter what your budget is, will work with you to find the most efficient technique and price to bring your deck investment back to life.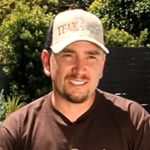 Tim Gilliam
I am as passionate about the services our company provides as the day I started as Teak Masters' only employee in 1997. For 2 decades I have been obsessed with continuing to developing state of the art refinishing techniques and application of the finest cutting edge wood coatings modern science can create. I have training certifications and have been hired as a consultant for esteemed companies such as Benjamin Moore, Arborcoat, Messmers, Dewalt, Porter Cable, TWP, Sikkens, Tropitone, and Brown Jordan.