By: Tim Gilliam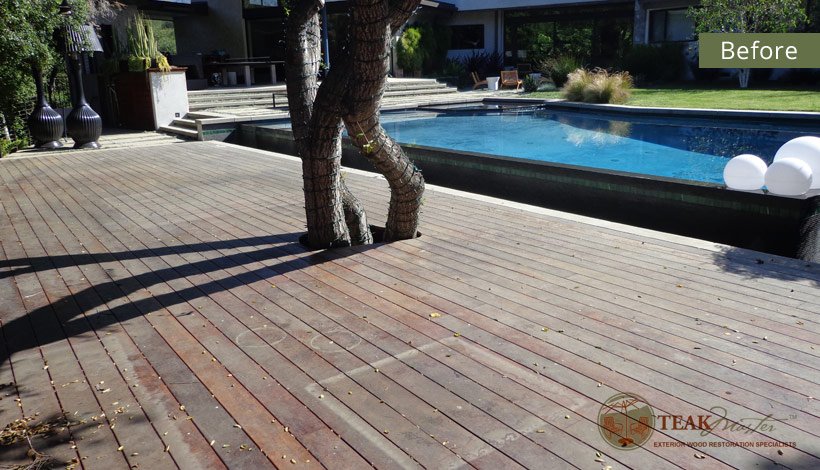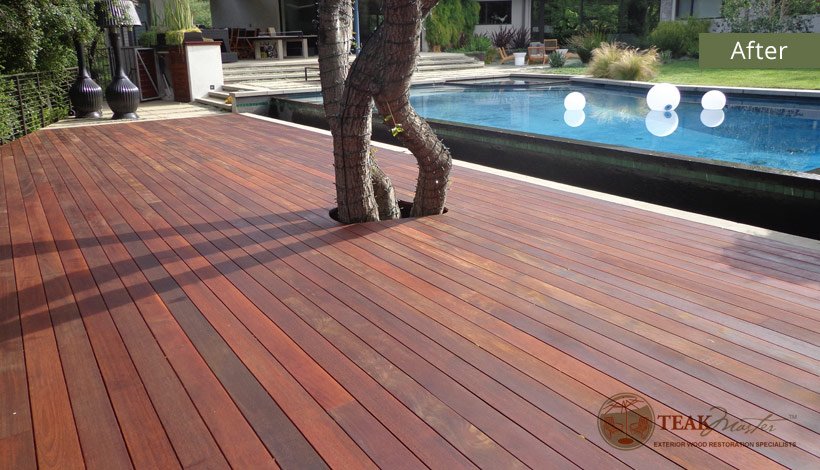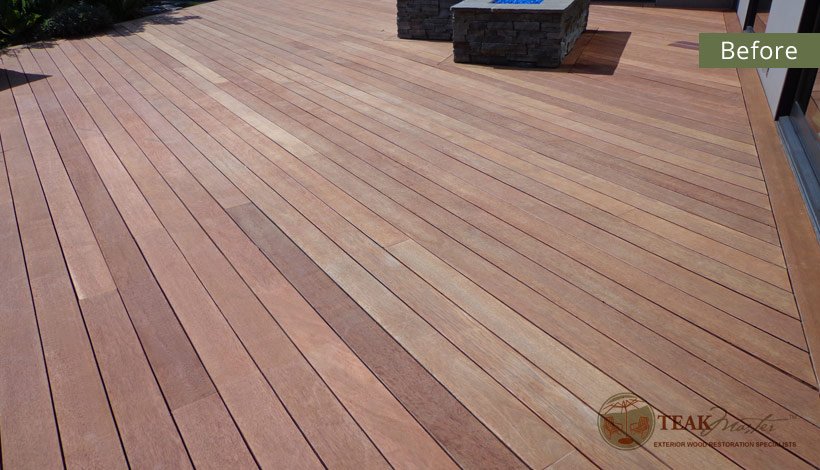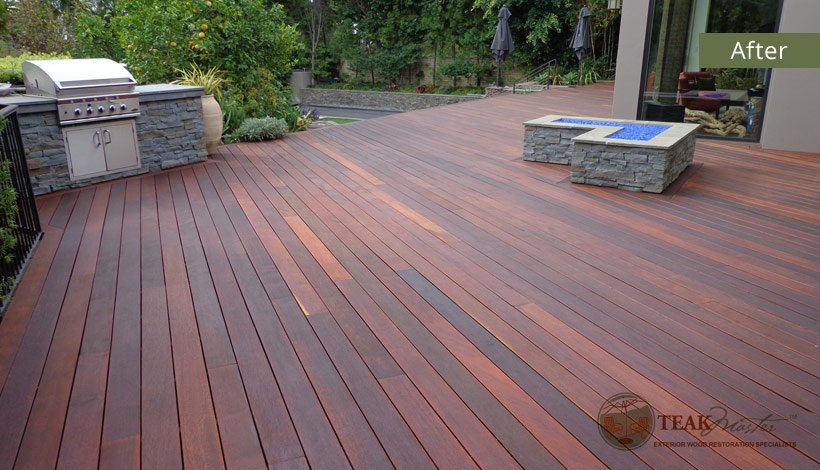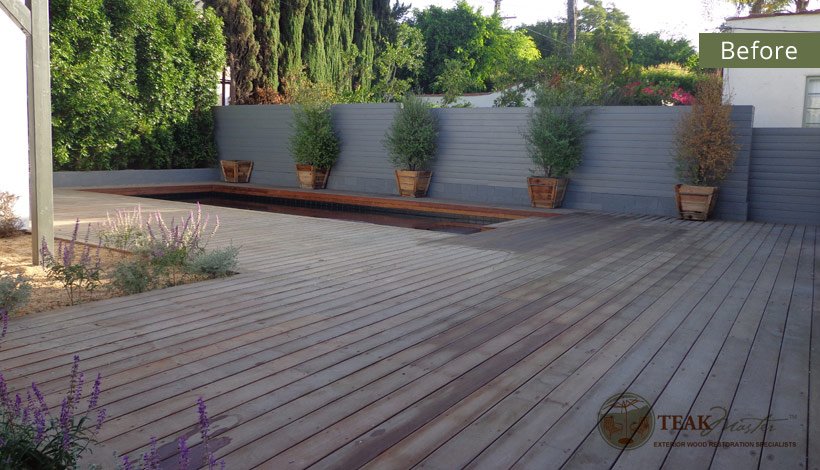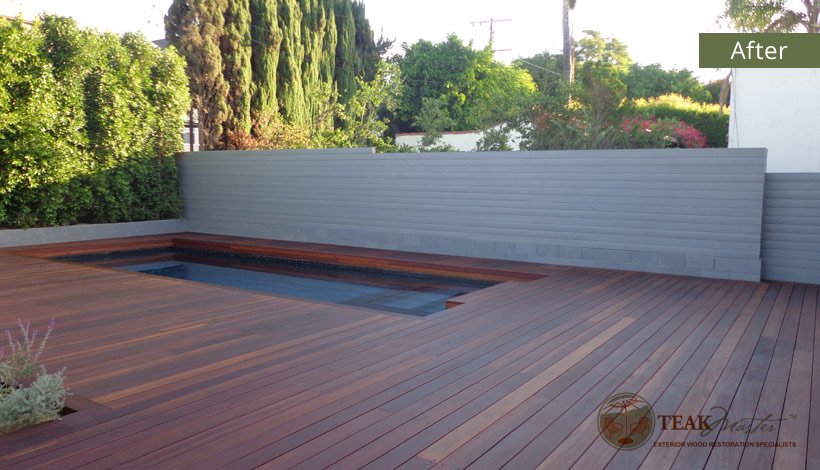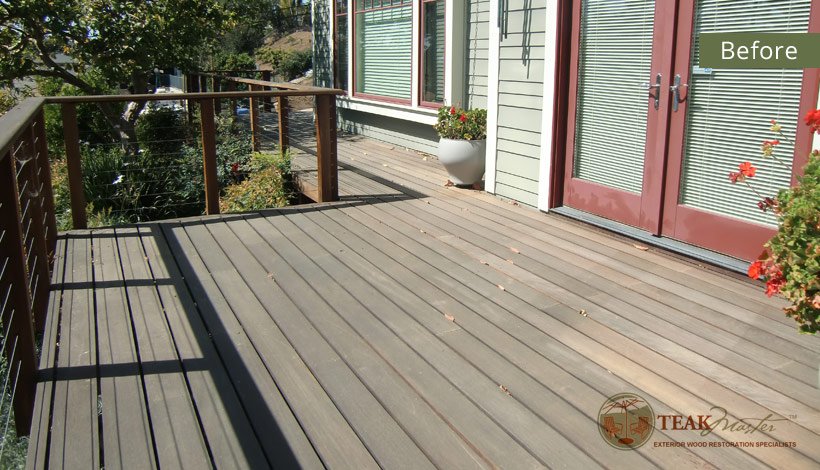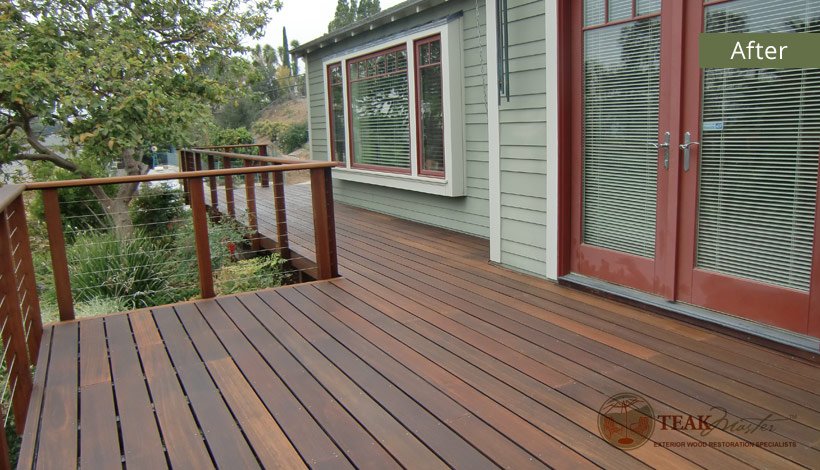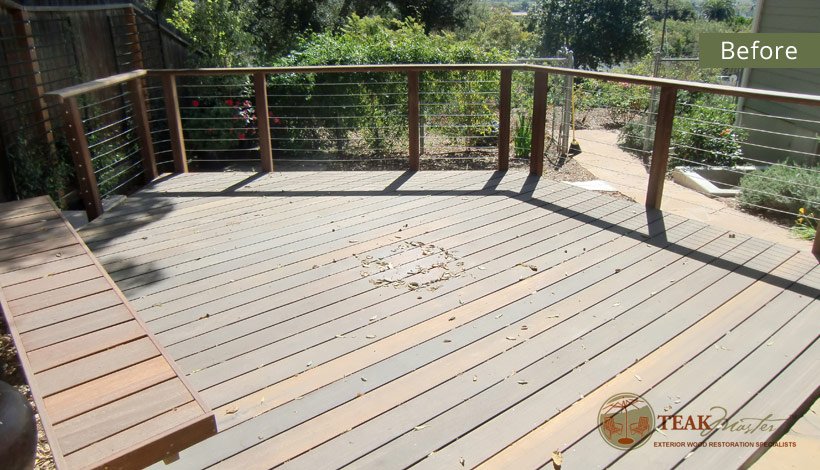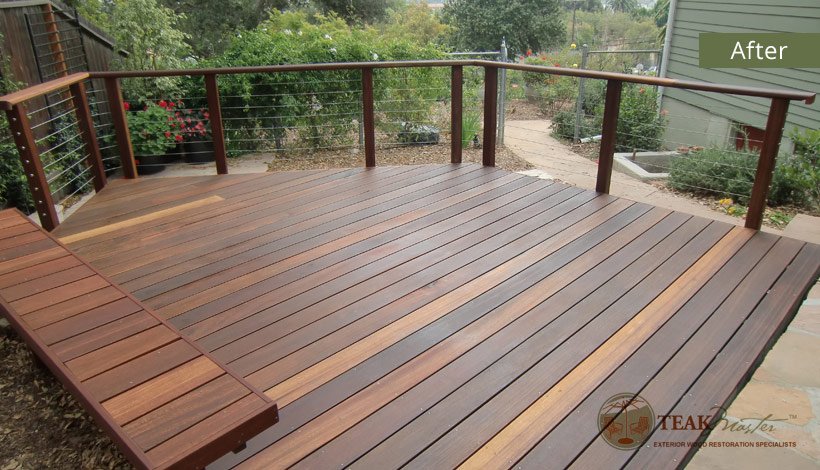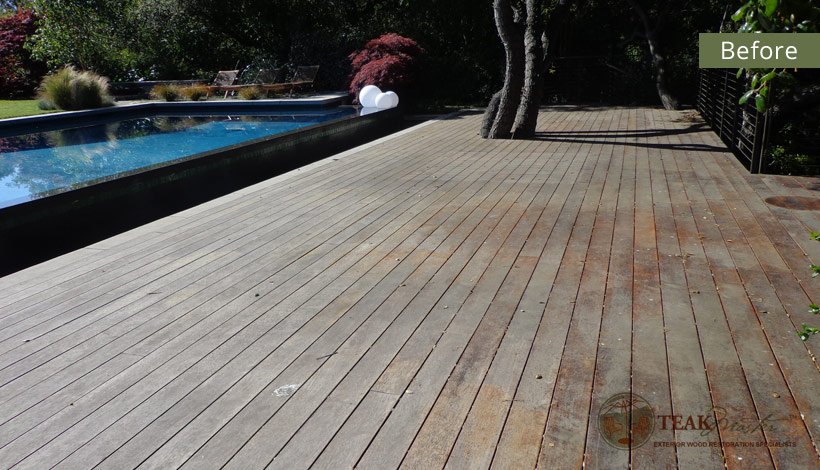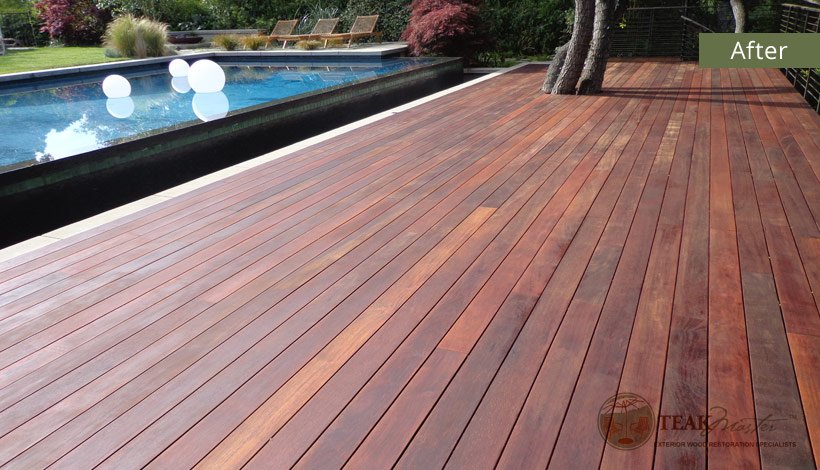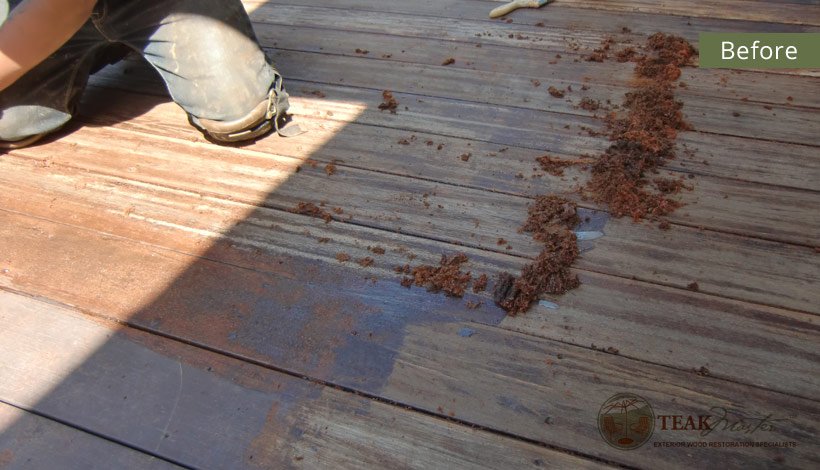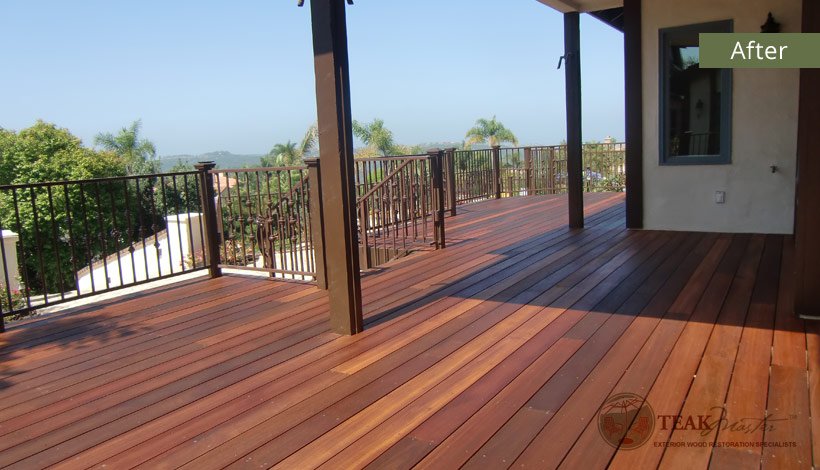 Mangaris (Shorea, Meranti, Red Balau, Kayu Batu, Bankirai) Deck Restoration
You would be hard-pressed to find another wood species with more names. Bet you did not know Mangaris is actually a brand name and not a wood species. It is also sold under other names such as Kayu Batu and Red Balau. The actual species name is called Shorea or Balau. For the sake of this Mangaris deck refinishing page, we will call it by its most well know name. Its color, hardness, durability, and grain is arguably similar to Mahogany and is a common reason why so many are attracted to it for use in wood decking. Just as other species used for decking require experienced service to keep them protected and looking stellar, so does this. If you have experienced unwanted changes in the appearance of your Mangaris deck or if you have invested in installing a new one, you have come to the right place for answers on how to care and protect it. We service all of Los Angeles, Orange County, and San Diego.
Restoration Technique
Just as other species used outdoors for decking require periodic maintenance to keep them protected and in their original state, so is the same for Mangaris. We understand that many homeowners have made large investments in installing these amazing out-door features. Most of the time owners have not been fully informed on what it takes to keep their investment impeccable and have encountered unwanted and startling changes. Many times maintenance has been overlooked and the original look slipped away overtime. Our Mangaris deck restoration technique will solve this problem.
An amazing attribute of this durable wood is that it can be brought back to a brand new state through time tested quality restoration techniques. The first step in our Mangaris deck refinishing process consist of washing off debris that has steeled on the surface. This way we are not grinding debris into the surface. Sanding is step number 2 and most important. The only way to return the surfaces to their original state is by unearth-ing fresh smooth raw lumber or grinding off the old coating. To skip this step would re-sult in a substandard outcome. Yes, sanding is the difficult old fashioned way, but the right way.
Removing dust from the grain is key. Your deck will be washed to remove dust and de-bris from the grain. We wash with a solution that not only removes the dust, but also enhances the original look with a slight bleaching effect. This process will also eliminate contaminants such as mold and algae. After this process your lumber will look as it did when you originally installed it. Your deck is now ready to be sealed with our proprietary oil base blend to protect and maintain.
Protective Coating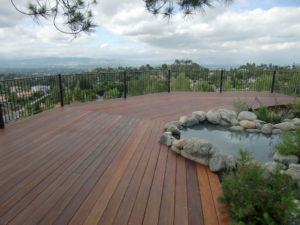 The final step of your Mangaris deck refinishing process is application of the protective coating. There are a slew of products on the market that claim to protect and keep the look of your deck. However, there are many things to consider when choosing a product. The most common considerations should be what the wood will look like and how easily can it be maintained. The best products are penetrating sealers. We stay away from film forming finishes as they look unnatural and are not easily maintainable and can be slippery when wet.
We coat Mangaris and Red Balau with good old fashioned penetrating sealers. Our own proprietary blend sealer delves deep into the surface to add protection while enhancing the grain. The sealer is brushed and allowed to seep directly into the wood. After maximum penetration has been achieved, the excess is wiped clean leaving a beautiful rich matte appearance. The coating will naturally and gradually dissipate over time. Microclimate in your area will determine when maintenance is needed.
Protecting Your New Deck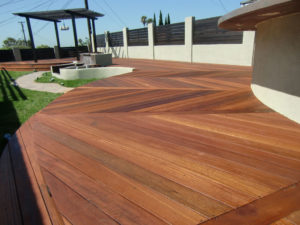 Protecting your new wood correctly from the start will prevent the need for a full Mangaris deck refinishing. We cannot tell you how many of our clients make the mistake of trusting their builder with application of the protective coating. Although building is an art form, so is exterior wood finishing and few have the skill of both. It is essential to start off using a high quality product that leaves periodic maintenance a breeze.
We begin protecting new surfaces with a mild surface sand to remove mill glaze while opening up the grain. We will clean and brighten to remove remaining mill glaze and to help prevent algae, mold, and mildew. The wood will be coated with Teak Master's own time tested formula for protecting Mangaris, Red Balau, Shorea, and Kayu Batu decks. Application of our sealer will allow us to set an estimated time table for periodic maintenance to keep your wood investment looking great all the time.
Maintenance Technique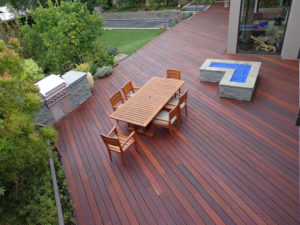 Now that you've protected your new or restored deck, sticking to a strict, estimated timetable for maintenance is a must if you want to keep it looking good. The microclimates of Los Angeles, Orange County, and San Diego all vary greatly, so your location will be a significant deciding factor in the frequency of maintenance. Because we have been servicing these different areas of Southern California for over 20 years, we're skilled in establishing the correct estimated timetable for your specific maintenance needs. Ultimately, your deck should be serviced when-ever visually necessary because you never know what Mother Nature will do in any given period of time.
As long as we service close to schedule, we can simply wash to remove layers of debris that have landed on the surfaces. Sometimes, a light skim sand may be employed to open the grain a bit and expose new wood. The surfaces will be brightened to enhance natural color. The same blend of sealer will be reapplied to protect and enhance for another period of time. Maintenance will eliminate the need for Mangaris deck restoration.
Repair
Building a deck is an art form. Sometimes building may not go as planned in terms of longevity. Boards can become loose especially with the various form of fastening systems on the market. Wood can also become damaged for various reasons. We can perform many repairs that may arise with your investments. We have many suppliers that have high grade Red Balau, Kayu Batu, Shorea, and Meranti boards to match the quality exactly.
If you're in the Southern California area and want to restore your Mangaris deck, or if you're looking to protect your new investment, contact Teak Master Exterior Wood Refinishing Specialists with any questions or to schedule your next service. While you're at it, check out our incredible before and after gallery to see what your deck could look like with our help.
Directions
Tim Gilliam
I am as passionate about the services our company provides as the day I started as Teak Masters' only employee in 1997. For 2 decades I have been obsessed with continuing to developing state of the art refinishing techniques and application of the finest cutting edge wood coatings modern science can create. I have training certifications and have been hired as a consultant for esteemed companies such as Benjamin Moore, Arborcoat, Messmers, Dewalt, Porter Cable, TWP, Sikkens, Tropitone, and Brown Jordan.