By: Tim Gilliam

Our Company
Our company began in 1997 when I recognized a need for professional teak furniture care and restoration. I managed a well-known, high-end outdoor furniture store in Pasadena California in the mid-nineties, which sold tons of teak patio furniture. Our clients would naturally ask about the care and maintenance involved in preserving the beautiful blonde color of their new teak furniture. "Just rub a little teak oil on and everything should be good" was what the staff and I recommended to hundreds of our clients without giving any real thought if it was in fact the best way to preserve their teak furniture. Eventually, we began to frequently field a diverse array of technical questions regarding the proper way to protect and restore outdoor teak furniture.
Our History
I began to research teak furniture care with no definitive answers and decided to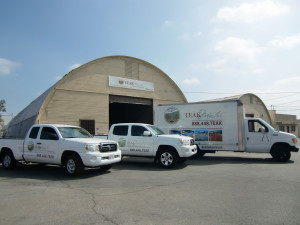 ask my father for advice. My father's wood restoration experience came from owning and operating a home painting service for 25 years. I have fond memories working side by side with him, from a very young age and into my teens, painting and restoring garage doors, front doors, shingles, and wood decks. I told him about the requests and concerns our clients were having regarding their valuable teak furniture. My father related coating and restoring outdoor teak furniture to the wood decks he had restored over the years. He recommended sealing teak furniture when it was new to preserve its natural color and sanding to restore weathered furniture. I asked my father if he would field a few questions from some of our clients regarding their teak furniture and he delightfully answered, yes.
Before we knew it, my father had two appointments for teak furniture restoration projects. Two jobs led into 3 and 4 and the word had gotten out that there was a professional teak furniture refinishing service in Los Angeles. Word spread like wildfire and teak furniture reps, designers, furniture stores, and contractors began referring to my father as the foremost aficionado in care of outdoor teak furniture. My father's company began to grow by leaps and bounds with teak furniture restoration eventually overshadowing his home painting service.
I decided to join my father and protect and restore outdoor teak furniture full time. Our company received its name when we witnessed a salesman at a local patio store hand out my father's business card and told his client to, "Call Tim. He's the Teak Master". We both looked at each other new that was the perfect name for our business. My dad, Timothy Floyd Gilliam, was officially known as the Teak Master. My father and I began fine-tuning the best restoration techniques and narrowed down the finest protective coatings for outdoor teak furniture. Our teak refinishing service eventually began to transition into exterior wood care. We began receiving requests to restore wood decks; siding, pergolas, kids playsets, garage doors, and entire homes. Teak Master is one of the only licensed companies in the United States dedicated to the fine art of exterior wood care and maintenance. Our unrelenting commitment to exceeding expectations is why our company has been sought after by clients around the United States.
Thank you,
Tim J. Gilliam
Licensed and Awarded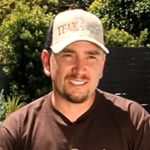 Tim Gilliam
I am as passionate about the services our company provides as the day I started as Teak Masters' only employee in 1997. For 2 decades I have been obsessed with continuing to developing state of the art refinishing techniques and application of the finest cutting edge wood coatings modern science can create. I have training certifications and have been hired as a consultant for esteemed companies such as Benjamin Moore, Arborcoat, Messmers, Dewalt, Porter Cable, TWP, Sikkens, Tropitone, and Brown Jordan.