A gazebo can offer a quiet place to read a book or entertain guests for a pleasant social gathering. If your gazebo has become worn or damaged, you can have it professionally restored. 
At Teak Master, we are woodworking professionals that specialize in gazebo wood repair. Our team knows how to properly patch and repair your gazebo so that it can add beauty to your yard once again. If you need a gazebo restoration in Los Angeles, read on to know about the process and the benefits of restoring your gazebo and why you should use our services.
What Is Gazebo Restoration?
Gazebo restoration can make it possible for your old gazebo to be brought back to life. It is the process of cleaning, repairing, and beautifying your existing gazebo rather than tearing it down and building a new one. The outdoor elements can weather and fade your gazebo, making it look aged and damaged over time. Taking proper care of your gazebo will extend its life and keep it protected. You can have gazebo refinishing work done to repair and restore it so that it looks as good as new again. 
What Does the Process of Gazebo Restoration Involve?
The process for repairing a gazebo can involve several steps. First, we will need to come out and complete an assessment. We will determine what condition your gazebo is in and what needs to be done. 
Most gazebos become neglected over time. As a result, they end up covered in dirt and mildew stains. Removing the dirt and mildew can reveal what kind of repairs we will need to make.
Typical steps in a gazebo restoration might include a combination of the following: 
Pressure cleaning

Stripping and sanding the old stain 

Repairing or replacing pieces of wood 

Applying fresh stain, sealer, etc. 

Final clean up

Any additional touch-ups that are needed 
This is also a great time to consider any potential upgrades or improvements you've been wanting to make. Perhaps you want new rails, a better roof, screens added, a different deck surface, etc. We can discuss what additions you are hoping to make, and we will incorporate them into our gazebo refinishing estimate.  
Examples of Gazebo Restoration in Los Angeles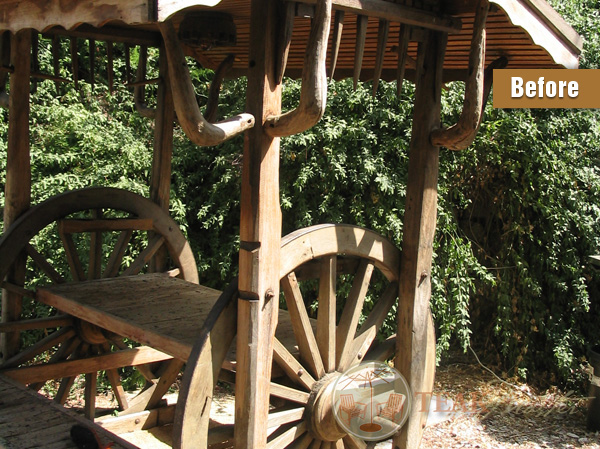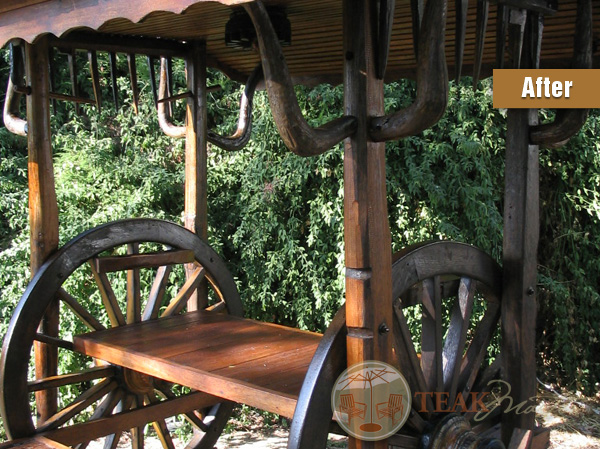 What Are The Benefits Of Restoring Your Gazebo?
There are multiple benefits to taking care of your gazebo. Ultimately, with routine maintenance, you can extend the life of your gazebo. You want to make sure your gazebo always has a good stain on it. That will help keep it waterproofed and reduce any rain damage. A good stain will also protect it from other outdoor elements that can lead to severe damage over time.
Some people are tempted to do away with their gazebo rather than restore it. However, an old beautiful gazebo has many years left in it and will cost you less in the long run rather than a plastic shed or other cheaply made outdoor structure.
Why Should You Regularly Inspect Your Gazebo
Even if you don't use your gazebo year-round, you should regularly inspect it for problems. At a minimum, you should check it in spring and fall. You will want to inspect everything, including the walls, roof, and flooring. You are looking for mold or mildew, moisture, rotting wood. Leaks from the roof or walls could've allowed snow or rain inside, which allowed mold to grow or rotted out the wood in some places. 
If you have stuff stored in your gazebo, this is the time to clean it out. If you need repairs or refinishing, you don't want to have debris or personal items in the way when we come out for an inspection. 
In general, you should try to keep your gazebo's floor clean and free of any debris. Hosing off your gazebo periodically will help remove any mildew and dirt that builds up over time. Then, every few months, check the gazebo's screws to determine whether they need to be tightened or replaced. 
How Much Does Wood Gazebo Restoration Cost?
The price for gazebo restoration will depend on the amount of work that needs to be done and the size of your gazebo. Prices vary for gazebo restoration, which is why we need to schedule a consultation to evaluate the current state of your gazebo and determine how much work needs to be completed.  
We are professionals who are very skilled at wood refinishing. Hiring Teak Master to come out and repair your gazebo can save you money and allow you to start enjoying your outdoor structure once again. 
Why Should You Use Teak Master's Services?
You want a reputable company, like Teak Master, that specializes in gazebo refinishing. We have the skills and experience with restoring wood structures to bring back the original luster to the wood. Gazebo refinishing will help make your gazebo look beautiful again.
If you are looking for gazebo restoration in Los Angeles, let the experts at Teak Master help. We have been in business for over two decades. We understand outdoor teak furniture and how to restore it better than any other company, which is how we earned the nickname "Teak Master." During our initial inspection of your gazebo, we can advise you on what needs repairing or restoring and give you an estimate on what the costs will be.
All our work is done on-site, making it easy and convenient for you to get the gazebo repairs you need. Whether your gazebo just needs a new stain or it requires some major repairs to be completed, you can be assured of long-lasting quality service each time you have a professional from Teak Master come out.
Contact us today to learn more about how we can help restore your gazebo. Call today to schedule an appointment or let us come out and do an inspection.