Professional exterior wood home restoration and maintenance is an often-overlooked field many may not realize even exists.  Homeowners are often frustrated when they discover their exterior wood surfaces did not stay looking as perfect as they had hoped.  Many have been so hopeless and have settled by hiring a subpar or unlicensed contractor with limited knowledge on restoring and maintaining these surfaces.  Teak Master has more than 20 years of experience performing the lost art of exterior wood restoration.  Our trained craftsmen have years of skilled knowledge restoring and protecting wood homes, shingles, siding, pergolas, garage doors, wood trim, and front doors.  We always perform correct cutting edge restoration techniques, suggest the finest coatings and colors, and establish a maintenance schedule to keep your investments looking fresh and beautiful all year round.
Wood Home Restoration Technique
Homes often have surfaces made entirely of wood such as siding or have wood accents such as window trim or pergolas.  Even though each of these surfaces are located on the exterior, they weather differently and need specific coatings to enhance their look and keep them protected.   If your surfaces have become weathered or have a coating that is failing, they can be restored back to new condition and have the proper finish applied for the best look and maximum protection.
Surface preparation begins with cleaning and stripping to remove weather damage and previous coatings.  If the surfaces have had varnish or any type of above surface coating, stripping agents will be used to help break them down so they can be scrapped and sanded to expose bare wood.  Surfaces that could potentially require stripping agents would be front doors, windows, garage doors, and in rare cases, siding.  If the wood has simply weathered or oxidized and has little or no deteriorating coating, various cleaning methods will be employed to remove surface debris and contaminants.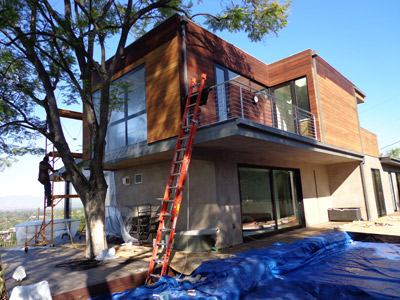 Once the wood has been cleaned or stripped, sanding will remove remaining debris and expose fresh new wood.  For surfaces such as shingles or rough sawn lumber, sanding is not an option and other methods may be employed to achieve a clean debris-free area.  Restoring intricate surfaces such as front doors, garage doors, and window trim is a slow and calculated process that takes a great amount of skill and patience to preserve molding and carvings.  Various grits of sandpaper will be used to achieve just the right level of smoothness for each project. The wood will be cleaned and brightened to remove dust from the grain and promote natural color.
The final step in wood home restoration is application of the protective coating. Window trim, doors, shingles, pergolas, siding, and all other exterior wood surfaces require specific coatings to protect and enhance their look. Determining factors for coating choice will be wood type, vertical or horizontal, and the specific look and color you are trying to achieve.
Protecting New Exterior Wood Surfaces
The best way to keep your new investment protected and looking its finest is to begin with an application of the correct coating for your specific surface and wood type.  Application of the proper coating is extremely important because it will lay the groundwork for keeping the surface in stellar condition through periodic maintenance.  We understand we have one shot at achieving the color, opacity, sheen, and overall aesthetic you desire.  We work closely with each and every client to make sure we achieve the exact look they want.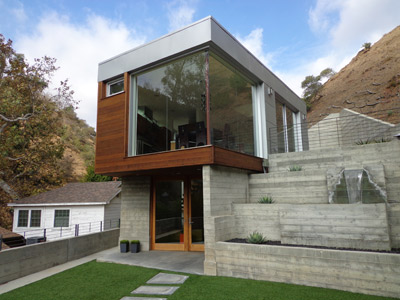 Protective Coatings
Sealer:  Sealers are perfect for protecting Redwood, Cedar, Ipe, Mahogany, Douglas Fir, Mangaris, Cumaru, and Teak because they offer a beautiful translucent appearance that enhances the wood grain pattern. The coating dries matte and is rich in appearance because of the natural elements. Sealers are different from varnishes and film-forming finishes in that they never blister or peel and can be easily reapplied which makes maintenance a breeze. This type of protective coating is a must for horizontal surfaces such as decks or entryways and can also be used for any vertical surface such as siding, pergolas, and shingles.
Film Forming Coatings/Marine Varnish: These coatings are great for vertical surfaces because they add depth to garage doors, trim, front doors, and various siding installations. Film-forming finishes require multiple coats to offer last-lasting protection through any type of weather. Many film-forming coatings require a base coat of pigmented stain or color and 2-3 layers of topcoat. These finishes often come in Satin, High Gloss, and Matte for just the right amount of character.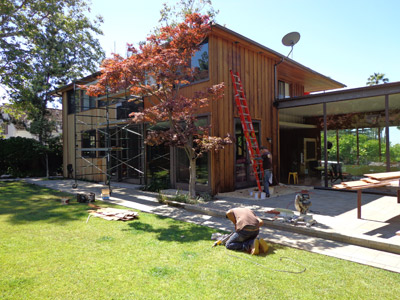 Stains: These protective coatings are great for a natural pigmented look and are available in a virtually endless palette of colors. Water based stains are available in various opacities such as transparent, semi-solid, and solid for the exact level of grain appearance you want to achieve. These coatings can be used on almost any vertical or horizontal exterior wood surface.