Professional exterior-wood home restoration and maintenance is an often-overlooked field that many people do not realize even exists. Homeowners are often frustrated when they discover the exterior wood surfaces on their homes are becoming weathered and worn. Many people aren't aware this is a specialized field and end up hiring a subpar or unlicensed contractor with limited knowledge of restoring and maintaining these surfaces.
Teak Master has more than 20 years of experience performing the lesser-known art of exterior wood restoration. Our trained artisans have years of experience and professional knowledge in restoring and protecting wood homes, shingles, siding, pergolas, garage doors, trim, and front doors. We always use meticulous, advanced restoration techniques and suggest the optimum coatings and colors for your project. In addition, we'll help you establish a maintenance schedule to keep your investments looking fresh and beautiful all year round.
Wood Home Restoration Technique
Homes often have surfaces made entirely of wood, such as siding, or have wood accents, such as window trim or pergolas. Even though all of these surfaces are on the exterior of a house, they weather differently and need specific coatings to enhance their look and protect their material. Even if your surfaces have become faded and worn, with the proper finish applied, they can be restored to look like new and shielded for years to come.
Surface preparation begins with cleaning and stripping to remove weather damage and previous coatings. Stripping agents help break down varnish or any above-surface coating. This makes it easier to scrape and sand down to the bare wood. Common surfaces that often require stripping agents would be front doors, window frames, garage doors, and in rare cases, siding. Perhaps the wood has little to no coating deterioration but is weathered or oxidized. In that case, you can employ various cleaning methods to remove surface debris and contaminants.
Once the wood has been cleaned or stripped, sanding removes the remaining debris and exposes fresh new wood. However, sanding is not an option for some surfaces, such as shingles or rough-sawn lumber, so other methods are needed to achieve a clean, debris-free area. Restoring intricate surfaces such as front doors, garage doors, and window trim is a slow and calculated process. It takes great skill and patience to preserve detailed molding and carvings.
Various grits of sandpaper are used to achieve just the right level of smoothness for each project. The wood will be cleaned and brightened to remove dust from the grain and promote its natural color.
The final step in wood home restoration is applying the protective coating. Window trim, doors, shingles, pergolas, siding, and all other exterior wood surfaces require specific coatings to protect and enhance their look. When determining which coating to use, we need to factor in the wood type, whether the layout is vertical or horizontal, and if there is a specific look and color you are trying to achieve.
Protecting New Exterior Wood Surfaces
The best way to keep your new investment protected and looking its best is to use the correct coating for your specific surface and wood type. The proper finish is essential because it lays the groundwork for keeping the wood in peak condition through periodic maintenance. We understand we have one shot at achieving your desired color, opacity, sheen, and overall aesthetic, and that's why we work closely with every client to ensure we achieve the exact look they want.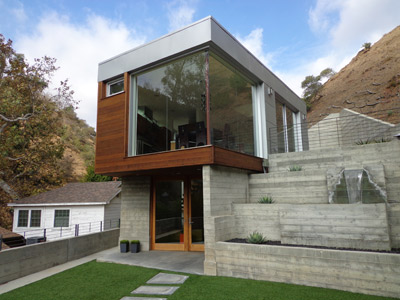 Protective Coatings
Sealer: Sealers are one coating option. These are perfect for protecting redwood, cedar, ipe, mahogany, Douglas fir, Mangaris, cumaru, and teak. Sealers offer a beautiful translucent appearance that enhances the organic wood-grain pattern. The coating dries matte and is rich in appearance because of the natural elements. Sealers are different from varnishes and film-forming finishes in that they never blister or peel and can be easily reapplied, which makes maintenance a breeze. This protective coating is ideal for horizontal surfaces such as decks or entryways. It can also be used for vertical surfaces such as siding, pergolas, and shingles.
Film Forming Coatings/Marine Varnish: Other types of coating for you to consider include film-forming finishes and marine varnish. These coatings are great for vertical surfaces because they add depth to garage doors, trim, front doors, and various siding installations. Film-forming finishes require multiple coats to offer long-lasting protection through any weather. Many film-forming coatings require a base coat of pigmented stain or color and two to three layers of topcoat. These finishes typically come in satin, high gloss, and matte for just the right amount of character.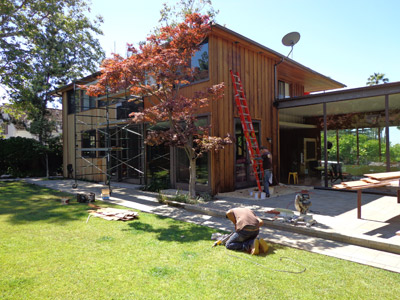 Stains: These protective coatings are excellent for a natural pigmented look and are available in a virtually endless palette of colors. Water-based stains are available in various opacities, such as transparent, semi-solid, and solid, for the exact level of grain appearance you want to achieve. These coatings can be used on almost any vertical or horizontal exterior wood surface.
What Is Wood Siding?
You can personalize the exterior of your home by using one of many different materials. Some manufactured materials include masonry, fiber cement, metal, vinyl, composites, and wood. Choosing a siding you find aesthetically pleasing is undoubtedly essential, but first, you should consider which finish can best protect your home. Wood siding is a popular option for many reasons and remains a top choice here in Southern California.
What Are the Advantages of Exterior Wood Siding?
Wood siding protects the home's sheathing from the elements while providing extra insulation. The natural beauty of the wood gives an appealing finish, and it's relatively easy to install. It can also be refinished or restored once it shows signs of aging to prevent damage to the siding.
Wood siding is available in several different styles. You can choose the type that best fits your overall design, whether you prefer a rustic look or a darker, modern aesthetic. It's available in shingles, clapboard, or planks and can be manufactured from popular woods such as teak, cedar, and ipe.
When Do I Need To Replace My Home Siding?
With proper home maintenance, wooden siding can last anywhere from 20 to 40 years, depending on your location. Plan on refinishing surfaces every few years, but be prepared for a restoration if your wood becomes damaged by water, insect infestations, or dry rot. In addition, you should consider repair if you purchase a home with wood siding that hasn't been cared for properly. Our team of professionals at Teak Master is highly skilled in wood siding restoration. We can help ensure that your home's exterior will last as long as possible.
Contact Teak Master Today
If you have questions about our home siding restoration and refinishing services and would like more information, please call us at 888-204-8316. At Teak Master, our focus is to help you protect and prolong the life of your investment. Our company has been performing restoration and refinishing of wood siding for over 20 years, and we look forward to helping you with yours.