By: Tim Gilliam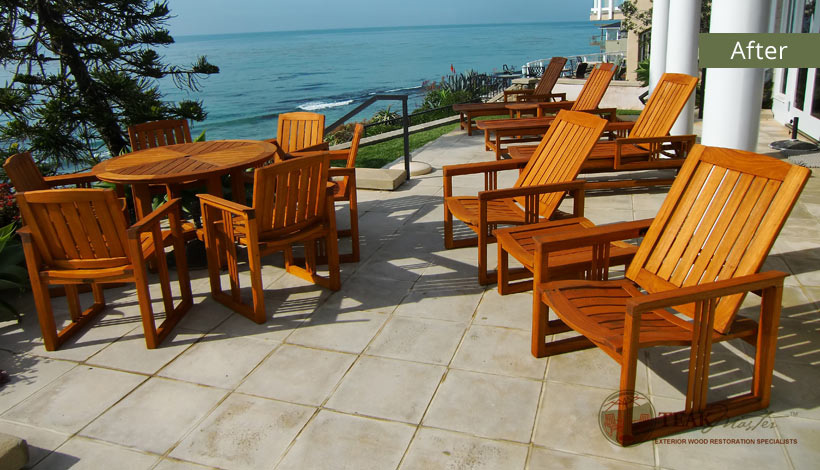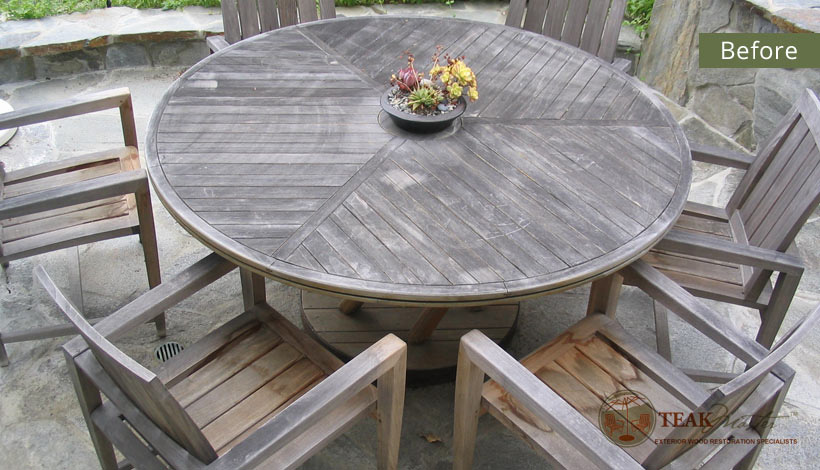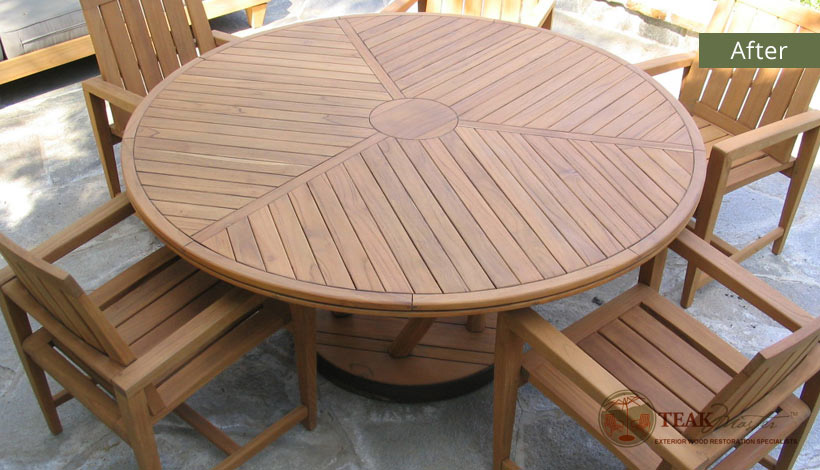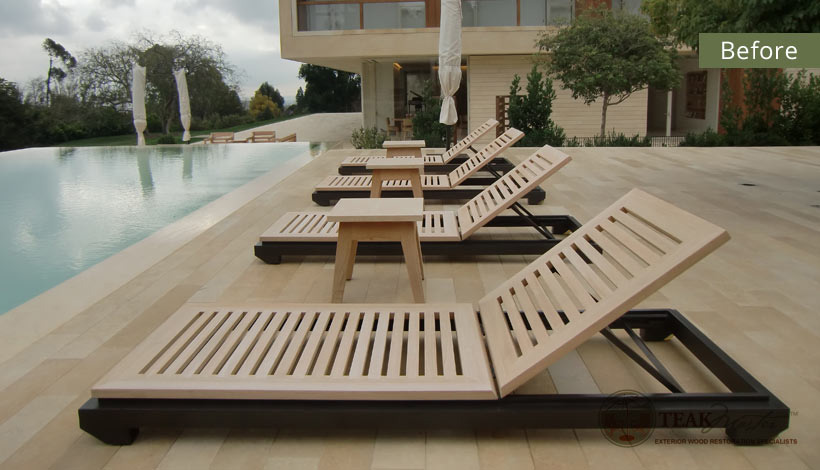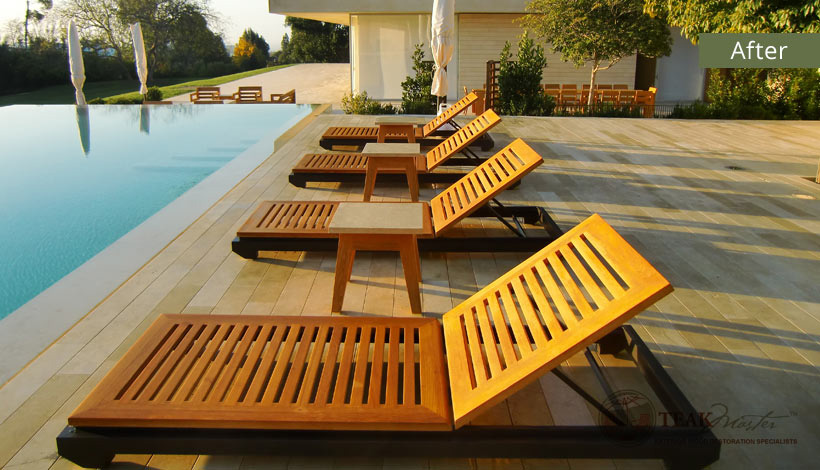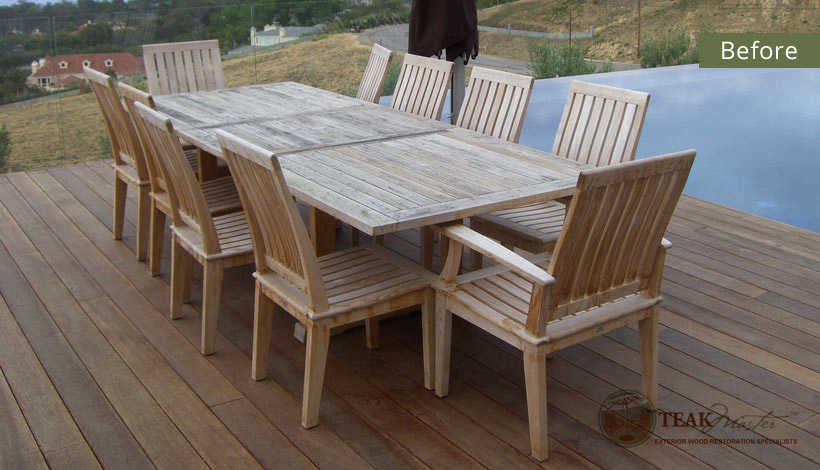 Teak Furniture Restoration Services – Before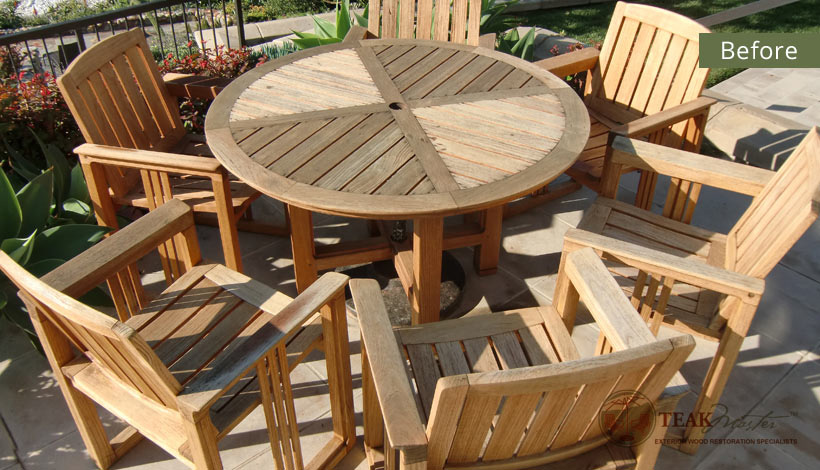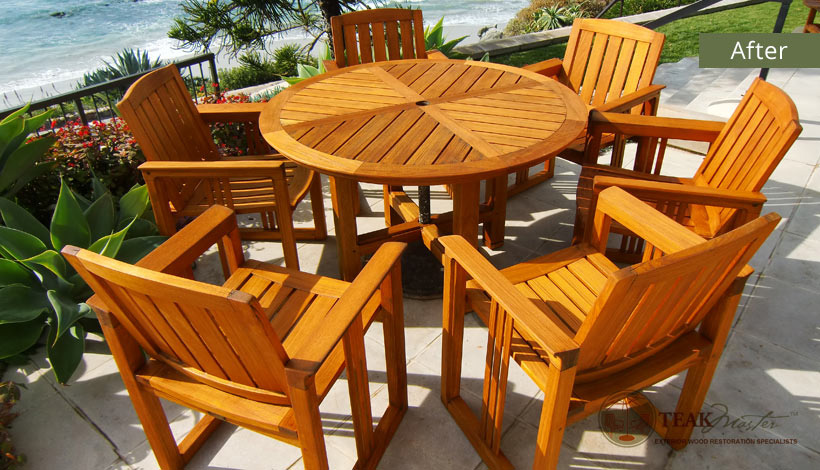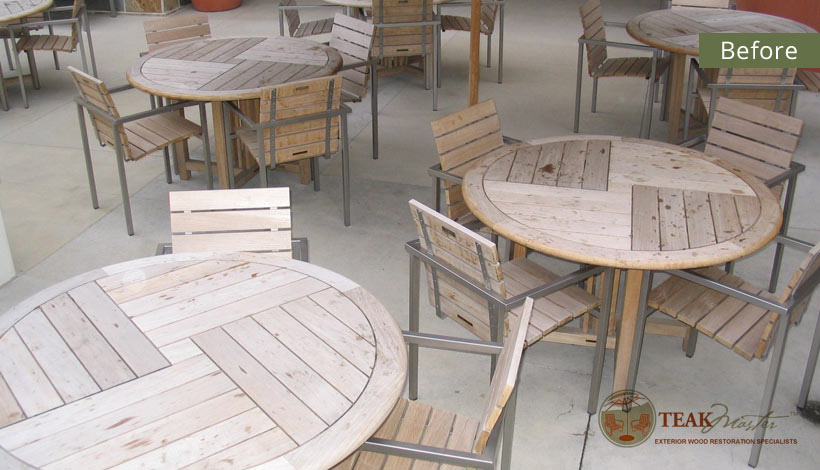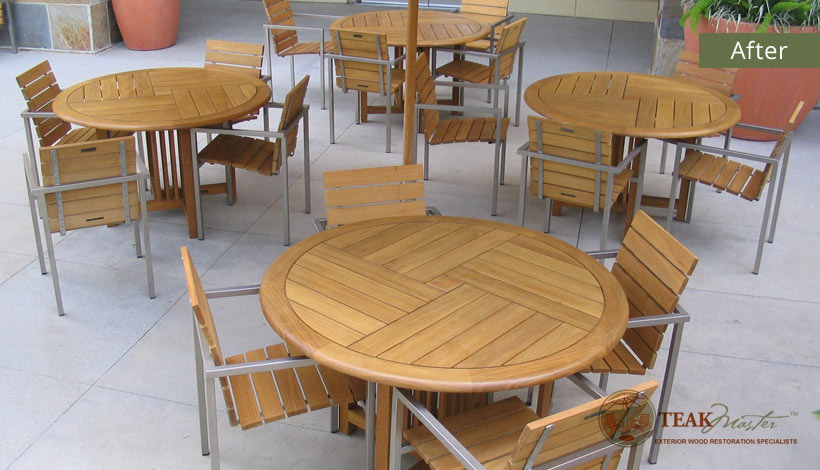 Teak Restoration
Teak is prized for its durability and no other medium used in outdoor furniture is more naturally elegant. An often overlooked aspect in owning this furniture is the correct way to care for and protect it. Early on, it was often sold as maintenance free, which is not entirely true. Sure, the wood will last a lifetime if you simply do nothing, but the wood will oxidize and blacken because dirt and contaminants are constantly landing on its surface, which is usually an unwanted look. Choosing to enhance and keep its natural beauty and color is another option, but with a variety of protective coatings on the market, you may be scratching your head trying to decide which one is best. More often than not, owners are frustrated due to the varying degrees of information they receive, and have simply given up. Owning teak furniture shouldn't be so tough. We have performed refinishing and restoration on tens of thousands of furniture pieces and understand its unique weathering characteristics, design and color options, and frequency of maintenance needed.
Teak Refinishing Fact Sheet
| Teak Refinishing | Details |
| --- | --- |
| Refinishing Weathered Teak | Refinishing weathered teak is a technique that removes gray oxidation and debris to expose fresh new raw wood. |
| Products for Refinishing Teak | There are a variety of products that are used in refinishing teak furniture. The best system is made by Semco Teak Products. |
| Teak Cleaner | Teak Cleaner is a great tool in removing surafce dirt, black mold, and contaminants to unearth natural teak wood. |
| Steps in Refinishing Teak | The best method in refinishing teak is to strip and remove previous coatings. Remove weathering and contaminants to unearth wood and apply a quality sealer such as Semco. |
| Can I Refinish Teak Myself? | Having a strong will and lots of energy is a must. Refinishing may be best left to the masters as experience is the key in teak refinishing and without it is a roll of the dice. |
Refinishing Technique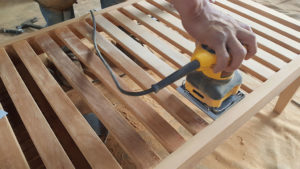 Our refinishing process begins with cleaning to remove surface dirt, gray oxidation, mold, and previous coatings from the wood. Coatings such as varnish, oil, or polyurethane may require the wood to be stripped with a mild agent to break down the hard finish. After the furniture has been thoroughly cleaned and dried, it is ready to be sanded. The furniture will be carefully sanded from top to bottom and between all slats. Thorough sanding with with various grits of paper removes remaining debris after cleaning, exposes fresh new wood, and restores a smooth texture back to the wood all in one.
The furniture will be cleaned with a mild solution to brighten the wood and remove dust from the grain. The brightening agent will also help remove and prevent black mold which is commonly found on weathered teak. The furniture is allowed to dry before the final step of applying the protective coating.
Your furniture will be protected with the finest coatings to help prevent damage from weather and oxidation. We follow guidelines and recommendations of high end retail outlets and manufacturers by using oil base sealer to protect the wood. Sealers are great because they give the wood a natural look and feel and can be easily maintained. We also offer various stains, varnishes, clear coats, and marine paints for a traditional or customized look.
Teak Furniture Maintenance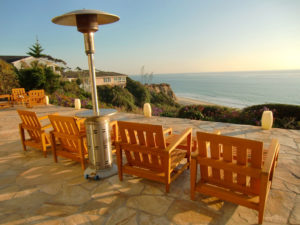 After your furniture has been restored, it will need to be serviced from time to time to keep it protected and looking great. Over the course of several months, the oils, solvents, and UV reflectors will gradually dissipate back to bare wood. At this time your furniture will need maintenance. Determining factors on how often you will need maintenance service will depend on the microclimate where you live, exposure to the elements, and simply how perfect you would like your furniture to look. For instance, you may need maintenance service more often if you live in a coastal city such as Malibu, Newport Beach, Laguna, or La Jolla. Cities that have less moisture but high heat and UV exposure such as Calabasas, Pasadena, Encino, and Irvine may need service slightly less often.
Furniture Maintenance service begins with a mild surface wash to remove contaminants. The horizontal surfaces take more of a beating than the vertical surfaces because they absorb all UV, moisture, and contaminants, and therefore may need a light surface spot sand. The wood will be wiped clean with a brightening agent to promote color and remove contaminants that are absorbed by the wood if not properly treated. The pieces will be re coated with the same product as previously used. This will restore the natural color and protect for several more months.
Maintenance contracts are available to firmly stay on schedule. We work closely with homeowners, property mangers, and commercial managers to keep service on track at the appropriate time. We also offer a simple no pressure promise to all of our clients that we will follow up at the appropriate time to keep their investment looking great all the time.
Cleaning to Promote Naturally Oxidized Patina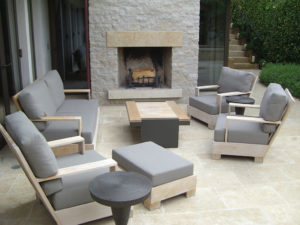 Naturally oxidized or grayed furniture is a beautiful look that can enhance the beauty of any backyard. Over time, natural oils in the wood will oxidize into a silvery blackish look. Although, achieving a clean and even naturally oxidized look by simply doing nothing is almost impossible. The furniture will patina, but will also become dirty and may also obtain black mold.
Our technique to promote a clean and even naturally oxidized look begins with a thorough and gentle wash with a mild wood cleaner to remove dirt, soot, and black mold. All areas of the wood will be cleaned for a beautiful uniform look. We apply a proprietary patinizer that will enhance the gray look and help jumpstart an amazing natural patina. This process will need to be occasionally repeated to keep the clean natural patina appearance.
Protective Coatings
Sealer
Sealers are the best way to protect your furniture while maintaining a very natural appearance. Sealers enhance the grain while leaving it matte in appearance and keep the natural feel of the wood. Sealers are always brushed to allow the wood to absorb as much of the coating as it possibly can. When using sealer, maintenance is a breeze because the coating can be re applied over the previous application. Various tints are available for a natural or custom and enhanced look.
Yacht Grade Marine Varnish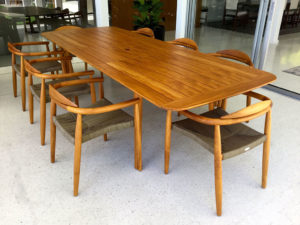 Varnish has been used to protect boats for more than a hundred years. It gives wood a distinctive deep finished look like no other. We only use the finest yacht grade marine varnishes to protect and enhance your furniture. Our varnishes are available in various sheen including matte and high gloss. We begin our process with establishing a clean smooth surface. A variety of stains are available to achieve any particular color you are trying to achieve. We apply at least 3 layers and sand between each coat for a smooth feel. Varnish offers depth and gives a distinctive traditional look that transcends time. In fact, there has been a recent resurgence of this look, and is now often used in modern design elements. In short, your furniture can be stained to almost any color you wish and can be coated with varnish for an extra special appearance to complement your home on The Strand in Manhattan Beach or your mid century modern in Los Feliz.
Water Base Clear Coat
Water base coatings are becoming increasingly popular and longer lasting while offering great protection. In theory clear coat is very similar to varnish in that it is applied with using multiple layers. The layers are sanded between coats. Water base clear coat is perfect because it can be applied quickly with multiple coats on the same day which translates into a quicker turnaround compared to other multiple coat systems. Clear coat also offers the ultimate matte appearance to protect the furniture when it is stained. A great attribute of water base clear coat is that most are very eco-friendly and are at extremely low VOC's.
Protecting New Teak Furniture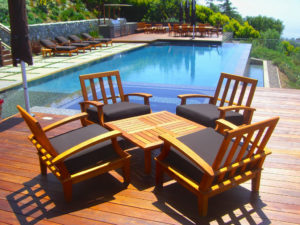 The proper way to preserve the look of your new furniture is to have it professionally protected within 2 weeks of purchase. The effects of weather can immediately change the color and raise the grain of the wood. Why allow damage to happen? Protect your investment correctly from the beginning!
Protecting new furniture means applying a coating to preserve the natural look of the wood or enhance it by adding color or various oils to achieve a specific look. Service for new furniture consists of a mild surface clean with wood brightener to remove mill glaze and burnishing techniques that sometimes create a barrier. This process will make sure the wood is perfectly clean while removing any barriers that could prevent a coating from adhering or penetrating. A light finish sand may accompany the brightener to smooth the surface or open the grain.
The furniture will have the appropriate protector applied based on the particular aesthetic you are looking to achieve. Most of the time the furniture will have a sealer applied that will highlight its grain and color while allowing the wood to have a natural feel. Other coatings such as clear coat and varnish are applied based on the color and sheen you desire.
Teak Furniture Repair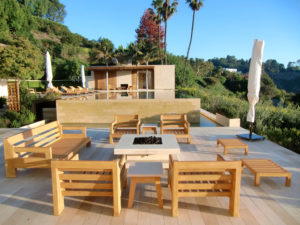 Outdoor furniture can take unrelenting punishment and abuse for many years. However, joinery and fastening systems may occasionally become loose over time or the wood can break or become damaged accidentally. We are familiar with all types of furniture joinery and can repair pieces that have become loose over time or re-fasten items that have missing parts. Common repairs such as broken slats, broken umbrella ribs, or dog chewing marks can be fixed so that they are almost undetectable. Our repairs meet or exceed manufacturers specifications for structural integrity. All of our repairs are performed with the finest quality kiln dried wood with special attention to match the grain for a nice clean look.
On-Site Teak Refinishing Service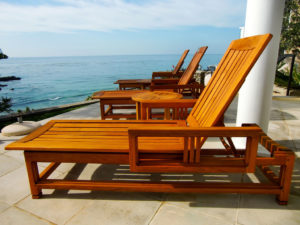 The quickest and easiest way to perform refinishing and maintenance is by working on site. Our on site service consists of setting up a work area that will allow us to safely perform our magic. We begin by protecting all surfaces in and around the work area. We are very conscious of landscaping and hardscaping and will protect each of these areas to the highest level. Our crew will move and cover pots, bbq's, and other objects to a safe place while work is in progress. Each job site will be cleaned at the end of each day. One of our biggest compliments is that we often leave our work areas cleaner than when we arrived. You will be able to see the furniture being cleaned, sanded, brightened, and sealed back to new condition. Most projects take 1 to 2 days to complete. Your furniture will be transformed at the convenience of your home right in front of you. We also will come to you for deck restoration services.
Off-Site Teak Refinishing Service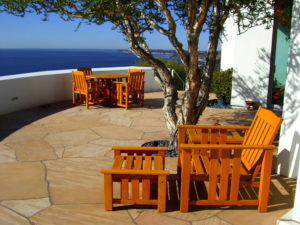 Certain projects call for more detail than others. In many cases, our work needs to be taken off site due to various considerations such as stripping, small work areas, climate, dry time, custom coatings, dust, and city regulations. Off site service is also great for the finest noise and dust free refinishing. Each step of our process will be performed in a cool dry environment no matter what weather is going on outside. Because of this, it is ultimately the finest way to restore your furniture. Our sales team will set up a date with a small time window that suits your schedule. The furniture will be worked on at our 5,500 square foot headquarters, where each and every inch of your investment is inspected and carefully evaluated to make sure it is delivered perfect. Your furniture will be returned to you ready to use, sometimes as early as just one week. We are proud to offer complementary pick up and delivery on restoration work throughout all of Los Angeles and Orange County.
Custom Outdoor Furniture Covers
Another solution to protect your outdoor wood furniture is to purchase a custom cover. Great companies like Coverini can custom design and build a perfect cover for your outdoor furniture, to protect it from sun, rain, and more, to keep that beautiful finish on your wood outdoor furniture looking good as new, especially after receiving wood furniture restoration services from Teak Master.
Why Choose Teak Master for Your Teak Furniture Restoration?
When restoring your precious teak furniture, you can't go wrong with Teak Master. With an unwavering commitment to excellence and years of experience in the industry, we ensure that your treasured teak pieces receive the royal treatment they deserve. Here are a few reasons why our customers love and trust us:
Unparalleled Expertise and Experience
At Teak Master, we approach each refinishing project as a work of art. Our team of skilled artisans transforms your weathered and worn-out teak pieces into objects of beauty. Our extensive knowledge and experience equip us to cater to a diverse range of furniture.
Customized Solutions
We understand that no two teak pieces are the same. This is why we offer customized refinishing services to suit the specific requirements of your furniture. Depending on your needs, we provide a wide range of services, such as sanding, sealing, refinishing, and restoration.
Commitment to Sustainability
As Southern California's largest teak refinishing and restoration service provider, we take our environmental responsibility seriously. We employ eco-friendly practices and use products that meet stringent requirements for the use of volatile organic compounds, or VOCs. We revive your teak furniture while also minimizing your carbon footprint.
Bring New Life to Your Teak Furniture Today
Does your teak furniture need some TLC? Teak Master is here to help. We offer extensive teak refinishing services to breathe life into your worn-out or dull teak furniture. With years of experience and professional expertise, we can brighten your treasured teak pieces so they look as good as new and last for longer. To find out more, share your requirements online or call us to connect with our teak restoration and refinishing artisans.
Directions
Tim Gilliam
I am as passionate about the services our company provides as the day I started as Teak Masters' only employee in 1997. For 2 decades I have been obsessed with continuing to developing state of the art refinishing techniques and application of the finest cutting edge wood coatings modern science can create. I have training certifications and have been hired as a consultant for esteemed companies such as Benjamin Moore, Arborcoat, Messmers, Dewalt, Porter Cable, TWP, Sikkens, Tropitone, and Brown Jordan.