Pasadena, California, and the surrounding area are home to some of the most fantastic restaurants in the region. Their combination of high-quality dishes, scenic views, and kind service make customers want to return again and again. Let's take a look at what their menus offer.
Castaway
Drive over to nearby Burbank to try out some of the most flavorful seafood in the state, with an expansive view of the city and the mountainous desert of the surrounding area. Castaway offers brunch, lunch, and dinner, so come in whenever you're hungry. Their brunch menu includes bottomless mimosas, crab cake Benedict, smoked salmon Benedict, short rib Benedict, fried chicken and waffles, coconut shrimp and waffles, Castaway's famous Hangover Hash, and more. 
Their lunch menu offers wedge salads, crab cakes, steak tartare, fried calamari, the Beyond meatless burger, shrimp cocktails, and the savory-sweet Sweet Cheesus! burger. It comes with manchego, prosciutto di Parma, shallot marmalade, truffle honey, and garlic fries.
For dinner, get started with caviar artisanal fries, lobster corn dogs, or hazelnut roasted tricolor cauliflower. Their zinfandel-braised short rib plate is particularly popular. It comes with truffle-whipped potatoes, ranch onion rings, and bearnaise. Customers love their New Zealand lamb rack with triple bean ragout, frisee salad, and preserved lemon gremolata. For a more tender offering, try Castaway's Faroe Island salmon with garlic caper butter sauce or the miso-marinated Chilean sea bass.
The Green Room
For truly artistic food presentations with a scenic view of the cityscape, try out the Green Room in nearby Burbank. This place offers a combination of top-tier entrees and epic alcoholic drinks, including the ultra-rare TGR Louis XIII liquor. The Green Room offers interestingly creative appetizers. Wow your business contacts with their steak tartare "cigar box." It comes with Ardberg hollandaise, burnt onion "ash," and caviar wrapped up in a cigar shape.
For something more traditional, try their surf & turf oyster plate. It comes with steak tartare and raw oysters topped with bearnaise sauce. If you want a meal that is easy to eat on the go, try the Green Room's castaway dry-aged bites. They are 28-day aged ribeye steak bites covered in black pepper and bleu cheese.
If you're celebrating a special occasion, try their Petrossian Ossetra caviar and Champagne combination. It comes with vodka creme fraiche, egg, chives, Russian blini, brioche toast, and half a bottle of Drappier Brut Champagne Rose. For dessert, fascinate your date with the Green Room's amazing multi-tiered Up, Up, N' Away dessert tower. It comes with passion fruit marshmallows, creme brulee, Key lime pie bits, M&M cookies, dulce de leche cream puffs, lava cake, French macarons, ice cream, and strawberry semifreddo.
Magnolia House
If you want a craft cocktail and a delicious artisan meal, try out Magnolia House in Pasadena. Their city view is gorgeous, especially at night, and their blackened fish tacos are a customer favorite. For something a bit heavier, try out their lamb ribs, house-cut skirt steak, or the massive house burger. The house burger comes with house-made American cheese, applewood smoked bacon, dill pickle remoulade, and bourbon onions with an optional sunny-side egg. 
Vegetarian customers love their avocado toast. It comes with pickled Fresno chili, arugula, spiced almonds, radish, black salt, and toasted sourdough. The Korean fried chicken wings come with sweet and spicy chili sauce and kimchi cucumbers.
Salad lovers will enjoy Magnolia House's chopped salad. It comes with iceberg lettuce, radicchio, loukaniko, cucumber, red onion, Castelvetrano olives, fried capers, marinated chickpeas, blistered tomatoes, and pepperoncini vinaigrette. The chicken schnitzel sando is particularly good. It comes with house-made white cheddar, herb slaw, pickles, and lemon garlic aioli. Make sure to pick up some of their house-made cheese on your way out for home use. Their flavors are spectacular.
The Sunset Restaurant
For a seafront view to go with your meal, visit the Sunset Restaurant in nearby Malibu. Their starters are almost large enough to have on their own. That list of options includes sunset clam chowder, wagyu beef meatballs, calamari fritti, Asian Brussels sprouts, Mediterranean grilled octopus, black mussels mariniere, and seared scallops. Their raw seafood bar offers spicy ahi tuna, wild little-neck clams, shrimp cocktail, Peruvian pink scallops crudo, hamachi sashimi, and the amazing seafood tower. The tower comes with 12 oysters, six jumbo shrimp, six wild-neck clams, ahi tuna tartar, hamachi sashimi, and Peruvian scallops.
The main menu items are as varied as they are flavorful. Grab linguini with seafood, linguini with clams, traditional lasagna, wagyu beef, Bolognese spaghetti, pumpkin tortelloni, or whole Maine lobster for your main dish. If you want a meal that is easy to handle, try their shrimp tacos or lobster tacos. The wild New Zealand King salmon is one of their most tender meat options. Those conscious of farm animal treatment will surely prefer the free-range boneless chicken plate.
Perch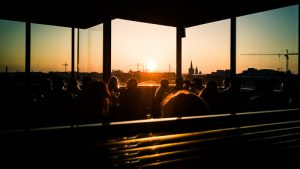 "Dinner with a view" licensed under CC BY 2.0 via Flickr by Giuseppe Milo (www.pixael.com)
If you want to take in the cityscape of Los Angeles from a breathtaking rooftop vantage point, Perch is the place to go. They offer dinner all week and brunch on Saturdays and Sundays. Their brunch offerings include a wide range of homemade breads, a seasonal fruit plate, ahi tuna tartar, avocado toast, and the Perch fromage and charcuterie platter. The platter comes with your choice of two cured meats, two cheeses, nuts, fruit, sour cherry mustard, and raisin walnut crostini. Fresh seasonal oysters are available solo, by the half dozen, and by the dozen.
For dinner, try their pan-roasted salmon, sunchoke parsnip scallops, filet mignon au Poivre, or the plate provincial, with red quinoa, asparagus, heirloom beets, eggplant puree, frisee, and peas. Finish off your meal with seasonal berries with whipped cream, white chocolate bread pudding, chocolate pot de creme custard, or orange cardamom creme brulee shortbread cookies.
Each of these restaurants offers patrons a magnificent view and even more magnificent meals. Try them out in turn, and you're sure to be impressed. Feel free to contact us at Teak Master if you know of any other restaurants with great views in the area. We'll add them to our list.