Los Angeles is a big city with lots of attractions, and it's ideal for romantic excursions of all kinds. There are many unique ways to impress your date in the city and here are some fun, unique Los Angeles date ideas.
A Night of Hilarity at the Supernova Comedy Club
Few things will stay in your date's mind as much as a positive night full of laughter and entertainment. The comedians at the Supernova Comedy Club are among the best in the United States. They include Sarah Silverman, Dana Gould, Doug Benson, Kevin Nealon, and many others. Tickets are available online, and most nights include eight performers.
Some nights feature one performer for the entire evening. If your spouse is a big fan of one of them, see if that performer has a featured night coming up. This club is consistently rated among the best comedy clubs in Los Angeles, so you're in for a treat when you visit the Supernova. Make sure you get your tickets early because social distancing restrictions mean that fewer seats are available for each show.
A Sunset Date Near the Venice Canals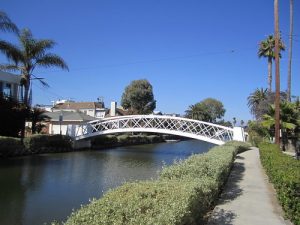 "Historic canal, Venice CA" licensed under CC BY-SA 2.0 via Flickr by La Citta Vita
The Venice Canals form a grid, and they stretch from Court E to 28th Avenue near the Venice Beach Recreation Center and the Venice Beach Skatepark. The longest stretch of the canal system runs along Strongs Drive, and it's about twice as long as the other sections of canals. People call it the Grand Canal, and it's the best place to watch the sunset with your date.
You can rent a boat, grab some flowers, get your hands on some fine Los Angeles takeout, or make your spouse their favorite mixed drink. Then you can relax in each other's arms as the light breaks over the horizon. There's a marina at the end of the Grand Canal near Marina Beach, so you can rent a boat there if you don't have one of your own.
The Unlikely Florist on Hampton Drive is close to the canals as well. For drinks, head to Day and Night Liquor and Market on Venice Boulevard. You can enjoy fine dining at Barrique on Main for Italian food, The Tasting Kitchen on Abbot Kinney for Mediterranean food, or Cast & Plow on Admiralty Way for American food. None of these locations are more than five miles away from the canals, so you'll be able to gather everything easily.
A Mountain Getaway
In southwestern Los Angeles, there's an island called Santa Catalina. There you'll find Mount Orizaba, the tallest peak in the area. The mountain rises to an elevation of 2,127 feet, and it overlooks a beautiful lake and many other hills and mountains. This place is ideal for a fun hike, a picnic, stargazing, or camping. You can also go snorkeling, paddle boarding, or kayaking in the lake.
For your picnic, bring some cheeses, cold meats, grain crackers, nuts, fruits, and fine wines. A filling, delicious meal is always wonderful after the kind of climb required to reach the best views. There are grocery stores where you can get food and wine less than five miles away from the mountain.
A Cultured Day in the Huntington Area
If your date wants to enjoy the natural world in a more tamed landscape, consider heading to the Huntington Gardens. It's part of a complex that also includes the Huntington Library and the Huntington Art Museum. You can take a stroll through the museum and get a good look at some of the most remarkable art and historical artifacts in the city.
Then, walk through the gardens to see a gorgeous set of landscapes, including a desert garden, a rainforest conservatory, an area full of lily ponds, the Camellia Statuary Garden, a Japanese garden with traditional architecture, and many others. You can bring some food and drinks along and enjoy them at the Grand Stone Mausoleum. Bookworms will love the library, and it's one of the best stocked in the city.
Take a Tour of Spectacular Architecture
The range of architecture in Los Angeles is incredible. Some of it is so ornate and artistic that it seems like it could come from empires and kingdoms from across the world and throughout time. On Woodley Avenue, you'll find the Japanese Garden, an ideal spot to stroll, talk, or meditate with your date. Pyramid Lake on Camino Del Lago is home to an Egyptian oddity. It's a massive pyramid that was carved by the builders of Old Highway 99. There's more fantastic Egyptian architecture at Farou Food. Its exterior is a replica of the temple of Abu Simbel.
For a taste of Europe, head to Saint Vincent Court. The area has closely stacked buildings, similar to places like Holland and Venice. It has varied colors that are vibrant and beautiful, and the cafes in the area are among the best in Los Angeles. The Witch's House of Beverly Hills is a mix of Romanian and fantasy architecture. Finally, head over to the Hindu temple on Fairfield Ranch Road. Known as the BAPS Shri Swaminarayan Mandir, it's one of the most breathtaking pieces of architecture in the city.
Go Ax-Hurling at L.A. Ax
You and your date can throw axes if you head to L.A. Ax in North Hollywood. This place has several ax-throwing leagues, so you can join up with your date if you feel like tossing sharp objects at targets after a romantic meal. L.A. Ax has professional trainers on staff, so you can have a safe, fun, educational experience when you come in. To get the most interesting experience available, visit during the International Ax Throwing Federation competition in February. An ax-throwing date for two will cost around $80 for one hour.
There are many ways to make your date unique in Los Angeles. Did we miss any of the activities or attractions you and your date like most? Contact us at Teak Master and let us know more about your favorites.