Many woods look their best when their true color and elegant grain can shine. Paint and stains can detract from the wood's natural beauty. A wood oil, however, offers a compelling solution. Wood oil adds to the durability and moisture-resistance of the wood without changing the appearance dramatically. A wood oil will provide a subtle sheen to your deck or outdoor furniture, but it will still let you appreciate the wood's distinctive pattern and original hue.
A wood oil is something that you can apply yourself on a regular basis to help protect and preserve the wood. You may need several layers to get the effect that you want, but most products can be applied easily with a cloth or brush. If you want to strip previous oils or have your wood fully restored, it's best to turn to professionals to make sure your wood isn't damaged in any way during this process. With proper care and cleaning, most decks and quality outdoor-furniture pieces can last for decades, adding value and comfort to your home.
Cedar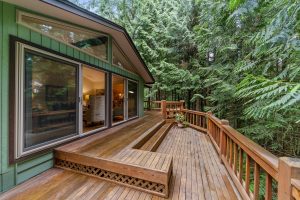 "brown wooden terrace outside clear glass door" licensed under Unsplash by Im3rd Media
Cedar naturally resists rot and decay, so a wood oil is entirely optional on this product. However, the right oil will give this beautiful yellow-tinted wood a sleek finish. Cedar that's used outside will also benefit from a coat of oil to provide extra protection from sunlight. Left unsealed, cedar will darken in the sun, so you should consider whether this is an effect that you want to achieve before you apply oil to the wood.
Certain oils work best with specific wood types, and the preferred oil for cedar is linseed oil. This slow-drying oil gives cedar a luxurious shine that subtly avoids that overly glossy look. It sinks deep into the wood creating a rich, supple finish. Teak oil is a popular runner-up for cedar. Teak oil generally contains some linseed or tung oil along with a mixture of mineral spirits, resins, and varnish. Teak oil provides a subtle honey tinge.
Cumaru
Cumaru is a high-density hardwood that's commonly used for decking. This ironwood is extremely difficult to cut, but it has an impressive lifespan which is ideal for outdoor applications. Cumaru has a deep-red hue when it's new, but this will gradually fade to silver, particularly if the wood is left unprotected. You should allow cumaru to age for at least six weeks before your first oil application.
Ipe oil is designed specifically for hardwoods like cumaru. It will help retain the wood's natural appearance and give it a rich luster. Ipe oil penetrates wood deeply, adding to its strength and creating a nearly impenetrable barrier against the elements, so your cumaru will stay beautiful for years to come.
Ipe
Ipe is an incredibly dense exotic hardwood. This lack of porosity makes ipe difficult to stain and entirely resistant to a water-based finish. Varnish will simply flake off in the sun, and paint is a travesty on this beautiful wood. A wood oil is one of the few products that will work on ipe decks and furniture.
Ipe oil is a natural choice for ipe wood, and one of the most obvious options if you're looking for a go-to product to use. Ipe oil is deeply penetrating, which makes it one of just a few products that will work on this type of wood. Wood oils with a Brazilian-rosewood base will also work on ipe.
Teak
Teak is a dense hardwood with a close grain and high oil and silica content. It's naturally resistant to rotting, sun, rain, and frost, making it a popular pick for any outdoor application, from backyard decks to boats. Freshly cut teak has a tawny-golden hue. Over time, it lightens and takes on a silvery patina.
Teak oil is a fine choice for teak. As mentioned previously, teak oil is actually made with linseed oil and other ingredients. Danish oil is also recommended for teak surfaces. This wood oil contains linseed oil, tung oil, and rosewood oil along with other ingredients. This is a fast-drying oil that only takes 15 minutes to sink into the wood after each application.
Redwood
Redwood is a strong building wood that's naturally resistant to decay, insects, fungus, and the elements. It rarely splits or warps. A redwood deck is a comfortable choice for bare feet since it stays cool even during the hottest part of the day. The natural hue of redwood ranges from a dark-reddish brown to a lovely pinkish brown. One of the few drawbacks to redwood is that it's a softwood. This makes it susceptible to denting and damage.
Redwood does best with linseed-based oils. Danish oil, in particular, works well on redwood. You should avoid using a pure wood oil like boiled-linseed oil on redwood. This will promote mildew growth in the soft wood.
Mahogany
Mahogany is a durable hardwood that exhibits very little shrinkage and has a long lifespan. It's very resistant to moisture and the elements, making it a great choice for any type of outdoor use. Mahogany has a very tight grain, doesn't typically exhibit knots, and won't splinter. The deep-reddish hue of mahogany is resistant to fading, so you can expect it to look beautiful well into the future even with minimal care.
Using a wood oil on mahogany will deepen its lovely color and give it an elegant sheen that adds to the appeal of any deck or outdoor construction. Tung oil is a great choice for mahogany. Also referred to as China-wood oil, this type of oil is typically blended with a hydrocarbon thinner that helps the oil penetrate the tight grain of mahogany. After several coats, tung oil will produce a slightly golden tint.
If you want to go beyond a wood-oil application for your deck or furniture, Teak Master can help. We're experts in wood cleaning and restoration. We can advise you on the very best products for any type of wood. After a thorough service call from our professionals, your home and furniture will look like new. Contact Teak Master today to schedule your services.