Dining out is an activity that you can enjoy with others or by yourself. It is especially enjoyable when you choose a restaurant with an exceptional menu and atmosphere. Since Los Angeles has an endless variety of restaurants to choose from, you may need some guidance about where to find a good meal. From upscale Michelin-starred restaurants to some of the tastiest and most affordable ribs in the area, here are our best recommendations for dining out in Los Angeles, California.
Orsa and Winston
Orsa and Winston is a unique fine-dining restaurant that skillfully fuses Italian and Japanese cuisines. Highly acclaimed chef and owner Josef Centeno combines his creativity and culinary expertise to create an incomparable dining experience. While most restaurants provide menus for guests to choose from, this upscale Michelin-starred restaurant features an original five-course meal every evening. Guests don't know what the chef will serve until after they arrive, making an evening at Orsa and Winston's an elegant adventure in fine dining.
The professional servers describe each beautifully plated entree when they serve their guests. The servers also bring out several additional side dishes that are just as impressive as the actual courses. When dining at this establishment, you're certain to be delighted by the look and taste of the dishes.
While wine pairing adds to the price of the meal, it also enhances the experience. An expert sommelier shares details about the origination of each glass, chosen to complement the entrees perfectly. This Los Angeles restaurant provides a sophisticated, minimalist atmosphere, impeccable service, and flavorful dishes. Visit when you're ready for a dining experience to be savored and enjoyed, as this exquisite meal is likely to last for hours.
Golden Deli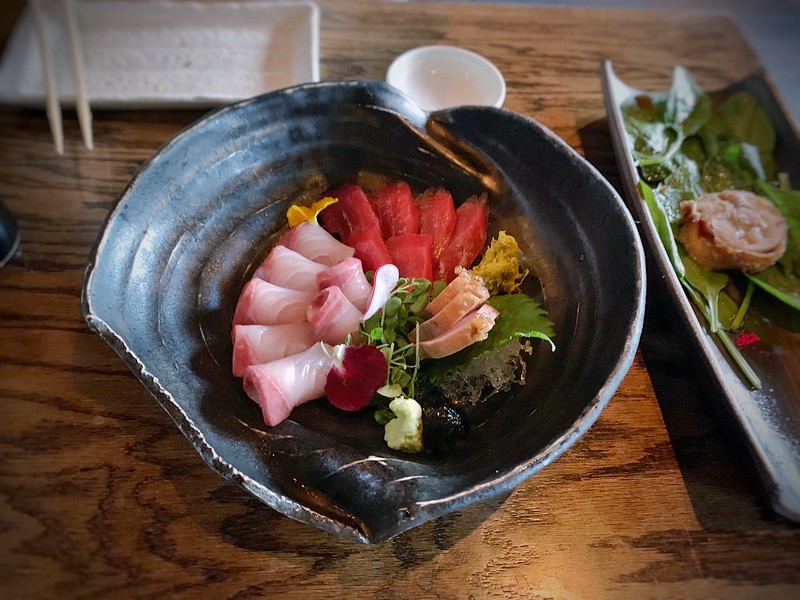 "Bluefin, kanpachi" licensed under "CC By 2.0" by T.Tseng
Golden Deli serves traditional Vietnamese food crafted from original recipes. This popular lunch destination is legendary for its authentic dishes such as the slow-cooked pho and the signature Vietnamese noodle soup. According to the Los Angeles Times, Golden Deli serves one of the five best pho dishes for a chilly day. The colossal egg rolls are also some of LA's finest, made with authentic rice paper instead of flour wraps. They're served crispy on the outside with a melt-in-your-mouth delicious filling on the inside.
The menu offers many other Vietnamese dishes, such as chicken curry, an endless variety of rice plates, or egg noodle soup with meatballs. The broken rice plate with shrimp paste, grilled beef, and two egg rolls is one of the most popular menu items. You may have to wait for a table if you come during the lunch rush, but it's definitely worth your time. Golden Deli's reasonable prices, impressive portion sizes, and authentic Vietnamese cuisine make this a favorite choice for locals.
Found Oyster
If you're seeking New England seafood on the West Coast, head over to Found Oyster. Try the amazing raw bar, where everything is available a la carte, or opt for an extraordinary seafood tower called the Overboard Platter, which provides enough oysters, prawns, clams, and crudo for two to three people. However, this isn't just another LA oyster bar: Found Oyster features seafood sourced from the owner's family farm off the coast of Maine.
If you're not sure where to start, the scallop tostada and lobster bisque rolls are delicious. Guest also rave about the freshly toasted bread with anchovies, steamed clam frites in a delicious garlic sauce, and key lime pie.  This unique restaurant offers small plates and cozy seating, making it a perfect place for after-work drinks, casual dinners, or a first date. The restaurant is charged with palpable energy, often enhanced by the disco ball overhead or the live musicians often performing. 
Found Oyster also has street patio seating, and it's worth the wait to dine outside as you soak up the hip vibe. This hidden gem in East Hollywood is dine-in-only and doesn't offer reservations, so try getting there early to ensure a spot.
Bestia
Bestia is a trendy, modern Italian restaurant serving house-made pizza, pasta, and charcuterie. So trendy, in fact, that you might have to make a reservation days or weeks before your visit. The original Italian dishes are incredible, with choices like leek and gorgonzola pizza or Cavatelli alla Norcina, a delicious pasta dish with ricotta dumplings, sausage, and black truffles. You can try one of the other fancy pasta dishes like Rigatoni Octopus Puttanesca, or savor the slow-roasted lamb. On beautiful spring evenings, you can also enjoy outdoor dining on the charming patio. 
Take advantage of the sommelier's recommendations for ideal wine pairing with your meal. After dinner, don't miss out on one of the delectable desserts, like the Frozen Creamsicle Torte or the melt-in-your-mouth chocolate tart with salted caramel.
Rodney's Ribs
Fine dining and exquisite foods are indulgent treats, but many people can't afford to go out every week. For an affordable and delicious dinner option, Rodney's Ribs  is an excellent choice when you want to grab a quick savory meal. Many locals consider this establishment to have the best ribs available in Los Angeles. Although customers eat the food from a smoker on wheels, there's nothing fast about these ribs, which cook on racks for over three hours to get to the right consistency and taste. The smoked brisket takes even longer, cooking for six to eight hours.
Rodney's Ribs provides extravagant barbecue ribs and brisket at fast-food prices, and entrees are accompanied by tantalizing homemade sides of string beans with onions and baked beans with bacon. While Rodney's isn't a traditional sit-down restaurant, the food is incredible and the prices are unbeatable.
To sample these award-winning ribs or the tasty chopped brisket sandwich, visit the smoker-on-wheels in the CVS parking lot in North Pasadena Wednesdays through Sundays. It's the perfect take-home meal to enjoy while relaxing in your backyard on your freshly restored deck this summer.
That's Teak Master's list of some of the best restaurants in Los Angeles, from fine dining to barbecue carry-out. Did we mention your favorite? Let us know today what you think of our list or give us the details about other restaurants we can feature in future articles.