Teak decks and furniture provide many years of beauty and durability. Regular maintenance and proper cleaning techniques will ensure maximum enjoyment and beauty from your teak wood investment. Proper cleaning is also vital to get teak wood coatings to provide an even finish and protect against the elements. Our Teak Master experts invite you to learn more about the top teak cleaning products and determine which would work best for your teak deck, furniture, or both.
How Do I Find the Best Cleaning Option for Teak?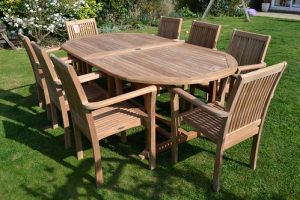 Consider the type of teak you're cleaning, whether a deck, furniture, or part of a boat, and whether it's newer or older. Also, think about the look you seek, natural patina or a particular stained tone. Some cleaners will work fine for routine removal of dirt and spills, while others will remove more extensive stains or even restore teak surfaces. Some cleaners will remove old coatings and oil, requiring the application of new teak oil to protect the treated surfaces.
Can I Make My Own Teak Cleaner?
Depending on the cleaning requirement, you can make a homemade teak cleaner that will suit your needs. Homemade mixtures can tackle anything from regular cleaning to mildew stains and discoloration.
Basic Cleaner for Teak
Regular cleaning to keep dirt and mildew from accumulating can be made with warm water and a small amount of either dish detergent or mild soap. This cleaner will work well for routine light cleaning with a sponge or rag, rinse off easily, and air dry.
Dark Stain Remover for Teak
Weather extremes on land or a boat can lead to dark or black stains on teak wood that can be extensive. This requires a heavy-duty two-step cleaning process that requires wearing protective rubber gloves.
Mix three parts of laundry detergent with one part of chlorine bleach and apply this mixture with a soft bristle brush. Scrub along the grain, let the solution work its magic, and then rinse away with water. Boost the cleaning process by sprinkling oxalic acid onto the wet teak surface and carefully scrubbing stains with a bronze wool pad. Avoid steel wool since it leaves steel particles that create rust stains. Rinse well and let the wood air dry.
Spot and Stain Remover for Teak
Smaller stains and imperfections may be removed with a gallon of warm water and one cup each of laundry detergent and chlorine bleach. This cleaner should be applied evenly with a paintbrush and left to work for 15 minutes. Scrubbing along the grain with a soft brush should remove stains. Once cleaned, rinse with water and let the surfaces dry.
Mildew and Water Ring Remover for Teak
A homemade mixture of a fourth cup of water, a fourth cup of vinegar, and a tablespoon of dish soap will help eliminate mildew and tackle discoloration. Apply the cleaner with a spray bottle and scrub with a soft brush. Rinse and let the surface dry.
What Are the Top Teak Cleaners?
Various products designed specifically for this tropical wood will benefit teak furniture, decks, and boat components. Be sure to read labels carefully and ensure the products you buy are the right ones for the job since some are designed to remove old coatings and require the application of new teak oil. 
Bayes High-Performance Teak Cleaner & Restorer
This cleaning solution is absorbed into teak surfaces, protecting them from stains, cracks, graying, or drying. It also helps maintain the teak's appearance. The oil-based cleaner helps shine, protect, and clean teak, protecting your investment. It's also non-toxic, biodegradable, and made with lemon and essential oils. This cleaner is applied after cleaning teak surfaces with mild soapy water. Let the washed surface dry, apply Bayes cleaner, let it sit for about three minutes, and then polish with a clean and dry cloth. It can also be used as a wood conditioner for clean wood.
Golden Care Teak Cleaners, Protectants, and Shields
Golden Care Teak offers several options for cleaning and protecting the teak. Its cleaner restores natural color and protects in one step. The product uses water as a transporting agent for the active protective ingredients. Once applied, the water evaporates. Teak Protector is honey-brown, provides UV protection, stops mold and mildew, and is water-based. Teak Shield is a transparent product that protects from spills, stains, and mildew growth and is water-based. Golden Care products have options for treated and untreated teak in various colors ranging from light to medium honey and gray tones.
Semco 2 Part Teak Cleaner
This heavy-duty cleaning regimen is applied in two steps, one to dissolve and soften sealants, stains, and dirt, and the second to neutralize and brighten the surface. This product will bring back the natural look of teak surfaces and is easy to apply, but it requires hand and eye protection as well as good ventilation.
Star Brite Cleaner, Brightener, and Oil
Star Brite helps restore gray and weathered teak, removing oils and stains without raising the wood grain and is the first step in restoring teak surfaces. It's safe for fiberglass or painted surfaces that it may touch but is still tough enough to clean surfaces without heavy scrubbing or sanding. This product works along with Star Brite Teak Brightener, which enhances the grain and prepares surfaces for applying Star Brite Teak Oil. The three products together will help bring back the new feel to aged teak.
AquaTeak Cleaner and Oil
AquaTeak Cleaner & Brightener is a one-step cleaner and brightener paired with AquaTeak's Wood Oil. This eco-friendly product works well on weathered surfaces when applied with a cleaning brush, left to set in for about three minutes, and scrubbed clean. The biodegradable product quickly and easily prepares surfaces for oil coating by restoring the natural beauty of teak.
Ask Teak Master
Cleaning, treating, and applying coatings to teak surfaces can be complicated. Some cleaners are designed for regular maintenance, while others remove coatings and prepare surfaces using new oils. Teak Master is there to help you with your maintenance needs for your furniture or decks. Contact us with any questions about keeping your teak surfaces looking great via our secure online form or at 888-972-9568.