One of California's first settlements in the San Gabriel Valley, El Monte is home to a rich history. While some of the area's most famous landmarks have changed drastically over time or even disappeared altogether, there are still remnants across El Monte and the surrounding areas that capture its legacy. Here's a brief history of the area and a list of four interesting historical sites to visit in and around El Monte, California.
The History of El Monte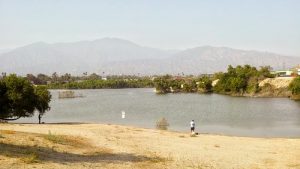 "Peck Road Water Conservation Park, El Monte, California" licensed under CC BY 2.0 via Flickr by JingKe888
The area now known as El Monte, California was originally home to the Tongva, an indigenous people that maintained around 100 villages in the Los Angeles Basin area. In the late eighteenth century, the area became home to Spanish colonization efforts. Soldiers and missionaries arrived in the area, settling around the San Gabriel Valley and beginning the construction of Southern California's Spanish missions. In the middle of the nineteenth century, settlers flocked to Southern California in hopes of finding gold. 
Exhausted from the trip westward, California Gold Rush participants found themselves resting at a pit stop on the Santa Fe Trail, a route connecting the area to the rest of America. Near the San Gabriel River, the area had a water source, dense natural life that welcomed agriculture, and healthy land on which they could build homes. They began calling the area El Monte, which might refer to the nearby mountains but likely comes from an old Spanish term for wood.
The settlement continued to grow, attracting a Civil War-era military presence, a growing farming community, and eventually a train depot. In 1912, El Monte became an incorporated municipality, and the New Deal encouraged a boom of single-family homes. The city became home to a vibrant Hispanic community, and today it's home to many ethnic groups, including large Latino and Asian populations. In the coming years, El Monte gained attention for its role in rock and roll history, famous for the now-shuttered El Monte Legion Stadium, which hosted some of music's biggest acts after Los Angeles cracked down on loud music.
Historical Sites To Visit In and Around El Monte, California
Here are some fun and educational places you can visit in El Monte and the surrounding area to get up close and personal with the history of the San Gabriel Valley:
La Historia Historical Society Museum
La Historia Historical Society Museum is a local nonprofit facility committed to preserving and celebrating the legacy of El Monte, California. The museum's collection is largely visual, with a focus on photographs that capture the contributions Mexican-Americans have made to El Monte, the San Gabriel Valley, and Southern California at large. 
The current exhibition, My First Car, pays tribute to the role of automobiles in Mexican-American culture in El Monte. Explore photographs, objects, and other archival materials that capture the emotions and stories of El Monte drivers past and present from a variety of perspectives. El Monte locals are also welcome to contribute their own materials to the museum to help expand the collection to better reflect the community's rich history.
Gay's Lion Farm Statue
A roaring lion might signify the start of some of your favorite iconic movies, and lions played a role in many movies during Hollywood's Golden Age. From 1925 to 1947, El Monte was home to Gay's Lion Farm, a facility where lion tamers trained African lions who appeared in Hollywood films. The farm wasn't just a training ground. It was also a popular roadside attraction, welcoming tourists and famous visitors alike. Some say that the likes of Eleanor Roosevelt and Albert Einstein even stopped by Gay's Lion Farm, and the famous Metro-Goldwyn-Mayer logo features lions from Gay's.
Since the farm's closing, many have noted the problematic and violent nature of its lion-taming displays. Today, El Monte High School's mascot is a lion, preserving the strange role the animal played in the city's history. You can visit the last major remnant of Gay's Lion Farm outside of the El Monte High School auditorium, where a lion statue sits. The statue once marked the entrance to the farm and now serves a dual purpose as a memento of the area's history and a tribute to the high school's beloved mascot.
Queen Anne Cottage and Coach Barn
The Queen Anne Cottage and Coach Barn, both designed by architect Albert A. Bennet, were home to Elias Jackson "Lucky" Baldwin, a famed investor at the forefront of California's economy during the 1800s. With ornate details like stained-glass windows, marble mantles, and an artistic mosaic-style floor, this elaborately designed cottage was a hallmark of 19th century Californian architecture. Since the death of Baldwin and his wife, many Hollywood movies and television shows have used the cottage as a backdrop.
A coach barn also sits on the property, where Lucky Baldwin kept his extravagant private carriages and horses. Today, you can see one of his carriages and a collection of tools from the era, which are out on display. You can tour both buildings at the Los Angeles County Arboretum and Botanical Gardens, which now surround them. National Register of Historic Places recognizes the Queen Anne Cottage and Coach Barn for their significance.
The Old Mill
The Old Mill, or El Molina Vieja, is a historical and architectural landmark honoring California's Mission San Gabriel, which was instrumental in the early development of the area. An adobe building constructed in 1816, you can identify traces of Spanish influence, which was prevalent in California in the 1800s, in The Old Mill's architectural style. The California Historical Society deems The Old Mill a state landmark, and the organization even ran its southern California operations out of the building for thirty years, beginning in 1965 and ending in 1995.
Today, The Old Mill Foundation, an organization dedicated to preserving the property's legacy, operates the historical site. Today, they host frequent community events like concerts, happy hours, and pop-up shops with local vendors. Visit The Old Mill to enjoy a stunning view of San Marino and learn more about the history of Spanish missions in California.
This concludes Teak Master's list of four historical sites to visit in and around El Monte, California. Do you know of a great educational or entertaining landmark in town? Send us a message so we can check it out and add it to the list. From the Gold Rush to Hollywood films, El Monte's history is full of surprises. By exploring some of the landmark sites, buildings, and tributes, you can help honor the city's past and help build its future.