Preparing wood for a project is a multi-step process. After sanding a piece of wood, you'll need to clean it before adding a stain or paint. You can use a variety of tools and techniques to remove sanding dust from your wooden surface. Just make sure you get the surface of your project as clean as possible before adding any paint or stains to finish the piece.
Create beautiful wood projects with a clean surface by clearing all the dust from your prepared piece. Once you find your favorite tools and techniques to prepare a wood project, you can create a wood cleaning routine using any of the following methods.
Tools You Need To Clean Wood After Sanding
Here is a list of the common materials to collect before you start cleaning your freshly sanded wood. You may not need all of them, but it's helpful to gather these tools to prepare the surface, depending on what type of cleaning process is needed:
Clean white cloths.
Tack cloth.
Vacuum with a brush attachment.
Large, soft paintbrush.
Smaller-sized paintbrush.
Air compressor.
Containers of mineral spirits, denatured alcohol, and diluted trisodium phosphate.
Dust Off the Wood Surface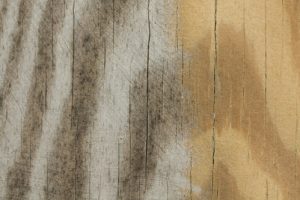 "sanding" by Derek Bridges licensed under CC BY 2.0 
Use a large, soft paintbrush to sweep dust off your wooden surface gently. Then, slowly slide the bristles across your wood and use the bristle tips to get into crevices and corners. It's also helpful to use several brushes of different sizes to clean multiple areas of the piece. Keep a designated brush within your tool kit to clear wood surfaces after sanding to avoid using a brush that's come in contact with the paint.
Use a Vacuum
Vacuum the surface of your wood project to ensure you remove every last bit of dust. It's helpful to use a shop vacuum or air compressor, as they're high-powered pieces of equipment that allow you to tiny dust particles, provided you use a high-quality filter. If you have a conventional vacuum, you can add a brush attachment to the nozzle to pick up dust more efficiently. These work well for flat wooden surfaces without many cracks or crevices but may miss some of the fine dust layered over certain areas of the wood.
Wipe With a Clean White Cloth
Use a clean cloth to wipe the rest of the dust from the surface of your wood after using specialized equipment. This helps you pick up any extra dust particles to ensure the wood is clean and ready for stain or paint. Use a white cloth so you can see how much dust you pick up. If you pull your cloth over the wood and find it's still pretty dirty with dust, go back over the surface with a brush or vacuum again.
Clean With Mineral Spirits
Mineral spirits, also called paint thinner or mineral turpentine, prepare wood surfaces by gently cleaning the top layer. The liquid doesn't make the wood swell, thus damaging it or changing its size, but rather wipes off any stains, especially oil. It also dries quickly when rubbed over a wooden surface. Woodworkers often use mineral spirits   before staining or painting, as it helps you spread a pigment over a surface easily. Pour a small portion of the mineral spirits onto the surface, then wipe along the wood grain to avoid making scratches or grooves.
Use a Tack Cloth
Tack cloth is a type of cheesecloth coated with beeswax that you can use to pick up fine dust particles left behind from sanding. It has a sticky quality that attracts dust that other methods may have missed. Just apply pressure and swipe to pick up any of the fine dust left behind.
Add a Trisodium Phosphate Cleaner
If your wooden surface has any particularly intense stains, you can remove them using a trisodium phosphate cleaner on a stiff brush. Trisodium phosphate also helps you prepare wood for a paint job, as it cleans the wood without damaging its natural properties. The cleaner typically comes in a liquid or powder you can mix with water.
Bring Out the Air Compressor
Blow dust away from your wood surface with an air compressor by holding the nozzle at an angle. Since air compressors blow air around everywhere,  be careful not to blow dust into your workspace or any space other people frequent. Wipe the surface once more after using an air compressor to remove any dust that may have settled back down onto the surface.
Cleanse With Denatured Alcohol
Similar to mineral spirits, denatured alcohol is an effective method for picking up fine dust particles. Also called methylated spirit or wood alcohol, it cleanses wood without discoloring the grain. Denatured alcohol also evaporates quickly, making it a quick way to cleanse your surfaces.
Tips For Cleaner Wood After Sanding
To get a cleaner wood surface, follow these post-sanding hacks:
Use a Tack Cloth To Check Sanding Results
Rub tack cloth on the wood to check if it's sanded enough for the cleaning process. This allows you to check for frays in the fabric, indicating rough patches. A rough sanding job will also leave threads hanging off the tack cloth.
Check the Wood for Dust Particles
It's important to make sure your wooden surface is completely free of any dust particles before painting, so it can have a smooth, finished exterior. After making sure you've sanded a piece completely, consider using multiple cleaning techniques to clear away all remaining dust. Crouch or sit at eye level with the wood surface to see if there are any visible dust particles. You can also blow a puff of air to see if any dust particles swirl up into your workspace.
Complete Your Stain Quickly After Cleaning the Wood
Complete your stain quickly after cleaning the wood to avoid dust settling back onto the surface. Use multiple methods to achieve the cleanest surface after sanding your wood project. Then, be prepared to complete the project soon after you take the time to dust the surface.
At Teak Master, we specialize in restoring and refinishing wood surfaces. We offer cleaning and restoration services for commercial and residential buildings. Our services include exterior wood, deck, and teak wood refinishing. We'd love to help with your restoration projects and offer solutions to make your wood look new again. Our team will help you better understand how to clean wood after sanding. Contact our helpful staff to find out more information or call 888-639-8424.