Choosing a hardwood decking material can be complex, especially when the wood is sourced from multiple places worldwide and many options are available. Ipe and genuine mahogany are popular and durable options for natural hardwood decking that have long life spans. As with any decking material, it should be installed to avoid moisture buildup, with adequate ventilation between and under the boards.
Ipe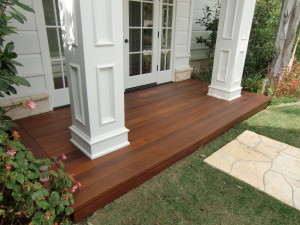 Ipe wood is from the Tabebuia tree is one of the toughest and longest-lasting decking materials available. Also known as Brazilian walnut, this tropical hardwood adjusts well to high humidity, dry weather, and excessive moisture. Genuine ipe is easier to find since it is sourced from one tree species; however, it's subject to over-harvesting and other illegal practices.
Lifespan
Ipe can last over 40 years depending on how it's installed and the weather conditions. Boards need space to breathe under and between the timbers, and they should be protected from excessive moisture or shade that limits their ability to dry. It requires minimal maintenance above regular cleanings and oil applications.
Hardness
Ipe is harder than mahogany, nicknamed ironwood for a reason; it's difficult to cut and install. Some installers may charge more for installing ipe. If ipe expands and contracts over the seasons and time, it can pop the installation screws loose.
The hardness factor will help prevent scratches, fire damage, decay, slippery surfaces, and termite damage. Structures will also have more strength with ipe floors. Ipe is resistant to splintering, twisting, and shrinking. The boards are sometimes compared to an attractive wooden form of concrete.
Color
Ipe has natural color variations that range from dark black-brown to reddish-brown. It may also have yellow to olive-brown tones. Ipe is difficult to stain, so it's best-preserved with oil applications and left to stay in its natural color. It commonly ages to a silvery gray patina if left untreated, and it remains durable long-term without special treatment beyond regular cleaning.
Look and Feel
Ipe often has a straight grain, but it can be found with a variety of grain styles and irregularities. Straight or moderately wavy grained wood works best to ensure a nice-looking and smooth surface for deck usage.
Price
Ipe lumber is one of the more expensive options when it comes to decking. With ipe, also consider additional costs of machining and installing, as it is very hard and dense wood.
Sustainability
Most natural resources have been subject to unsustainable or illegal harvesting processes, and wood is no exception. Ipe forests are often harvested using sustainable methods and following applicable regulations, but illegal harvesting does happen. Tracking sustainably sourced ipe wood is difficult once it goes through a mill.
Mahogany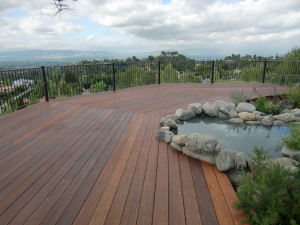 Genuine mahogany offers a lot of options for creating an attractive deck, with ease of installation and attractive grain patterns. Genuine mahogany is different from other similar woods like Philippine Mahogany, a different hardwood species known as meranti or lauan. It can be tricky to determine which wood is genuine mahogany.
Genuine mahogany types include Swietenia macrophylla, native to Honduras, and Fijian mahogany, which is plantation-grown in Fiji.
Lifespan
Mahogany can last over 20 years, depending on how it's installed and the weather conditions. It requires regular application of oil or stain for longevity.
Hardness
Mahogany is less hard and more flexible than ipe but is still durable and resistant to everyday use. It's easier to cut and install. If mahogany expands and contracts over the seasons and time, it shouldn't cause a problem with the deck frame or board installation screws.
Softer wood is susceptible to uneven weathering and wearing. Open grains can also allow mold and mildew growth.
Color
Mahogany has natural tones varying from pink to reddish-brown or reddish-orange. Mahogany and ipe, like many other kinds of wood, age naturally to gray if they are oiled and not stained. Mahogany stains well for those who want to add color to their decking material.
Since mahogany isn't as durable as ipe, it should be oiled or stained to protect it from the weather and from losing its color.
Look and Feel
Mahogany commonly has wavy grain patterns. If accentuated with the right wood oil or stain, it has a marble-like appearance. Mahogany comes in other looks, including straight grains that look more uniform and are easier to cut and install.
Price
Mahogany lumber is about 20 to 30% less costly than ipe. Being a softer wood, it's also less expensive to machine and install, saving additional money. While mahogany is softer, it's plenty durable for most applications.
Sustainability
Mahogany that is harvested using sustainable methods is easier to track, mainly because several countries regulate the harvesting of old-growth mahogany to preserve it. Fiji successfully operates one of the world's top mahogany plantations using sustainable methods.
Other Options
Ipe and mahogany are two of several premium decking material options that are available. Other materials and combinations of materials may also work for finishing your deck project.
Mixing Woods
Woods on a deck could be mixed, with mahogany used in an enclosed area and the more durable ipe wood placed in areas exposed to the elements. Mixing woods, especially those with unique grain patterns, could be economical and create a unique look.
Composite
Composite deck boards, composed of plastic pellets and wood pulp, have improved in recent years. Composite wood offers long life spans and minimal maintenance, but it typically doesn't offer an authentic wood look and is susceptible to fading or staining. Some premium composite boards can exceed the cost of ipe wood.
Cedar
Cedar wood is a very popular premium decking material. It's typically a reddish to pinkish-brown with straight grains. It's a relatively soft wood that is susceptible to splintering but offers some insect resistance.
Ipe, mahogany, and other premium decking materials are a significant investment in your home. Choosing the best materials requires weighing the pros and cons of your unique home and location. Teak Master offers expertise in wood selection and restoration services for decks and wooden furniture to keep your investment looking its best for years to come. If you'd like more information, reach out to the knowledgeable staff at Teak Master. You can call us at 888-972-9568 or use our convenient online messaging service, and a team member will get back to you.