Different woods require unique treatments, and choosing the right protectant to use can make a visible difference in the quality of your deck. Ipe, an exotic wood known for its sturdiness and rich color, is a great material for decks, but educating yourself on ipe maintenance is essential for upkeep. Oiling your ipe deck can protect it from the elements and maintain its condition. Here are some helpful tips for using ipe oil hardwood deck finish.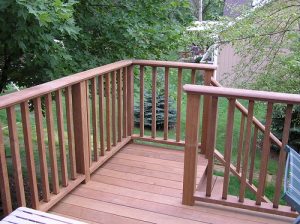 "Ipe deck 2" licensed under Flickr by Dennis O'Leary
Best Oil for Ipe Decks
Ipe decks can be visually beautiful, and proper care is important if you want to maintain an ipe deck's style and function.  This durable, deep reddish-brown wood has a tendency to resist penetration because of its density. Oils that would easily penetrate woods with a lower density like pine or cedar might not be a fit for an ipe deck. To maximize sun protection and defend your deck against nature, it's important to choose an oil that it can absorb.
Many other factors can influence your choice when you're looking for an ipe oil. It's helpful to choose an oil that you can clean and re-apply at your leisure. Some oils peel, which can be bothersome and require more frequent re-application. Try to work with oil that seals without peeling. Oils that gently fade in color over time might be a better fit for ipe decks than oils that gradually darken. This is because they'll protect the wood's deep natural hue. Look for UV protectant in any ipe wood stain or ipe wood oil.
Reasons To Use Ipe Oil
Ipe oil conditions your wood, bettering your deck's appearance and extending its life. Ipe wood stain can protect the rich color of ipe, preventing greying and fading. Replacing or updating an ipe deck can be expensive, so oiling your deck can help prevent repairs and save you money long term. If you live in an area with extreme weather, ipe oil might also help you protect your deck from the elements. A proper wood stain can prevent damage caused by rain, snow, humidity, mildew, and intense sun.
How To Prepare a Hardwood Deck for Ipe Oil
To protect your deck and maximize the value of your oil application, it's vital to prepare your deck before staining it. First, you can plan to clean the wood using any ipe wood cleaner. Wood cleaner can improve the appearance of weathered ipe and help it bond with ipe deck oil. A leaf blower can also be an efficient way to remove dirt and debris.
If you have any residue from a previous oil application, plan to use a stain stripper. This is crucial because if there's a layer of existing stain on the ipe, it can discourage penetration and dilute the effectiveness of the oil. Ipe hardwood deck finish typically fades within a year, so if your last application was more than a year ago, it's unlikely that stain will remain on the deck.
Read the instructions for any cleaners carefully to ensure you don't damage your deck. If your product includes a wood brightener, this product can prepare your wood's pH level for the new stain. To clean or strip ipe, you can wet the wood and apply your product using a soft towel, mop, or pump sprayer. Leave the product on for about 10 minutes before gently washing it off. If any areas of the deck still look dirty, re-apply, then rinse the entire deck. Plan to wait 24 to 48 hours before staining the deck.
How To Apply Ipe Wood Oil
To begin the application process, first clear any furniture from the deck and check for debris. Even if you cleaned the wood a day or two ago, it's important to clear any dirt, seeds, or leaves that may have accumulated. Clear dirt in between gaps in your wood planks. Next, you can stir your oil according to the instructions on the container. Plan to use a paint roller to apply the ipe wood stain. A 3/8 inch roller is usually the best size. 
Dip the roller in the oil, and roll it across the deck to coat your ipe. Applying oil to one or two boards at a time can help give you a consistent coating without marks. Be sure to apply oil to steps and railing. Let the oil sink in for about twenty minutes. If you notice any extra oil resting on the deck after those twenty minutes, wipe it up with a dry rag. Excess oil can add an unwanted shine or stickiness to your deck.
You can then leave the deck to dry. This usually takes at least 24 hours, so plan to avoid any foot traffic from people or pets. For your safety, clean your equipment and immediately move cans and rags to the trash. If you leave these items out in inclement weather, they can cause damage. To upkeep the wood, you can apply deck cleaner as necessary as your oil fades.
Best Conditions for Applying Ipe Wood Oil
To set yourself up for success, it's helpful to apply ipe deck oil during the right weather. If you want your ipe wood stain to bond properly with the wood, plan to apply it on a dry day. If you expect rain in the next 24 hours, reschedule your application, as rain can damage your results. Cloudy, mild days are best for applying ipe deck oil. Severe temperatures or heavy sun can hurt your application. Ipe oil is flammable, so avoid flames near a fresh treatment for your safety. Because of the wood's durability, one treatment per season is enough to maintain weathered ipe.
Building an ipe deck is an investment, and you likely want it to last. To increase your deck's longevity and maximize the beauty of this exotic wood, plan to oil it regularly. While weathered ipe is frustrating, it can be simple to restore your wood to its former glory. If you're in the Southern California area and would rather trust a professional to treat your ipe deck, contact us at Teakmaster to schedule a service.