If you're into DIY work, you may have some wooden desks, decks, or other furniture items you'd like to finish. When it comes to getting a wooden surface as shiny and glossy as possible, you have various options. While some DIYers like to use linseed or lemon oil, teak and tung oil are some other common options you may see in the store. Below, we compare teak oil versus tung oil to help settle the argument once and for all of which is the better choice for wood finishing.
What Is Tung Oil?
Tung oil is simpler than teak oil in terms of its composition. Tung oil, which some people refer to as China wood oil or just wood oil, comes from the seeds of the tung tree that grows in southern China. Other producers of this product include the United States, Brazil, Argentina, and Paraguay.
Despite its widespread use in modern times, we can document its original presence in China more than 2,000 years ago. Sailors and shipbuilders would apply tung oil to the wooden components of their ships to help preserve their vessels. Today, people use tung oil to achieve smooth finishes on various household and outdoor furniture.
What Is Teak Oil?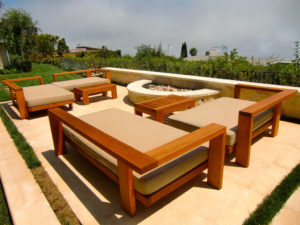 Teak oil is a synthetic product made from two main ingredients, which are pure tung oil and linseed oil. Some additional ingredients that are present in smaller amounts include varnish and mineral spirits such as petroleum naphtha. You can apply teak oil to various types of wood, but it's best to avoid using it on teak furniture because this combination can result in unsightly mildew and mold growth.
Teak oil is what we use here at Teak Master to provide our refinishing services to customers in Pasadena and other cities throughout southern California. If you've recently built a wooden deck, desk, or another piece of furniture for your home and want to finish it properly, you can get in touch with us today. We'll discuss your furniture's material and determine what kind of cleaning it needs.
While we use teak oil, both teak oil and tung oil have their distinct advantages. You can read on to discover different categories in which each oil type triumphs. Then, we provide a final decision on the better product.
Protective Abilities: Teak Oil
In terms of protective abilities, teak oil is the winner. Once teak oil dries, it creates a harder shell than tung oil does. It tends to work better on hardwoods, as it penetrates the surface and creates a scratch-resistant product. If you want to protect a wooden desk from kids' pen marks or from pets bumping into the desk's legs, you may be better off using teak oil. However, that's not to say tung oil doesn't protect the product it covers. It does, but teak oil seems to have superior long-term performance when it comes to its protective abilities.
Versatility: Tung Oil
If you're looking for a more versatile product, tung oil might be the way to go. It doesn't penetrate the wood, and you can continue working on the wood once you apply the oil and it dries. This makes it unlike teak oil because once you apply teak oil, it's challenging to continue working on the wood and make any desired changes.
Ease of Use: Teak Oil
Teak oil is generally easier to apply. Because it dries faster, you can recoat it more efficiently if the surface needs additional layers of oil. Teak oil can also go a long way in preventing the development of wood mold, which makes it easier to maintain your furniture.
Color Consistency: Tung Oil
Teak oil has been known to discolor wood, especially if you're applying it to porous wood. While tung oil is better for preserving the original color, the professional application of teak oil can still be beneficial. It may give your wooden surface a radiant and warm glow that will have all your guests asking how you were able to achieve the beautiful finish.
Storage: Teak Oil
Teak oil contains additives that help it keep its current form for longer. If you try to store tung oil for a long period, you may end up with a sticky glob that won't spread on a wooden surface easily.
Safety: Tung Oil
Some DIYers say that tung oil is "safer" than teak oil, but that's only because of teak oil's status as a synthetic product. Because tung oil comes from the seeds of a tree found in nature, it's safe to eat once it's been cured. If you purchase tung oil in its pure and cured form, you don't have to worry about it being potentially toxic.
As a result, DIYers opt for tung oil over teak oil when they're finishing wooden objects that might come into contact with food. For example, you might have a pair of wooden salt and pepper shakers that you'd like to finish. Other wooden kitchen objects, including salad bowls and cutting boards, may benefit from getting a tung oil finish.
Drying Time: Teak Oil
As a DIYer, you're likely proud of the beautiful wooden pieces that you complete. To start using and fully enjoying them, you may want to expedite the finishing process. Teak oil helps you complete the finishing process more quickly, as it usually takes no more than 10 hours to dry. On the other hand, you may be waiting for much longer if you use tung oil. Tung oil can take up to three days to dry, so you may choose to reach for teak oil to achieve quicker results.
Teak Oil vs. Tung Oil: Which One Prevails?
While both have a time and a place, we believe that teak oil prevails. It's more protective, provides a faster drying time, and stores better. It's even easier to apply than tung oil, but that doesn't mean you should have to take on the task alone.
Here at Teak Master, our livelihood is refinishing wooden surfaces. Contact us today no matter the project you have on hand, whether it be a mahogany outdoor deck, a play set restoration, or anything in between. We proudly serve customers throughout Orange County, and we can't wait to assist with your project.