Professional Garage Door Refinishing in Orange County, CA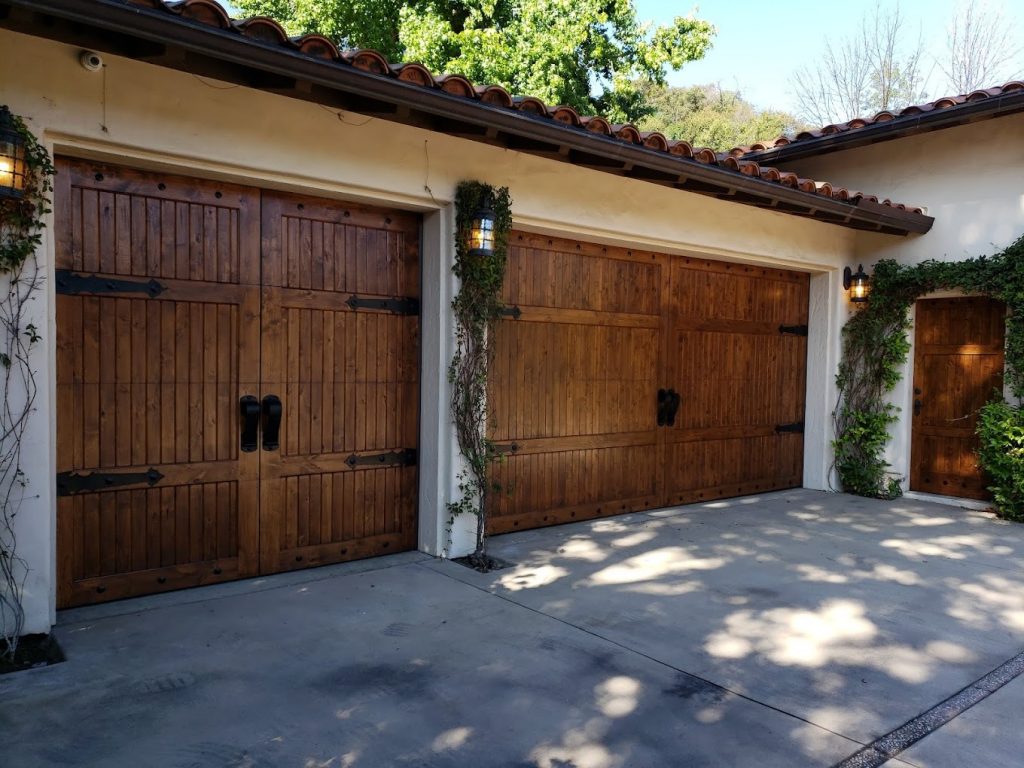 The warmth and natural beauty of wooden garage doors can enhance the curb appeal of any home. As a staple piece to your home's exterior, it's important that they remain in perfect condition. However, with exposure to direct sunlight and the elements, protective coatings can deteriorate quickly without proper maintenance. That's where our professional garage door refinishing services come in. We can reverse the effects of blistering, peeling, and oxidizing, and restore your garage door to its original, vibrant, natural wood look. Why entrust such an important feature of your home to a handyman or amateur painter? With over 20 years of experience, our team has the expertise and attention to detail needed to not only preserve your wood garage door investment, but to enhance the overall look of your home.
Our Garage Door Refinishing Process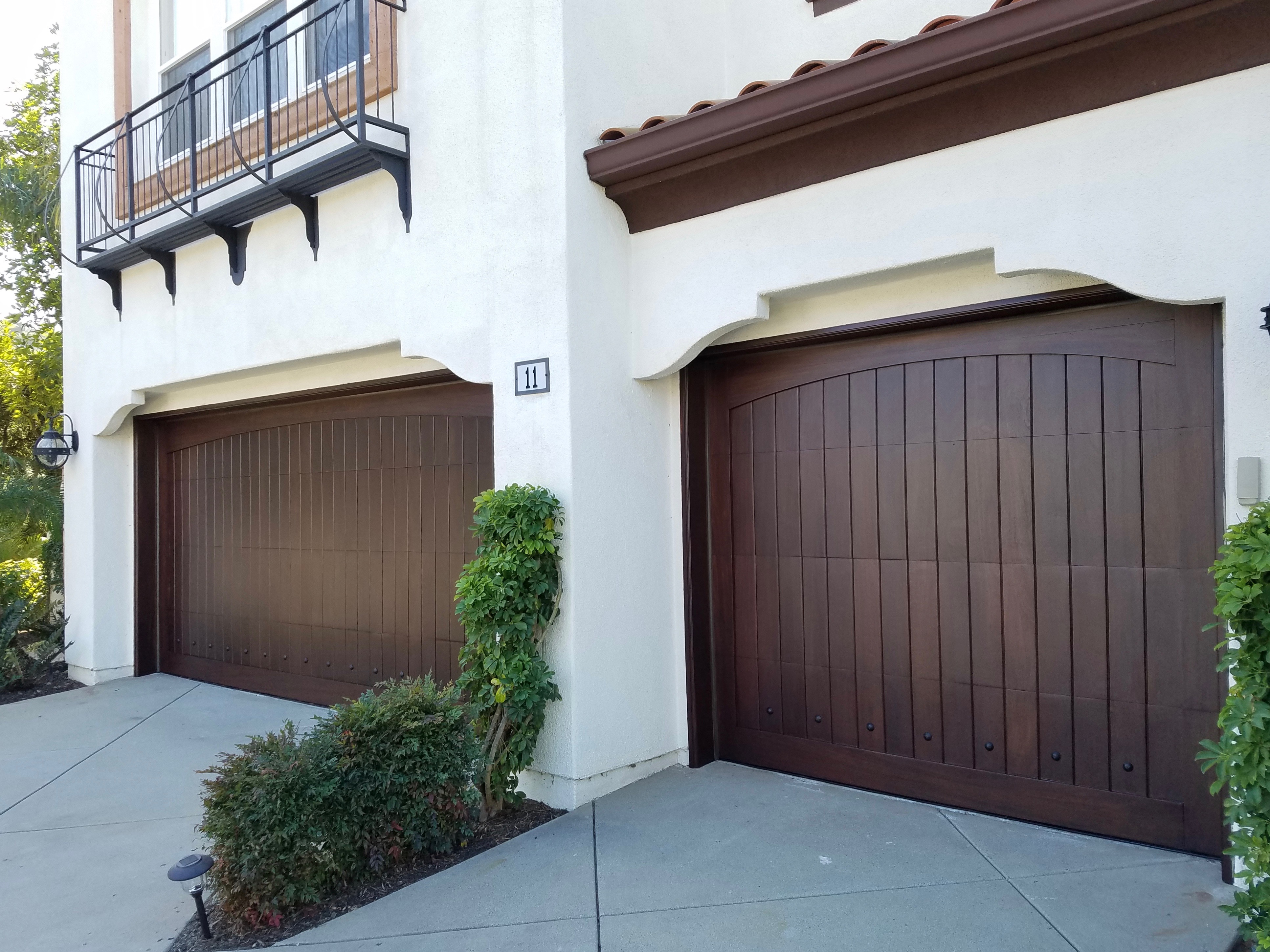 Failing coatings that have cracked, blistered, oxidized, or peeled need to be entirely stripped from the wood. Attempting to save a finish that is failing compromises the look and integrity of a new coating and is a total waste of time and money.
We begin our wood garage door refinishing process by removing old coatings from the surface. This process can be done by sanding or by using a light chemical remover. The wood will be carefully sanded to expose fresh new smooth raw surfaces. Extra special attention will be given to keep the integrity of carvings and molding. The wood will be stained/sealed in a color of your choice or to match what was previously applied.
First, a base layer is applied. We will finish sand between coats until we apply 3 to 4 layers. Finish sanding allows the next application to bond and adheres to its full potential. This technique is what gives the finish a fine furniture-grade appearance. We apply all of our finishes by spraying or by brushing. All work areas, glass, finials, and hardware will be meticulously protected and taped off during the refinishing process.
Maintaining Your Refinished Garage Door
Protective coatings are essential in slowing down the effects of natural weathering on garage doors. To maintain the pristine condition of your newly restored garage door, we recommend planned maintenance. Our team will devise a custom maintenance schedule based on the microclimate and exposure your garage door receives. The maintenance process involves wiping the surface clean to remove dust and debris, lightly scuffing and sanding the surface, and applying one to two layers of clear coat. By following this technique, your garage door will maintain a strong and fresh coating at all times, avoiding the need for a full refinishing. With planned maintenance, your garage door can retain its beautiful appearance for years to come.
Garage Door Refinishing FAQ
How long does the garage door refinishing process take?
The duration of the refinishing process varies based on the size of the door and the extent of the damage. However, most refinishing projects can be completed within one to two weeks.
What types of wood finishes do you offer?
We offer a wide range of finishes to meet your specific needs and preferences. Whether you prefer a natural wood finish, a specific color or stain, or a high-gloss finish, we can help you choose the right option for your garage door.
Can you match the finish of my existing woodwork?
Yes, we can match the finish of your existing woodwork to ensure that your garage door complements the rest of your home's aesthetic.
How much do garage door restoration services cost?
Restoration services can vary depending on many factors, including the condition of the wood, type of wood, shape of the door, and type of finishes needed. Teak Master's multi-step process is customized for your doors and includes cleaning, removing old coverings, and applying new specially designed stains and sealants to protect them.
Don't hesitate to address the damage if your garage door has a faded finish, dents, dings, or other damage. The longer you wait, the more damage can occur. Faded finishes can be remedied with a good cleaning and a new top coat. Peeling finishes that lead to discolored and cracked boards require more extensive restoration services.
Specialty wood conditioners will ensure the new stain and coatings provide years of protection from the sun, environment, and regular wear and tear. Restoration has three main steps:
Removing old finishes and contaminants.

Sanding and preparing the surface with brighteners and neutralizers.

Applying coatings that are surface-correct, including stains, sealers, and protectants.
The process is uniquely tailored to the garage door's condition, type of wood, how it's shaped and installed, and environmental factors like trees. Rough-cut wood with textured grain requires specialty chemicals and brushing to prepare since it can't be sanded. Check out testimonials from satisfied customers who have benefited from Teak Master's services. Garage door restoration could cost between $1,500 and $12,000, depending on the doors' condition, design, and size.
How long will the refinishing last?
The longevity of the refinishing depends on several factors, such as the quality of the original wood and the level of exposure to the elements. However, with proper maintenance, your newly refinished garage door can last for many years to come. We recommend planned maintenance to keep the surfaces in top condition and avoid the need for a full garage door refinishing.
Can you repair cracks or damage on a wood garage door?
Yes, we can repair any cracks or damage to your wood garage door. Our team of experts will carefully assess the damage and determine the best course of action to restore the door to its original condition.
Contact Us
If you're in the Orange County area and looking for someone to refinish your garage door, contact Teak Master today. With over 20 years of experience, we can bring your wood garage door back to life! Not convinced? Check out some of our previous garage restoration projects!