Are you looking for teak furniture refinishing or restoration in the Los Angeles area? Teak Master is your go-to for all your wood outdoor furniture needs. The company was established in 1997 after founder Tim Gilliam realized this much-needed service in Southern California. He had managed a high-end outdoor furniture store, selling a significant amount of teak furniture. As more clients began asking technical questions about how best to preserve their teak furniture and what products to use, he discovered the lack of definitive information available. 
Tim went to his father, who had more than two decades of wood restoration experience. After fielding a few requests, his father started getting more inquiries to service people's outdoor teak furniture. Referrals began coming in from stores, furniture reps, and contractors. Tim joined his dad and now restores outdoor teak furniture full-time. Together, they've developed the best techniques for refinishing and use only the best protective coatings available. Notable clients have included Apple, Starbucks, Neiman Marcus, Four Seasons Hotels and Resorts, and more. 
Teak Master Location 
Teak Master is located in South El Monte, in the greater Los Angeles area, at 9624 Rush Street, Unit B. We are open seven days a week from 7 a.m. until 5 p.m. Monday through Friday and 7 a.m. to 3 p.m. on Saturday and Sunday. The closest freeways are the 60 and 605. We are in a commercial and industrial area adjacent to Ray's Ok Tire. 
Teak Refinishing Service in Los Angeles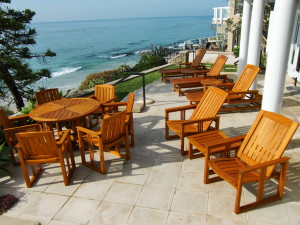 While Los Angeles has relatively mild seasons, the sun, heat, and rain can still damage your teak furniture. Teak furniture is prized for its durability, which is why it's so commonly used in outdoor furniture. However, you still need to take care of your furniture to preserve it for years to come. Without protection or refinishing, your teak furniture will oxidize and blacken because of exposure to outdoor elements such as dirt and other contaminants. 
At Teak Master, we offer a range of teak services depending on your needs. We perform both residential and commercial furniture refinishing in the Los Angeles area. Whether it's your family's outdoor patio set or you run a business with many tables and chairs, we are here to help. We are passionate about what we do. You can relax knowing your wood furniture will look as good as new. Some of the services we offer include teak restoration, teak cleaning, and commercial maintenance and restoration. 
Restoration 
Restoring teak furniture is a multistep process that involves removing all the accumulated dirt, discoloration, and signs of aging. The teak restoration process will also preserve it in the future and bring out the natural color that makes teak so beautiful. Even if your teak furniture has sat outside neglected for years, we can restore it. 
Cleaning
Cleaning your teak furniture regularly can help preserve its natural beauty for many years. Depending on your preference, we can give it a blonde appearance, add a natural wood look, or let it weather a bit to give it a slight silver look. If your wood is unsealed, regular cleaning should be a priority. Teak cleaning will keep your wood free of mold and other contaminants. We use soft brushes, wood brighteners, and other special products to enhance your teak furniture's appearance. 
Commercial Services 
If you are a commercial business with outdoor dining or seating, you need to keep your teak furniture looking good. Our commercial teak services are perfect for bigger jobs. Our experienced team can get your furniture serviced quickly, either at your Los Angeles location or in our South El Monte facility. You need to protect your furniture from the start to ensure it withstands frequent use and spills.
Deck Services
With year-round sun, outdoor decks are popular in Los Angeles. Both the sun and rain can wreak havoc on an outdoor deck. Because your deck is an extension of your living area and a significant investment, you want it to look good at all times. We can service wood decks made with various woods, including redwood, teak, ipe, camaru, Mangaris, mahogany, Thermory, and more. 
If you've become frustrated with how your deck looks, let Teak Master give you a quote for our deck refinishing services. We understand the challenges you face in Los Angeles with outdoor wood furniture. We also know all the microclimates within Southern California and how best to protect your wood furniture no matter what part of Los Angeles you live in. 
Home Restoration Services 
Do you have exterior wood on your Los Angeles home? If so, you might not realize it's necessary to maintain and restore exterior wood finishes. Don't hire a contractor or someone with little knowledge about how to restore exterior wood. At Teak Master, we have more than 20 years of experience restoring wood homes, wood trim, pergolas, garage doors, siding, and even your front door. 
Home restoration is a complex process that requires specialized skills and plenty of patience to preserve intricate details such as molding and carvings. We start with cleaning and stripping your wood to remove any prior coatings and damage. In most cases, the next step is to sand, unless it's rough sawn lumber or shingles, which require a separate process. The surfaces are then cleaned, and the final step is to apply a protective coating, which will vary based on the type of exterior wood surface. 
Furniture Brands We Specialize in Restoring
We specialize in restoring some of the most trusted and loved furniture teak furniture brands including: 
Gloster

Summit

Brown Jordan

Sutherland

Janus et Cie

Kingsley Bate

Jensen Leisure

Henry Hall

Giati
If you own outdoor wood furniture, regular maintenance is crucial in Los Angeles. You should have it refinished whenever there's a visible need. A reasonable timetable in Southern California is every four to eight months. To learn more about our services and how we can protect your outdoor wood surfaces, contact Teak Master today at 888-448-8325.