Restoring Jarrah wood furniture can be done, but it should be done by a professional who understands the nuances of this wood and how best to work with it. Jarrah wood comes from Australia and is quite heavy, very dense, and impervious to the elements. At Teak Master, we have years of experience restoring outdoor furniture made with Jarrah wood. We know which products work the best and what the proper methods are to get your Jarrah wood looking good as new. 
Jenson Jarrah was one of the leading companies that used Australian Jarrah wood. Several years ago, they changed names to Jenson Outdoor. They no longer use Jarrah wood in order to preserve Australia's delicate Jarrah forests. Today they use Ipe from South America. If you have an older, outdoor Jensen Jarrah outdoor furniture set, we can assist with all your restoration and refinishing needs. We have helped numerous customers who Jensen Leisure has directly referred to us. 
What Causes Damage to Outdoor Wood Furniture?
Numerous elements can wreak havoc on your outdoor furniture. Mother nature is not necessarily kind to wood furniture. Some of the most damaging things are wood rot and UV rays.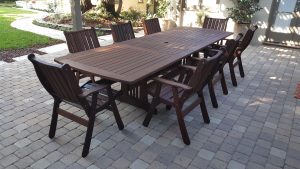 Wood Rot
Wood rot is the equivalent of cancer for wood. If you don't monitor it, it can destroy your outdoor wood furniture. Wood rot occurs when the fungus is able to grow in the wood. Four main conditions create the ideal environment for fungus to thrive. These elements are oxygen, a food source (which is the wood), temperatures between 40F and 90F, and higher than 25-30% moisture. Fungus doesn't necessarily grow the one time your patio sets outside and gets wet when it rains. The fungus starts to grow when the water starts seeping into the wood over time, causing damage. 
UV Rays 
UV rays are also a problem, especially in southern areas of the country. The harmful rays break down the lignin in the wood. Lignin is important, as it binds wood fibers together and helps strengthen the wood. As the wood breaks down, you can see the wood get a silvery surface, and then it starts to dry out. 
Certain woods aren't as affected by the graying, but others can start warping as water gets in and causes further damage. Some oxidation can be visually appealing and enhance the beauty of your furniture. However, when the wood is damaged, you could have black mold that is not healthy for your wood or family. 
How to Keep Your Outdoor Furniture Clean 
Keeping your outdoor furniture clean is a regular process. You can take steps to keep your furniture in good condition, so the refinishing process is more simple. When you have new furniture or newly cleaned furniture, you want to use a wood shield for the wood and a fabric protector for your cushions. You should consider having your new furniture professionally protected within two weeks of purchase. Weather can immediately start to affect your furniture's wood grains. 
Different sealers are available that will help you achieve the aesthetic you are trying to achieve. It's important to give the wood a mild surface clean prior to adding sealant to new furniture because this will remove any debris or barriers that prevent the coating from adhering. Sometimes we may lightly sand the finish to brighten and smooth the surface. 
Next, you want to clean it regularly. You can use soap and water to clean the wood and Sunbrella fabric for dust, dirt, or light spills. Get into the habit of cleaning your outdoor furniture, even when you aren't losing it. That can also help you identify any problems with it before they become more serious. 
Refinishing Outdoor Jarrah Wood Furniture 
There are several different things that we do when restoring outdoor wood furniture. What we will need to do with your furniture will vary based on the type of damage and the current condition. We need to come out and take a look at the condition to discuss what is necessary. Sometimes we may need to repair your furniture as well. 
The refinishing process starts with removing existing dirt, mold, gray oxidation, and any prior coatings from the wood. If your furniture has varnish, polyurethane, or oil, it may require a mild agent to strip down the hard finish. Once it's cleaned and dried, the next step is to sand it. Every last inch of the wood will need sanding, including between slats. Using different sandpaper grits helps remove any leftover debris from cleaning and will expose the new wood to be refinished. 
Next, the wood is cleaned using a mild solution, which removes any dust from the grain and brightens the wood. This step also helps remove any existing black mold and prevents any new mold from forming. Before moving on to the final step, it's important to let the furniture dry. 
The final step involves applying sealer to the wood, which helps give it a natural look and makes it easy for you to maintain. The best coatings will help prevent your furniture from future oxidation and weather conditions. If you want a more customized look, there are options for various clear coats, varnishes, stains, and marine paints. 
Repairing Outdoor Jarrah Wood Furniture 
In some cases, it may be necessary to make repairs to your outdoor wood furniture. Sometimes the fastening systems can become loose, or the wood breaks. At Teak Master, we are well-versed in all types of furniture joinery. We can easily repair pieces that have come loose or refasten those that have come apart. Some of the most common repairs needed for older outdoor wood furniture include broken umbrella ribs, marks from a dog chewing, or broken slats. In most cases, this damage can be repaired, making it virtually undetectable. 
Contact the Jarrah Outdoor Furniture Restoration Specialists at Teak Master 
Do you have Jarrah wood or any other wood outdoor furniture that needs restoration? At Teak Masker, we specialize in outdoor wood furniture restoration. We can work on-site or some projects may require us to bring your furniture to our shop. To learn more about how we can help, contact Teak Master today to schedule a consultation. Let us look at your furniture and let you know what you need to get it looking good as new again.