Both Ipe and Mangaris wood have become popular choices of material for decking and outdoor furniture over the last few years. Not only are they strong and durable, but Ipe and Mangaris also have a distinctive reddish-brown color that's stylish and modern and looks fantastic in any type of setting. However, these two types of wood also have their differences. Whether you're looking to restore your decking with us or are simply curious, find out everything you need to know about Mangaris and Ipe wood and learn what sets them apart from each other.
---
What is Mangaris?
Mangaris wood is actually a brand name and not a species of wood. Commonly sold under names such as Red Balau and Kayu Batu, Mangaris comes from the species Shorea or Balau in Southeast Asia. It's an extremely hard and dense wood that's well-known for its deep red shade with traces of brown. Its grain, durability, hardness, and color is very similar to Mahogany, making it a popular choice for decking material.
What is Ipe?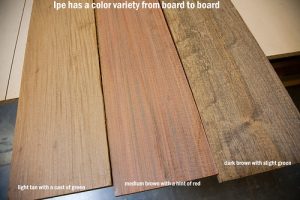 Also known as Brazilian Walnut, Ipe wood is a hardwood from the Tabebuia tree in Brazil, which has a distinctive reddish-brown color. With a density and hardness that's very similar to Mangaris, Ipe is also becoming a popular choice of material for outdoor decking and furniture.
Differences Between Mangaris and Ipe
Texture
While Mangaris has a coarse texture with medium to large pores, Ipe has more of a fine to medium texture with a grain that varies from straight to interlocked.
Color
In terms of color, the shade of Mangaris can vary depending on the species and can range from a pale straw shade to a darker reddish color. As for Ipe, the color can vary from reddish-brown to olive-brown or blackish brown.
Uses
Mangaris and Ipe are both commonly used for decking, but Mangaris is also used for plywood, veneer, and general construction. Ipe tends to be used primarily for flooring and decking.
Similarities Between Mangaris and Ipe
Durability
Both Mangaris and Ipe are extremely durable types of wood with the ability to withstand a range of weather conditions — although Ipe is probably more so than Mangaris. In fact, Ipe was used as the material for the boardwalk on Coney Island in New York City and was thought to have lasted 25 years before it needed to be replaced.
Density
The density and hardness of Mangaris and Ipe are probably the biggest similarity between the two. They are both considered as difficult wood types to work, resulting in a blunting effect on tools.
Rare Potential for Allergies
Both Mangaris and Ipe possess the potential for some allergic reactions, such as skin, eye, and throat irritation, but these reactions are incredibly rare.
Mangaris and Ipe Deck Restoration
When it comes to restoring both Mangaris and Ipe decks, the process is largely the same. First, we clean the surface of the decking to remove any contaminants, dirt, and debris. We don't use any strippers or harsh chemicals during this step of the restoration. The second step — and probably the most important — is to sand the deck, removing any debris or excess coating that cleaning does not. Sanding is a great way to return the Mangaris and Ipe to their original state because it also exposes the fresh and smooth raw timber and opens the grain of the wood.
Once sanding is complete, the third step of our restoration of a Mangaris or Ipe deck is to clean the surface with a special wood brightener solution that promotes color and eliminates contaminants such as dust, mold, mildew, and algae. This process ensures that your deck looks just the same as it did when it was first installed, as good as new.
Finally, we coat the Mangaris or Ipe deck with a special penetrating sealer that is formulated for hardwood decks to maintain and protect woods such as these. We apply the sealer the old-fashioned way, by hand with a brush, to ensure the maximum level of penetration and a consistent, thorough application.
Mangaris and Ipe New Deck Protection in Los Angeles
When a Mangaris or Ipe deck is fitted, it's essential to protect it from the elements almost straight away following installation. If wood is left unprotected after a deck is fitted, the sun and rain will attack it and leave it damaged in the long run. Protecting your Mangaris or Ipe deck quickly after installation will ensure you avoid a costly reinstallation in a few short years' time. If properly looked after, Mangaris and Ipe decks can last a lifetime.
In this process, we use a slightly different sealing formula on each wood to protect the decks.
For Mangaris decks, we use our own specially formulated sealer designed to protect Mangaris, or Red Balau, Kayu Batu, and Shorea decks. For Ipe decks, we seal these with a special oil-based penetrated sealer that's specially designed for Ipe decking. We also recommend waiting two weeks following installation of Ipe decks for us to apply the protective coating. This will give the wood time to expand and contract with hot and cold and for some of the natural oils to dissipate.
Whichever type of wood you choose for your new decking, there's no denying that both Mangaris and Ipe are fantastic, quality materials that are modern, stylish, visually appealing, and incredibly durable. But just like any new addition to the home or garden, it's essential that Mangaris and Ipe decking is properly cared for and looked after to ensure that it always looks and feels its best for many years to come — which will save you money in the long run.
Since 1997, we have carried out deck restoration using a range of complex materials, such as Mangaris and Ipe woods, for thousands of customers across Southern California. Contact us today for all your deck restoration, deck maintenance, and deck protection needs. We'll give you the deck of your dreams