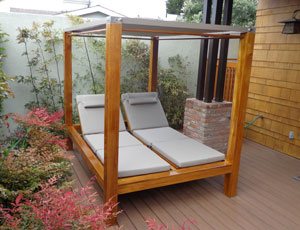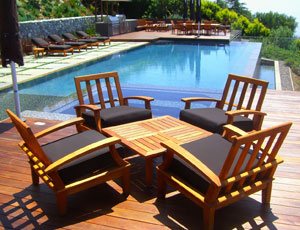 Gloster Teak Furniture has held the title of "top dog" in the teak furniture game for a very long time. They continue to offer the finest tight grained teak lumber we have ever seen. Blending various mediums such as stainless steel, synthetic wicker, with teak while forging contemporary and traditional styles is an art form they mastered. We have worked on thousands of pieces Gloster furniture over the years. Many of which are over 20 years old and look and function just as they did when purchased. We take great pride in being certified Gloster teak furniture service specialists. We have performed teak refinishing services on Gloster teak furniture for decades.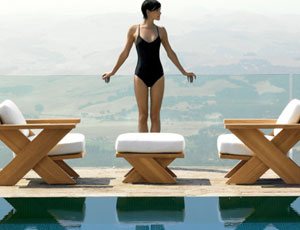 Teak Master has been restoring teak furniture for over 20 years. We all remember working on unique pieces from a very small company branded with a brass plaque that read Summit around 97' or 98'. Through the years, it has been awe inspiring coming across Summits' amazing styles crafted by esteemed designers. We understand that it takes a time to become a master in crafting high-end teak furniture. It has been truly motivating to our company to see this California company emerge as the leader in design and quality in the high-end teak furniture industry. We have protected and performed teak refinishing on thousands of Summit teak furniture pieces throughout our 20-year existence.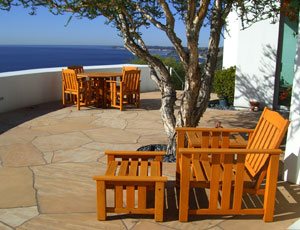 Many consider Brown Jordan to be the founder of the high-end outdoor furniture industry. In the nineties and early 2000's Brown Jordan was a major force in the teak furniture industry. Their Brown Jordan Mission Teak style has not been made for almost 10 years but remains one of the most popular designs ever made. In fact, we work on performing teak restoration hundreds of pieces each year which is a testament their construction and styling. People hold on to these prized pieces because they transcend time in style and durability. We have been factory trained certified maintenance technicians for Brown Jordan for almost 20 years. In fact, their original facility is just a few steps away from Teak Master headquarters in El Monte, California. If you own Brown Jordan Mission Teak or any other Brown Jordan teak furniture, we can restore and protect it so it will last for many more years.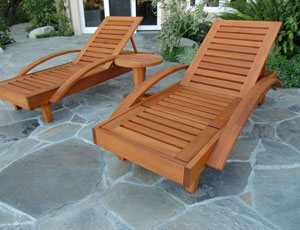 If there is any company in the teak furniture industry that screams high end quality and design, its Sutherland. Their styling and attention to detail simply cannot be matched. In life, some say its the little things that make the most difference. If Sutherland's case it the little things that make a huge difference. When you buy Sutherland teak furniture you are purchasing works of art for your backyard. It takes skills and great detail to work on such high-end furniture. We are familiar with all of their styles and great attention and patience is given to each piece to preserve the detail and uniqueness of each piece. We offer various finishes and colors to protect and enhance the look of your Sutherland teak furniture.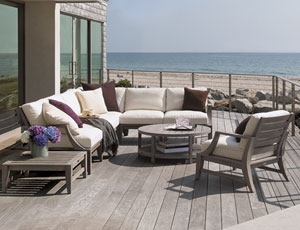 Try and name another outdoor furniture company that is constantly pushing the limits in design and materials. Fusing various materials to form unique high-end furniture pieces is second to none for Janus et Cie. The finest teak lumber is used for each and every piece they make. In fact we have worked on extremely unique pieces made of Castillo wood. We are proud to work closely with Janus et Cie as authorized service technicians to protect and maintain their amazing wood furniture for homeowners and commercial institutions.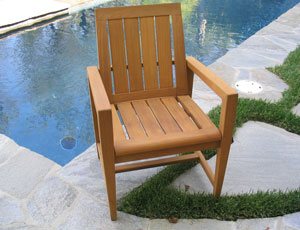 Kingsley Bate is one of the most recognized names in teak furniture for a good reason. Simply put, their furniture lasts. We have worked on tens of thousands of pieces over the course of our existence. Homeowners and commercial facilities have furnished their outdoor living spaces with Kingsley Bate because their furniture styles transcend time. Some of their teak furniture lines have been made since the nineties and is a true testament to how relevant they are in the teak furniture industry. Whether applying a protective coating to your new furniture or performing a transforming teak restoration, we have you covered.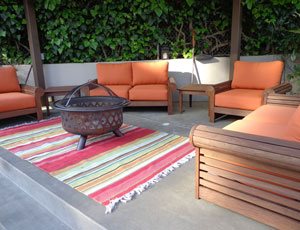 Jensen Leisure or formerly known as Jensen Jarrah has been crafting outdoor wood furniture from exotic hardwoods such as Ipe, Jarrah, and Roble for decades. Jensen Jarrah made furniture out of a very durable and exotic hardwood from Australia called Jarrah. We restored and maintained thousands of pieces of furniture over our 20-year history. We continue to service Jensen Jarrah furniture and it is a true testament to how durable their furniture was. Strict regulations in Australia forced them to move their facilities to South America and begin fabricating furniture out of Ipe and Roble, with of which are similar in color and durability to Jarrah. Their styles are very unique and absolutely amazing. We have been factory referred service technicians for both companies for over ten years.
Henry Hall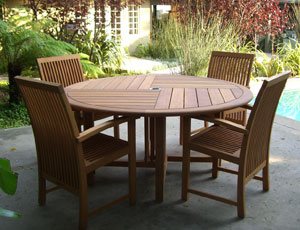 Henry Halls Designs has been creating contemporary teak furniture for discerning clients since the late nineties. We admire the minimal, clean, and sleek design styles we have worked on over the years. We are very familiar with each style Henry Hall produces and have worked on thousands of pieces over the years.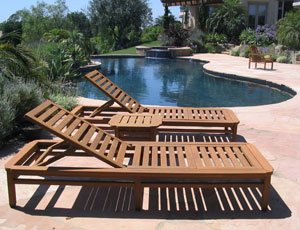 We have restored and serviced Giati teak furniture since the beginning of our company in the late nineties. We had never heard of this company until we worked on a large collection for a client in Santa Barbara. We immediately recognized the quality and unique designs to be some of the most amazing we have ever seen. Many of our current clients have owned Giati for decades and take pride in caring for and maintaining their investments. In fact, most of our clients know that owning Giati furniture is like having pieces of art furniture their homes. Our teak refinishing service for Giati is just a detailed as their designs. You can rest assured that your furniture is in good hands.
Restoration Hardware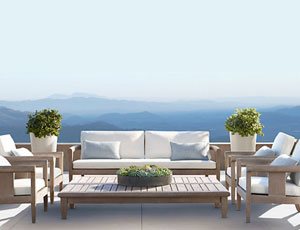 Who would have thought a place that sells high end door hardware would have high end teak furniture as well? That's right restoration hardware has come a long way in the teak furniture game. Back in the day, they only had one style that was made of Nyatoh wood. It sold so well, 15 years later we still work on hundreds of pieces each year. Today RH is known for high-quality teak with custom finished. Many of these finishes come with a weathered look, so you can have an immediate weathered look in no time. We can match and restore RH finishes and we can also perform teak refinishing on any of their pieces.
Teak Furniture FAQ
What is the best way to refinish outdoor teak furniture?
Teak master's "Clean, Sand, Brighten and Seal" method is the best way to refinish outdoor teak furniture. Wood should be cleaned to remove surface dirt and contaminants, sanded to expose new grain, and brightened to promote color. The wood should then be coated with a genuine teak sealer.
How often should outdoor teak furniture be maintained?
Maintenance of outdoor teak furniture should ultimately be performed whenever visibly necessary. As a rule of thumb, maintenance of outdoor teak furniture will depend on the weather patterns in the area it's located. Generally, outdoor teak furniture should be maintained every 4-8 months.
Why does my teak furniture have drip marks?
Natural oils in the teak wood itself may be extracted with temperature change. If a protective coating has been applied, expanding and contracting of the wood or moistening due to marine layer may extract the protective coating. A simple wipe with a damp towel can usually solve this issue.
Should I use teak oil to protect my outdoor teak furniture?
Teak oil is never recommended to protect outdoor teak furniture. Teak oil is really just a made-up name for tung and linseed oil blended together – which will often turn black over time. Additionally, it has sticky properties which makes it messy to apply.
How do I fix black mold on my outdoor teak furniture?
Teak wood should be cleaned thoroughly to try and remove as many contaminants and remnants of black mold on the surface as possible. The wood can be washed with wood brightener or oxalic acid to help eliminate and bleach off the black mold.